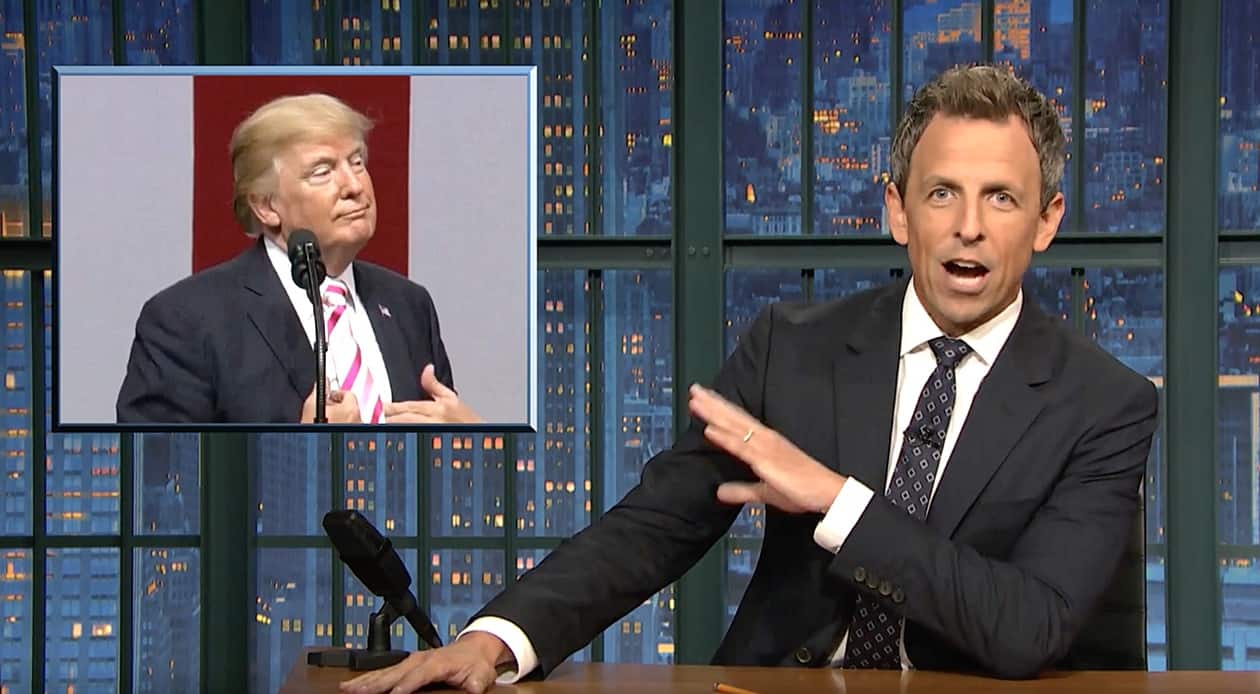 Seth Meyers took 'A Closer Look' at Donald Trump's attacks on black athletes and the NFL last night, starting with his comments referring to Colin Kaepernick as a "son of a bitch" who should be fired for taking a knee during the national anthem.
Said Meyers: "Just take a step back and consider how embarrassing it is that news anchors now have to introduce comments from the president by warning little children to leave the room."
Meyers called Trump "the first "NC-17 president," adding, "Trump is basically the Showgirls of presidents. Trump's presidential library is going to be in the back of a video store where they keep all the pornos. You're going to have to enter through a beaded curtain."
Meyers also mocked Trump's suggestion that football ratings are down because people are tuning in to watch him:
"That's right, in Donald Trump's mind, people are turning off NFL games, gathering their friends, and ordering pizza to watch an out-of-shape blowhard shuffle around like he got separated from a tour group."
"Our president is an a**hole," Meyer concluded, if you didn't know already. "Last weekend was in many ways a perfect distillation of Trump's presidency ― feeding his base racial and cultural resentments in order to keep them on his side as his team of corrupt authoritarians try to swindle hard-working Americans out of their health care."
But the real hits came after Meyers allowed Late Night writer Amber Ruffin to have a few words.
Said Ruffin:
"This is about racial inequality. Look, if you have a problem with black people loudly protesting and silently protesting, then what you have a problem with is black people."
Watch: