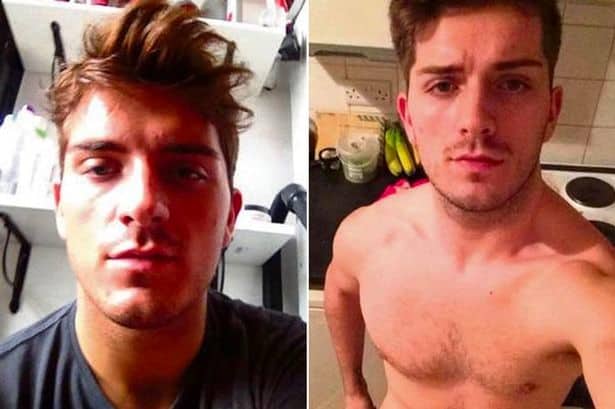 In September we reported that hairdresser Darryl Rowe, from Edinburgh, Scotland would stand trial in the UK in October for deliberately infecting 10 men with HIV by tampering with condoms in sexual encounters took place between October 2015 and January 2016.
Rowe skipped bail last November, prompting a nationwide manhunt.
The 26-year-old has been charged with 5 counts of grievous bodily harm with intent and 5 counts of attempting to cause grievous bodily harm with intent.
Rowe appeared in court this week.
During his first interview, it was claimed Daryll Rowe told officers: "Either this is a big, dramatic lie or someone out there has actually done this. What if they are just trying to single me out. Gay people can be horrible. This is one of the reasons I left Edinburgh – there's a lot of horrible people up there."
Rowe, originally from Edinburgh and now of no fixed address, denied knowing or meeting either of the first two alleged victims who reported him to police during his initial interview after being arrested.
The paper adds:
In a recording of the interview played to the court on Tuesday, he said: "I don't go to people's houses from Grindr. I used to but not anymore because there's a lot of people who make a joke. You go over and they don't answer the door."
Police showed him two pictures of the suspected perpetrator which had been provided by one of the alleged victims.
Rowe confirmed these were of him and taken from his Instagram and Tinder profiles but said he had not used one of them in years.
He added: "What I will say is that Grindr can be very seedy. It's not unusual that your pictures get shared."
One of the men Rowe met and had sex with testified in court as well, the BBC reports:
During the interview, the man said: "I remember not really enjoying it. There were moments when I was like, I want to get up and go.
"Afterwards I went to the toilet and the condom was on the sink and I noticed that it… was completely broken. Like the whole top of it was off."
A series of text messages read to the court, the university student repeatedly asked Mr Rowe whether he had HIV.
In response Mr Rowe is alleged to have said: "Yes, I'm riddled by the way".
Later, Mr Rowe branded the man a "paranoid, overdramatic fool", before saying he would be blocking the number, the court heard.
Testimony was heard earlier this month that paints another ugly picture, The Independent reported:
In his taped police interview, the complainant said: "He asked for sex and I gave him oral sex. He asked for more and I said no, and he started to get angry.
"He wasn't threatening to punch me, he wasn't huffing and puffing, but he was saying: 'You need to if we're going to be together, I need someone who's spontaneous.'
"I was saying: 'I don't really want to do it. It's horrible to do it in a car in the middle of nowhere.' I was getting angry. It was horrible really – I just felt like I had to do it."
He later agreed to unprotected anal sex, but the two men stopped when a cyclist rode past the car. When the complainant refused to continue, Rowe told him: "You've wasted my evening, I can't believe this. You're wasting my time."
Rowe refused to get out of the car when the complainant drove him home, and instead tried to bully him into having sex behind some bins, the court heard.
The man got away by promising to meet Rowe a few days later but thought he was going to be attacked.
Rowe also taunted the men following their hook-ups.
One received a text that said, "Maybe you have the fever. I came inside you and I have HIV LOL. Oops!"  He received another text later that said "You've got an ugly weird face." Rowe also followed up with the men, sending them texts asking if they were infected yet.
"Gay people can be horrible" indeed.