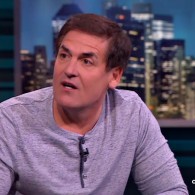 MARK CUBAN. He may run as a Republican in 2020. "I think there's a place for somebody who's socially a centrist but I'm very fiscally conservative."
MEL HEIFETZ. Real estate investor gives back big time to Philadelphia's LGBT community: "Successful he was, and now, about to turn 82, the Center City real estate investor is converting 26 of his Center City residential properties into a grand act of charity. On Friday, Heifetz announced that he has gifted them to the Philadelphia Foundation, which will in turn sell them and place the proceeds in an endowment. The expected $16 million from the sale plus cash will join Heifetz's existing $4 million donor-advised fund at the Philadelphia Foundation, and investment income earned on the money each year will go toward LGBT groups."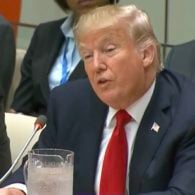 BILLS BILLS BILLS. Trump to spend at least $430,000 of his own money to pay for legal bills incurred by aides and White House staff embroiled in the Russia probe: 'The Republican National Committee has paid roughly $430,000 to lawyers representing the president and his eldest son, Don Jr. A White House official told me Trump will not be reimbursing the RNC for these costs. However, the White House official says he has pledged to spend the same amount, from his personal finances, "to defray the costs of legal fees for his associates, including former and current White House aides."'
FAYE DUNAWAY. Inside her NYC hair salon meltdown.
RUSSIA PROBE. A worrying turn for the Mueller investigation?
JAMES COMEY. He's now on Twitter. "Benjamin Wittes, a journalist and friend of Comey, confirmed on Monday that the Twitter account @FormerBu belongs to the ex-FBI director not long after it posted a photo of a person appearing to be Comey."
Goodbye Iowa. On the road home. Gotta get back to writing. Will try to tweet in useful ways. pic.twitter.com/DCbu3Yvqt3

— James Comey (@Comey) October 23, 2017
SAFETY INFO. Grindr and Hornet providing users in Egypt with safety info amid anti-LGBTQ crackdown.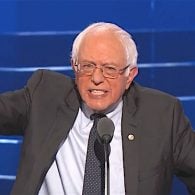 BERNIE SANDERS. I'll run for Senate reelection as independent: "The 2016 Democratic presidential candidate and independent senator from Vermont made the news in an interview with the Monitor on Sunday evening after energizing Democratic activists packed into the American Legion hall in Rollinsford, along the Maine border. Sanders's trip to the first-in-the-nation primary state was his second in less than two months, sparking more speculation that he just may run again for the White House in 2020."
16 YEARS AGO TODAY. The original iPod was unveiled.
MAINE. Students protest bullying of gay student: "York High School students and their parents said their peer has been bullied so badly that they have called school administrators to complain."
Students line Webber Rd outside York HS holding signs that say "Be Kind" and "You Are Beautiful" pic.twitter.com/wE7m9zSHzM

— Katie Bavoso (@KatieBavoso) October 23, 2017
JAMES TOBACK. Two Guys and a Girl director accused of sexual harassment by 38 women: 'During these meetings, many of the women said, Toback boasted of sexual conquests with the famous and then asked humiliating personal questions. How often do you masturbate? How much pubic hair do you have? He'd tell them, they said, that he couldn't properly function unless he "jerked off" several times a day. And then he'd dry-hump them or masturbate in front of them, ejaculating into his pants or onto their bodies and then walk away. Meeting over.'
BLUE PLANET. Transgender fish captured switching sexes.
BRUCE RAUNER. Illinois governor announces reelection campaign on Harley. 'His campaign released a two-minute-plus video in which a Harley-Davidson riding Rauner criticizes his chief political nemesis, Democratic House Speaker Michael Madigan. Rauner positions his re-election bid to voters as a choice: Either "throw in the towel, walk away and leave our future to the same corrupt career politicians, or we can fight."'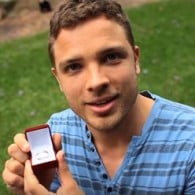 SYDNEY. City will grant free weddings to gay couples if same-sex marriage becomes legal: "Gay couples – but not straight ones – will be able to marry for free in some of the City of Sydney's most prominent buildings and parks, in a move that will outrage the progressive council's conservative critics. A motion passed on Monday night will allow same-sex couples to hire community facilities, halls and parks for free for 100 days if same-sex marriage is legalised following the postal survey."
DELAWARE. Gay D.C. couple struck and killed by SUV. "A police statement says James D. Walton, 53, and Richard G. Chittick, 58, of Washington, D.C., were standing beside their bicycles on the sidewalk along Route 1 in front of the Starboard Restaurant in Dewey Beach when a 2017 Chevrolet Suburban hit them and a utility pole, severing it along the ground."
JOE ALWYN. Actor spotted on set of gay-themed film Boy Erased.
MUSIC VIDEO OF THE DAY. Spoon "Do I Have to Talk You Into It".
TRAILER OF THE DAY. Daniel Day Lewis in his last acting role in Phantom Thread.
MONDAY MUSCLE. Frank Ocean. Ocean created a visual essay about the team who helped him tour this summer, accompanied by a personal essay for i-D magazine.