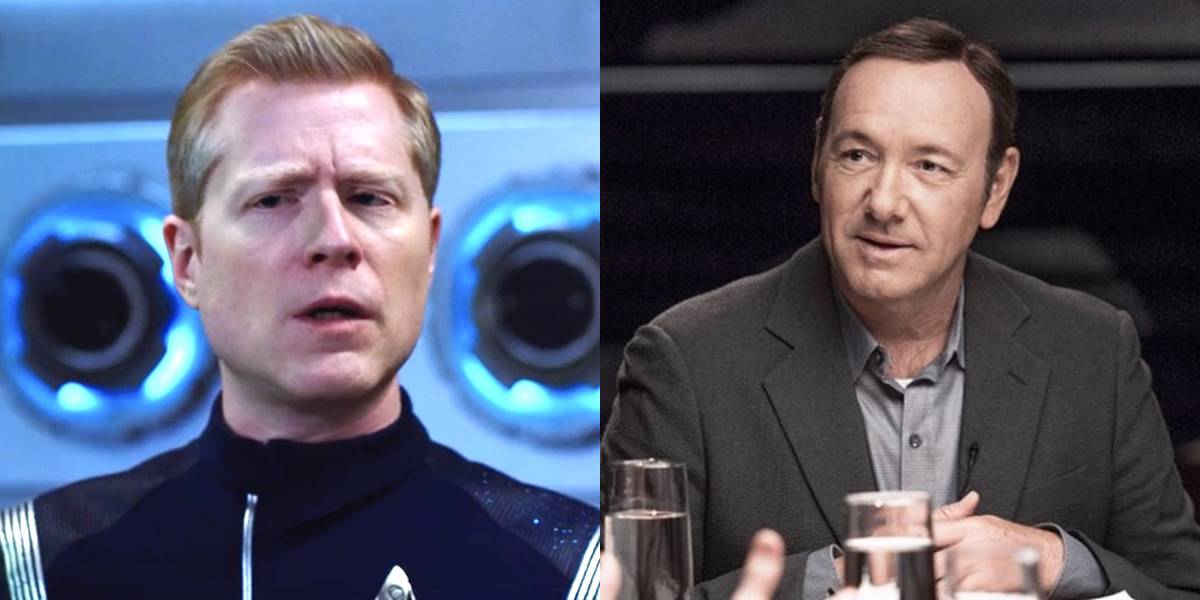 Kevin Spacey responded to sexual abuse allegations from actor Anthony Rapp by making the bizarre and disappointing choice to use the accusations as a moment to come out of the closet, thus conflating being gay with sexual abuse and pedophilia.
Rapp made the allegations in an interview with Buzzfeed News. The incident happened at a party at Spacey's house when Rapp was 14, Spacey was 26.
He went, gladly, and alone. Rapp said he honestly cannot recall what he told his mother — who died from cancer in 1997 — about the party, but he stressed that the idea of him attending a party held by an adult Broadway actor did not seem like a cause for concern. "I imagine that I might be opening my poor late mother up to some criticisms for how she parented, but, you know, it was a different era," he said. "I went to work by myself. I would walk to the subway, and go to the theater by myself."
When he arrived at Spacey's apartment, Rapp quickly realized that he was the only nonadult there — which, again, did not worry him, since he so often had found himself in similar situations as a child actor. The bigger issue: "I didn't know anyone," he said. "And I was quickly kind of bored."
Rapp said he ended up wandering into the bedroom, sitting on the edge of the bed, and watching TV well past midnight.
At some point, Rapp said he turned to see Spacey standing at the bedroom door. And that's when he first realized that everyone else had left the party. They were alone.
"My memory was that I thought, Oh, everybody's gone. Well, yeah, I should probably go home," Rapp said. Spacey, he recalled, "sort of stood in the doorway, kind of swaying. My impression when he came in the room was that he was drunk." Rapp doesn't remember Spacey saying anything to him. Instead, Rapp said, "He picked me up like a groom picks up the bride over the threshold. But I don't, like, squirm away initially, because I'm like, 'What's going on?' And then he lays down on top of me."
"He was trying to seduce me," Rapp said. "I don't know if I would have used that language. But I was aware that he was trying to get with me sexually."
Rapp said Spacey laid on top of him on the bed "pressing" into him for a long time and Rapp was able to squirm out and escape amid Spacey's protests.
More at Buzzfeed.
Space responded in a tweet in which he also came out as a gay man, saying "I choose now to live as a gay man."
"I have a lot of respect and admiration for Anthony Rapp as an actor. I'm beyond horrified to hear his story. I honestly do not remember the encounter, it would have been over 30 years ago. But if I did behave as he describes, I owe him the sincerest apology for what would have been deeply inappropriate drunken behavior, and I am sorry for the feelings he describes having carried with him all these years.
"This story has encouraged me to address other things about my life. I know that there are stories out there about me and that some have been fuelled by the fact that I have been so protective of my privacy. As those closest to me know, in my life I have had relationships with both men and women. I have loved and had romantic encounters with men throughout my life, and I choose now to live as a gay man. I want to deal with this honestly and openly and that starts with examining my own behavior.
— Kevin Spacey (@KevinSpacey) October 30, 2017
Spacey's statement, which connects being gay to pedophilia and sexual assault, has prompted furious backlash.
— Zachary Quinto (@ZacharyQuinto) October 30, 2017
Nope to Kevin Spacey's statement. Nope. There's no amount of drunk or closeted that excuses or explains away assaulting a 14-year-old child.

— Dan Savage (@fakedansavage) October 30, 2017
"I'm sorry, Mr. Spacey, but your application to join the gay community at this time has been denied."

— Dan Savage (@fakedansavage) October 30, 2017
How dare you implicate us all in this

— Richard Lawson (@rilaws) October 30, 2017
It took 58 years for Kevin Spacey to cash in his gay out of jail free card.

— Michael Knowles (@michaeljknowles) October 30, 2017
https://twitter.com/Rambobiggs/status/924870141384544257?ref_src=twsrc%5Etfw&ref_url=http%3A%2F%2Fwww.hollywoodreporter.com%2Fnews%2Fkevin-spacey-provokes-furious-twitter-backlash-anthony-rapp-apology-gay-admission-1052847
Kevin Spacey has just invented something that has never existed before: a bad time to come out.

— billy eichner (@billyeichner) October 30, 2017
No no no no no! You do not get to "choose" to hide under the rainbow! Kick rocks! https://t.co/xJDGAxDjxz

— Wanda Sykes (@iamwandasykes) October 30, 2017
part of the horror of spacey's cynical ploy to use his coming out to deflect abuse allegations is how well it is working

— Julia Carrie Wong (@juliacarriew) October 30, 2017
Bye bye, Spacey goodbye, it's your turn to cry, that's why we've gotta say goodbye. #ROSEARMY

— Rose McGowan (@rosemcgowan) October 30, 2017
I couldn't give two stuffs that Kevin Spacey is gay. Allegations he sexually harassed a child is what we SHOULD be talking about.

— Sarah Harris 🌮 (@SarahHarris) October 30, 2017
https://twitter.com/kylenabecker/status/924871216007122949?ref_src=twsrc%5Etfw&ref_url=http%3A%2F%2Fwww.hollywoodreporter.com%2Fnews%2Fkevin-spacey-provokes-furious-twitter-backlash-anthony-rapp-apology-gay-admission-1052847
Kevin Spacey: My sexuality is none of your biz.

Anthony Rapp: Kevin Spacey assaulted me when I was 14.

Kevin Spacey: I'm a proud gay man!

— Lara Marie Schoenhals (@LarzMarie) October 30, 2017
"Sure, I may have tried to rape a 14-year-old boy when I was 26, but I'm gay!" is a pretty horrible defense. #Spacey

— Ben Shapiro (@benshapiro) October 30, 2017
In other news, Kevin Spacey didn't deny sexually assaulting Anthony Rapp when he was a 14-year-old boy. Also blamed drunkenness. Inexcusable

— Wajahat Ali (@WajahatAli) October 30, 2017
I keep rereading this statement and getting angrier. Coming out is a beautiful part of being gay. Attaching it to this vileness is so wrong.

— Mark Harris (@MarkHarrisNYC) October 30, 2017
This is not about you being gay, Mr Spacey, it's about you being an alleged paedophile. https://t.co/L92PwDsAB0

— Piers Morgan (@piersmorgan) October 30, 2017
Kevin Spacey's comment was wrong on so many levels. https://t.co/5pFhiqMK5W

— Larry Wilmore (@larrywilmore) October 30, 2017