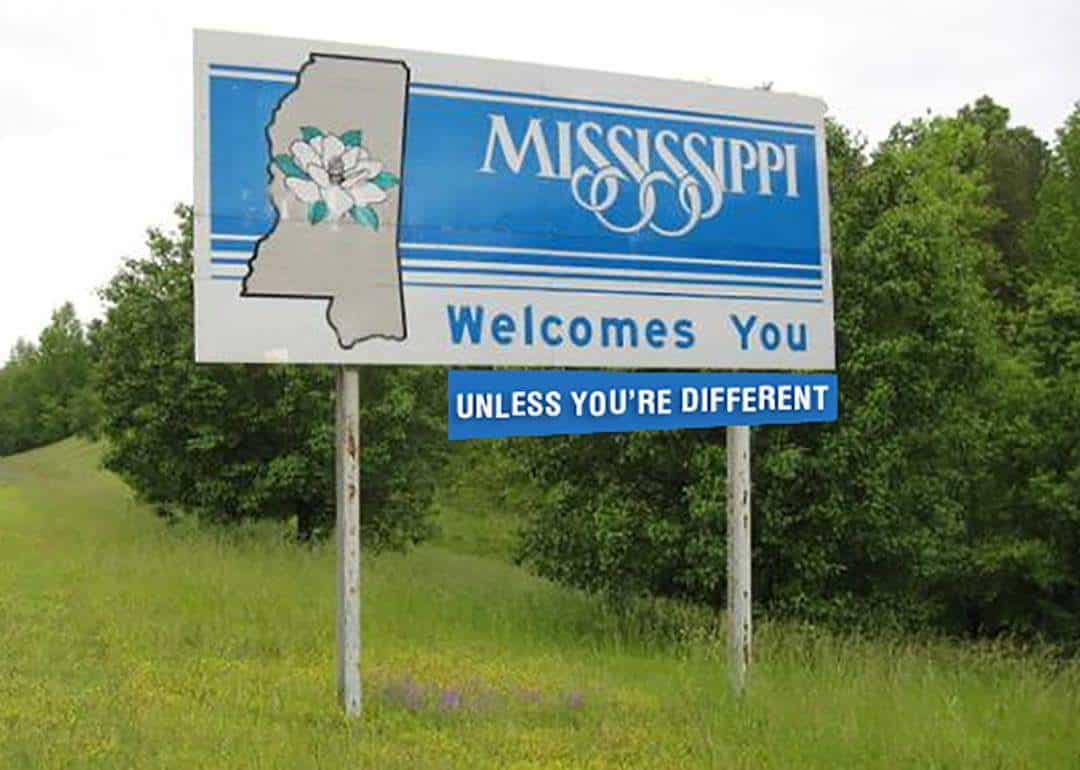 Today we reported that HB1523, a sweeping Mississippi bill that would legalize discrimination against LGBTQ people on the basis of religion, is set to go into effect on Friday after the 5th Circuit denied a rehearing.
Now, Lambda Legal, Mississippi civil rights attorney Rob McDuff, and Mississippi Center for Justice say they will appeal to the U.S. Supreme Court to block the law.
Mississippi civil rights attorney Rob McDuff, along with Mississippi Center for Justice and Lambda Legal, today announced they will appeal to the U.S. Supreme Court after the U.S. Court of Appeals for the Fifth Circuit denied their en banc petition asking the full court to rehear the case challenging Mississippi House Bill 1523, one of the most anti-LGBT laws in the country.
Joining them for the appeal to the Supreme Court are former U.S. Solicitor General Don Verrilli and attorney Paul Smith, who co-counseled with Lambda and argued the landmark case of Lawrence v. Texas, which declared laws criminalizing same-sex relationships to be unconstitutional.
"We are appealing to our nation's highest court to make sure that attempts by state legislatures to defy the law of the land and trample the rights of LGBT people are blocked for good," said Susan Sommer, Director of Constitutional Litigation at Lambda Legal. "Mississippi's HB 1523 creates a toxic environment of fear and prejudice. Along with other anti-LGBT laws across the country like those in North Carolina and Texas, these laws are a pack of wolves in sheep's clothing, dressing up discrimination and calling it religious freedom."
"This is an unfair and unconstitutional law, and we are taking our claim to the Supreme Court," said Mississippi civil rights attorney Rob McDuff. "People should not have to live through discrimination in order to challenge it."
"We are heading to the Supreme Court to demand access to justice. LGBT Mississippians should not have to endure even more profound discrimination before they can ask the court to put a stop to it," said Beth Orlansky, advocacy director for the Mississippi Center for Justice. "Our plaintiffs have already seen the ill effects of HB 1523 without it even taking effect and they should get their day in court."
HB 1523 sets forth a list of discriminatory actions that certain individuals and entities could take against Mississippians based on religious and so-called "moral" objections to the existence of transgender people, marriages of same-sex couples and non-marital sexual relationships, without consequence from the State. The law was enacted in April 2016 in defiance of the U.S. Supreme Court's decision granting marriage for same-sex couples nationwide. Last June, U.S. District Court Judge Carlton Reeves of Jackson issued a preliminary injunction preventing HB 1523 from taking effect.
More at Lambda Legal.