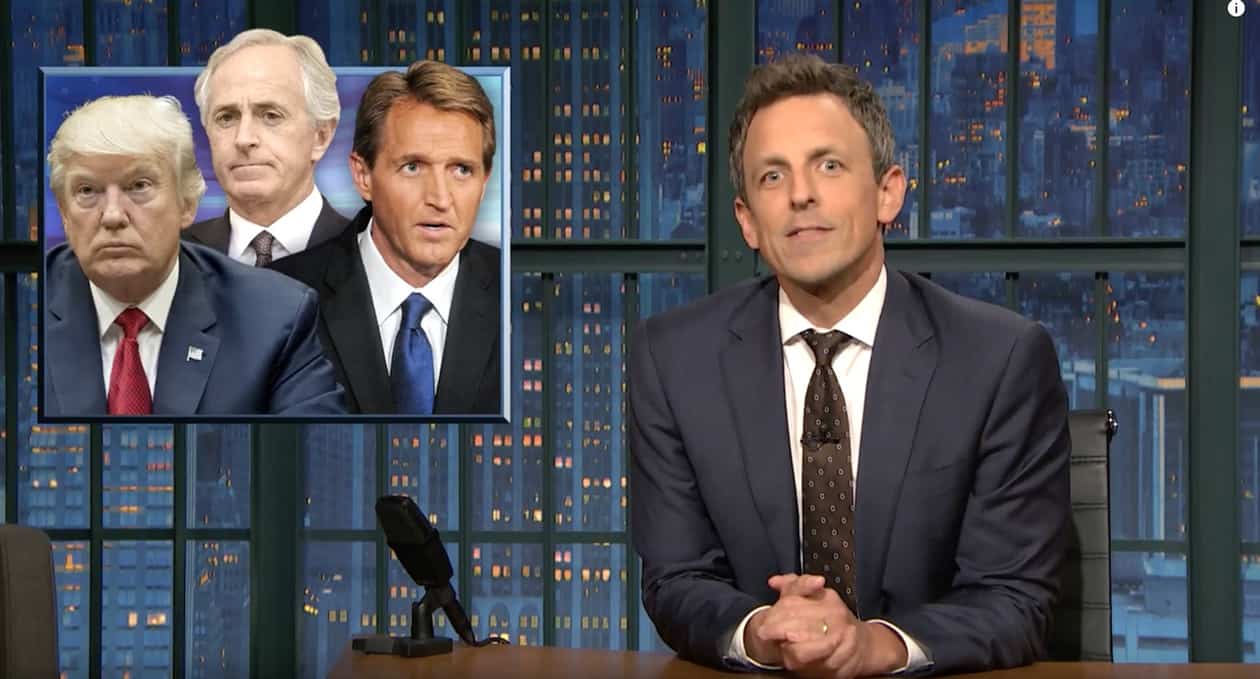 "The Republican Party is at the peak of its powers and yet it is currently engulfed in a civil war very much of its own making," said Seth Meyers in last night's A Closer Look, examining the GOP civil war and the recent attacks from Senator Bob Corker, who said Trump will be most remembered for "the debasement of our nation."
Said Meyers: "Such is the trajectory of Donald Trump. He started out in a golden penthouse and ended up…in debasement."
But Corker was also asked if Trump was a threat to national security, and wouldn't say "yes" but made it clear that that's the answer.
"I think there are people around him that work in an effort to contain him," responded Corker.
Quipped Meyers. "Not only is that answer terrifying but so is the question. You shouldn't have to ask if the president is a threat to national security. That's like asking a real estate agent, 'are there ghosts in the closet?' The answer to that question should always be 'don't be ridiculous' but in this case the real estate agent is saying 'yes, there's a ghost in the closet.'"
Corker also said there's a "lack of desire to be competent."
"That's how you say 'he doesn't give a sh*t' on CNN," responded Meyers.
"Here's the thing ― it's not enough to hurl insults at Trump," said Meyers. "If you think the president is a danger to democracy or national security, then you have to do something about it. You can hold hearings, call witnesses, pass laws to limit his power or remove him from office."
Finally, Meyers added: "If people like Corker and Flake are unwilling to do concrete things to stop Trump and Roy Moore then it's hard to take them seriously."
Watch:
https://www.youtube.com/watch?v=jFhZm8dJmDo