A man has been sentenced to two years in prison for smashing a pint glass in a gay man's face in London in an unprovoked attack.
TalkRadio UK reports: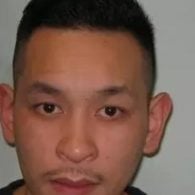 Dramatic CCTV footage shows the moment Anjungi Lam, 35 and of Croydon, attacked a 23-year-old man in Peckham.
The attack took place on March 5 at around 10.30pm, when the victim and his 20-year-old boyfriend arrived holding hands at the Kentish Drovers pub in Peckham High Street, Southwark SE15.
They were at the bar when Lam raced towards the victim and smashed a pint glass against the right side of his face, cutting his nose, lip and neck, chipping his tooth and injuring his cornea. Flying glass also hit his boyfriend in the eye.
Lam then ran out of the pub, but was quickly identified via CCTV. He had worked for the pub for three months before being sacked for lateness.
The victims had entered the pub holding hands and that was thought to have prompted the attack.