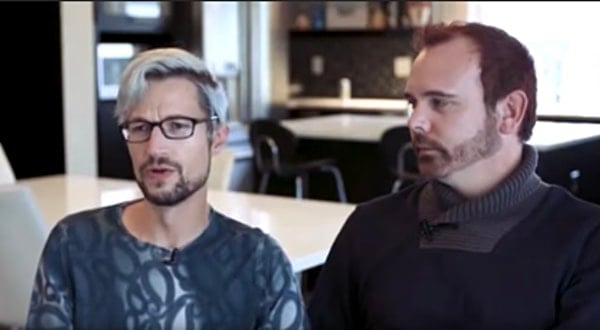 First reactions to today's arguments before the Supreme Court in the anti-gay baker case Masterpiece Cakeshop v Colorado Civil Rights Commission are in agreement that the decision will be a 5-4 ruling with Anthony Kennedy again as the swing vote.
Read the initial analysis of the arguments by our legal editor Ari Ezra Waldman HERE.
And many pundits are leaning toward Kennedy going with the baker.
The ACLU summed up the case:
The case centers on Charlie Craig and David Mullins (above), a gay couple who entered Denver bakery Masterpiece Cakeshop in 2012 hoping to buy a cake for their wedding reception. But before any specifics of design or other details could be discussed, baker Jack Phillips informed the couple that Masterpiece would not sell products to same-sex couples. Craig and Mullins brought a complaint to the Colorado Civil Rights Commission, who found that Phillips had violated the state's anti-discrimination law. But Phillips continued to appeal the case, resulting in one of the most consequential civil rights cases of the 21st century.
Which way Kennedy falls is the big question..
Amy Howe at SCOTUSblog:
At the end of over an hour of debate, it became clear that, at least in one respect, the case is just like so many others: It is likely to hinge on the vote of Justice Anthony Kennedy, who initially seemed sympathetic to the same-sex couple but later expressed real concern that Colorado had not been sufficiently tolerant of the baker's religious freedom…
…An appeals court in Colorado rejected Phillips' argument that forcing him to make a cake for a same-sex couple would violate his right to free speech and to practice his religion freely, but his argument found more traction at the Supreme Court today. At first, Kennedy seemed to acknowledge the impact that a ruling for the baker could have for gays and lesbians. He told Solicitor General Noel Francisco, who argued on behalf of the United States in support of Masterpiece Cakeshop, that if the baker were to win, he could put up a sign indicating that he would not bake cakes for same-sex couples. That, Kennedy suggested, would be "an affront to the gay community."
But later, Kennedy asked Colorado Solicitor General Frederick Yarger, representing the state, about a statement by a member of the Colorado Civil Rights Commission who noted that religious beliefs had in the past been used to justify other forms of discrimination, like slavery and the Holocaust. It is, the commission member contended, "one of the most despicable pieces of rhetoric that people can use their religion to hurt others." If we thought that at least this member of the commission had based his decision on hostility to religion, Kennedy asked Yarger, could the judgment against Masterpiece stand? Kennedy returned to this idea again a few minutes later, telling Yarger that "tolerance is essential in a free society." But Colorado, Kennedy posited, hasn't been very tolerant of Phillips' religious beliefs in this case.
Shocking: In 2017, @realdonaldtrump's solicitor general is arguing we return to an era when stores post signs indicating who they will and will not serve. Businesses can choose what they serve, not who they serve. We won't go back. pic.twitter.com/neqdYUFN3x

— Chad Griffin (@ChadHGriffin) December 5, 2017
The Supreme Court seemed closely divided Tuesday over whether the First Amendment protects a Colorado baker from creating a wedding cake for a same-sex couple, with Justice Anthony M. Kennedy likely to cast the deciding vote.
Kennedy, who wrote the court's 5 to 4 decision in 2015 saying gay couples have a constitutional right to marry, speculated about what might happen if a decision in baker Jack C. Phillips's favor prompted requests for bakers across the country to refuse to make cakes for same-sex couples. Would the federal government feel vindicated? Kennedy asked.
On the flip side, just moments later, Kennedy sharply questioned Colorado Solicitor General Frederick R. Yarger. The justice seemed offended by a comment made during the deliberations of the Colorado Civil Rights Commission when one commissioner said: "And to me it is one of the most despicable pieces of rhetoric that people can use to — to use their religion to hurt others."
At one point, Kennedy and some conservative justices raised the possibility that the proceedings against baker Jack C. Phillips had been infected by bias.
The ACLU adds:
At arguments today, Justice Kennedy — who represents the court's swing vote — expressed concern for both sides of the case. He appeared to recognize the bakery's argument could undermine civil rights laws across the country. He also appeared to show concern about the expression, rights, and religious freedom of the bakery.
"It is hard to overstate the implications of this case," said David Cole, legal director of the ACLU, who argued on behalf of the plaintiffs today. "Jack Phillips has claimed he has a First Amendment right to discriminate against same-sex couples. He does not. Businesses open to the public may not choose their customers. These laws ensure that everyone, including gay people, have the freedom to walk into a business and know that they will be treated the same way.  A decision against Charlie and Dave would allow businesses across the country to argue that they too can refuse service based on who the customer is. As we argued in court today, the justices have an obligation to defend the principle of equal dignity under the law for all Americans — including Dave and Charlie."
Supreme Court Justice Anthony Kennedy is wrestling with the arguments of a Colorado baker who refused to make a wedding cake for a same-sex couple because it violated his religious beliefs.
Early in a riveting argument at the high court Tuesday, Kennedy worried that a ruling for baker Jack Phillips might allow stores to post signs that they "do not bake cakes for gay weddings."
But later in the argument Kennedy said Colorado's human rights commission seemed "neither tolerant nor respectful of Mr. Phillips' religious beliefs" when it found his refusal to bake a cake for the gay couple violated the state's anti-discrimination law.
The two competing expressions of Kennedy's concern put on display his role as the decisive vote in a case that otherwise seemed to divide the liberal and conservative justices.
Justice Anthony M. Kennedy, who almost certainly holds the crucial vote in the case of a Colorado baker who refused to make a wedding cake for a gay couple, sent sharply contradictory messages when it was argued Tuesday at the Supreme Court.
He asked a lawyer for the Trump administration whether the baker, Jack Phillips, could put a sign in his window saying, "We don't bake cakes for gay weddings." The lawyer, Noel J. Francisco said yes, so long as the cakes were custom made.
Justice Kennedy looked troubled and said the administration's position was an affront to the dignity of gay couples.
Later, though, Justice Kennedy said that a state civil rights commission that had ruled against the baker had "neither been tolerant nor respectful of Mr. Phillips's religious beliefs."
The Wall Street Journal has some excellent live coverage of the hearing, now archived.