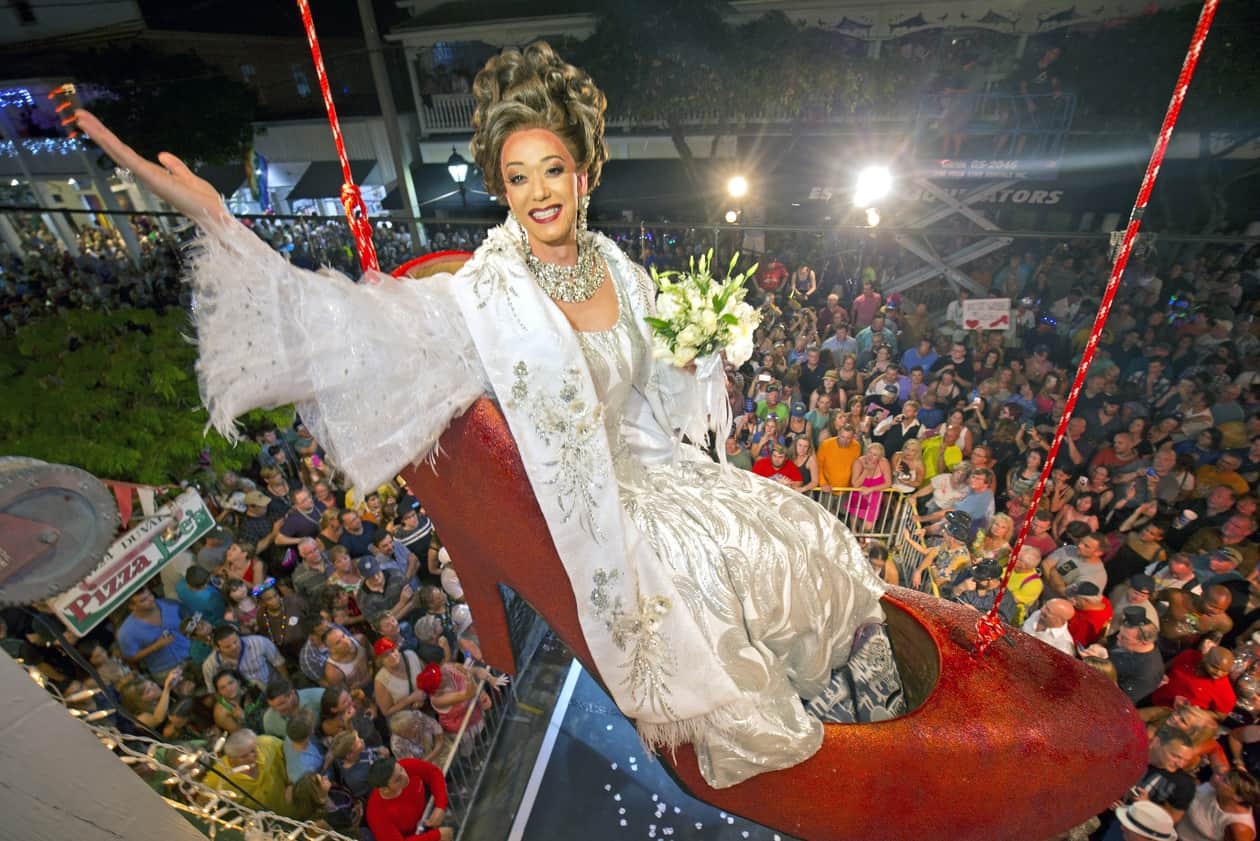 There's never been a lady that lived in a shoe quite like Key West's Grande Dame of drag, Sushi. The venerable performer presides over the 801 Girls, a small army of queens performing nightly at the 801 Upstairs Cabaret, but for the last 21 years, Sushi has spent each Dec. 31 suspended high above Duval Street in an iconic high-heeled shoe.
It's no surprise such a gay old time can be found in Key West. The southernmost city in the continental United States has long been a welcoming location for LGBT people, and it's a popular destination for queer travelers all year-round.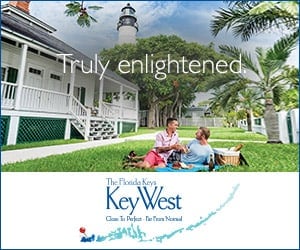 Still, there's something special about visiting the Conch Republic for the annual New Year's drop. We spoke to Sushi about the event and her plans for this year.
See what she had to say below!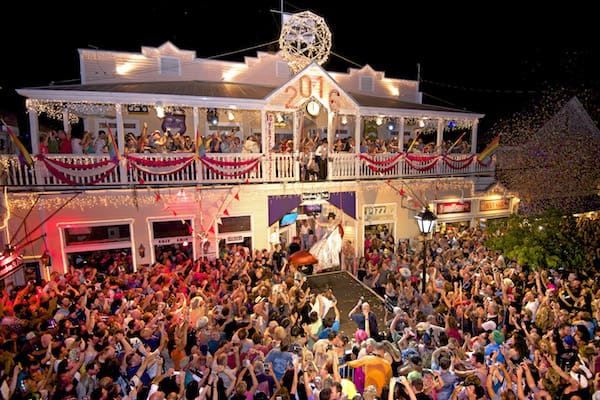 How did this all start?
Joey Schroeder owns Bourbon St. Pub, and I used to be the janitor there. I was doing drag one day a week, but they just came to me and said, 'Hey, we need to do something down here, because they have a conch shell on the other end of Duval Street.' They just said, 'We got a shoe for you!' And I said, 'What? Are you crazy?!'
I sat in it, they tied a rope around me and tied the rope to the balcony, just in case it fell. We almost got shut down, because the crowd started gathering in the street, and we didn't have a city permit to do it. The cops came, and they were up on the balcony trying to get me out of the shoe. The owner called the mayor, the mayor called the police head chief and said 'Just let her be, and close down the street.' It sort of was an impromptu thing. It happened really quickly.
There was really no planning in it. He just knew a guy that made a papier-mâché shoe, and it just happened like a week before New Year's.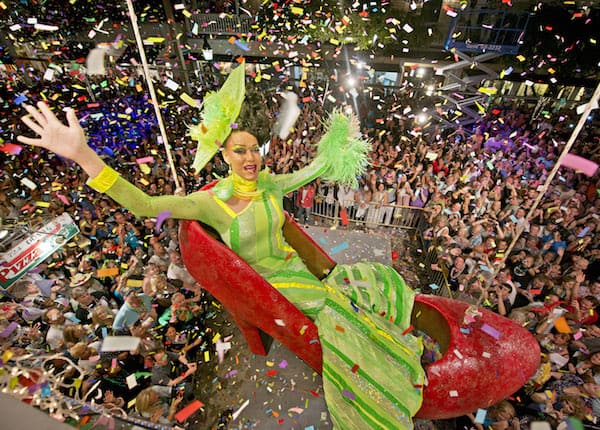 Were you nervous?
The second year, it had rained, and they put the shoe up a week before New Year's. It rained, and the papier-mâché started melting. So when I got in it the second year, my foot almost went through the bottom of the shoe. I refused to sit in it until they made me a nice fiberglass one for the third year.
You make a new dress every year, and you only wear it that once. What can you tell us about this year's dress?
It starts with the color, and Joey Schroeder picked the color this year. It's fuchsia. I've never worn fuchsia in the shoe. I'm running out of colors!
Who or what are your inspirations for this year's dress?
John Galliano, Christian Dior. I think it was 2008 or 2006, but there was this Christian Dior John Galliano show. He did this whole [Japanese]-themed show one year in Paris. That's the inspiration this year — in fuchsia!
What are some of your favorite gowns from years past?
Two years ago, I made a wedding dress (see top photo). I got married in the shoe two years ago. We've been together thirteen years. We finally got married, because it was legal all over America. I had told my boyfriend at the time, 'I'm not going to get married until it's legal for everybody in the United States.' When it became legal a couple of years ago, I said let's do it! I love that gown, too.
Was it a traditional white gown?
No, silver and cream. I'm 50, honey, I couldn't wear white!
What else do you recommend visitors check out while in Key West?
Definitely check out an 801 show, it's a must-see! Fort Zachary Taylor — or Liz Taylor — beach. Mallory Square. Feel free to drink on the streets, as long as it's in plastic cups. Enjoy the weather! Enjoy the ocean!
What's your one must-taste dish or drink in Key West?
Key Lime Factory. It's really quaint, cute and it's got key lime pie!
See Sushi drop on Dec. 31 in front of Bourbon St. Pub or catch the 801 Girls nightly at 9 p.m. and 11 p.m.