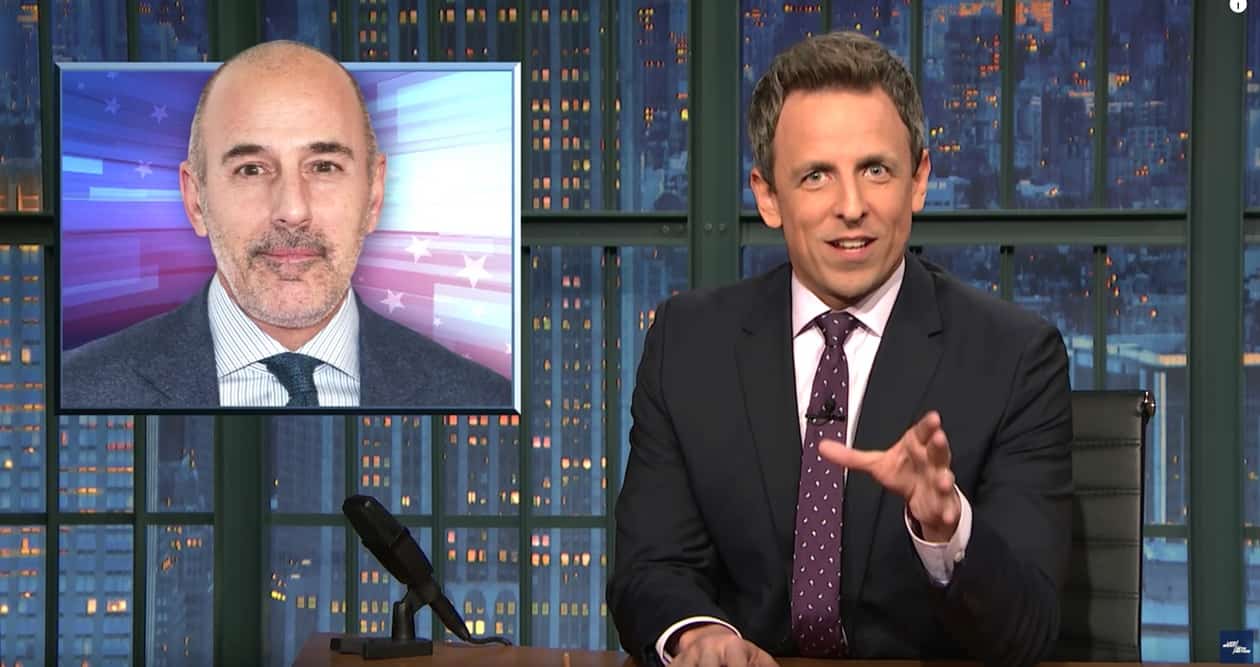 Seth Meyers tore into his former colleague Matt Lauer over the sexual assault claims that got him fired from NBC News.
First Meyers pointed out that one complaint against Lauer came during the Sochi Olympics.
Said Meyers: "And you thought the most disgusting thing at the Sochi Olympics was Bob Costa's pinkeye. Well, move over, pinkeye, there's a new, grosser sheriff in town."
He then moved on to the lurid details, that Lauer gave another colleague a sex toy and a card saying how he'd use it on her.
Said Meyers: "As a general rule, if you're giving someone a dildo at work, you're the dildo at work."
He also took note of the fact that Lauer had a button installed under his desk so he could lock the door without getting up.
"Let me address anyone who works in the button-installing business, if I may," added Meyers. "Nobody wants a button under their desk for a non-evil reason. No one's ever said, 'I need a button under my desk that will release kittens when my interns are feeling blue.' If someone asks you to install a button under their desk, just nod and report it to the police."
Finally, Meyers mocked Lauer's fondness for the game "F**k, Marry, Kill" in which he'd name co-workers he wanted to sleep with.
Quipped Meyers: "I don't know who you said you'd marry in those conversations, but I do know that you killed your career, and you f—ed yourself.
Watch:
https://www.youtube.com/watch?v=4WnizmrnJlk