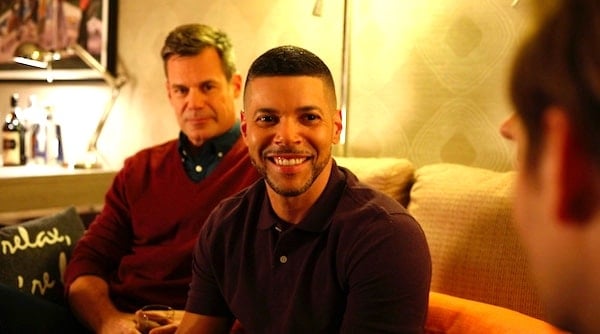 Mad Men star Kit Williamson is back with another season of his razor-sharp web series EastSiders, available now on Netflix.
Following the ups and downs of the relationship between Cal (Williamson) and Thom (As the World Turns' Van Hansis), EastSiders has become a beloved series for boldly exploring queer stories with stirring performances, gut-wrenching drama and dark humor. The show's devoted fanbase has already contributed more than $250,000 toward its crowdfunding campaigns, including $80,000 to support this most recent season.
EastSiders third season might be its most ambitious to date. Unfolding as a cross-country road trip, episodes were filmed on-location in 16 different states. New episodes also feature returning players Stephen Guarino (Happy Endings), Willam Belli (RuPauls' Drag Race) and season-one star Constance Wu (Fresh Off the Boat) all back for more drama.
Of course, more fresh faces will be encountered along the way, like pioneering out actor Wilson Cruz. In the clip below, Cruz and fellow out actor Tuc Watkins play an older couple that inspires Cal and Thom to reflect on their own relationship.