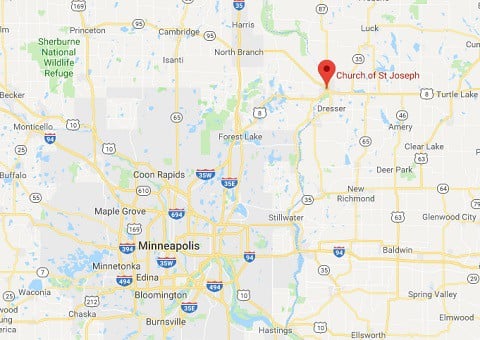 Three church musicians in Minnesota have claimed they were fired after the parish priest discovered they were in same-sex marriages.
Bob Bernard, Travis Loeffler and Dominic Mitchell were dismissed last month from the Church of St. Joseph in Taylors Falls and the Church of St. Francis Xavier in Shafer, eastern Minnesota.
Bernard said that during a "tough discussion," Drees made it clear that his marriage to another man went against the canon of the church that employed him.
Drees also made it clear to the churches' trustees that the three musicians were being dismissed because their marriage was a public demonstration in opposition to church teachings. The priest expressed confusion as to why nobody in the congregation had informed him of the marriages.
Trustee Chris Hudspeth said:
"I told Father Drees it's the nature and the makeup of this community. That's why a lot of people come to Taylors Falls and St. Croix Falls…it's an inclusive community, and that's why he didn't hear anything."
Twin Cities Pioneer Press reports that in a December 10th bulletin, Drees noted that although the church is "blessed with such talented musicians," Bernard "served his last Mass with us last week."
The bulletin went on to note that married couple Loeffler and Mitchell "will also no longer be playing music at our Masses." No explanation was provided.
According to CBS Minnesota, some church members said they are concerned that the dismissals will lead to more people leaving the parish while others are worried but  the decreasing inclusiveness of their church community.
Father Michael Tix, a church leader at the Archdiocese of Minneapolis and St. Paul, said:
"It's the pastor or administrator and his lay leaders who are best able to assess what is necessary for building a team that can give a credible witness to the Gospel in that community.
"We urge our pastors to be both fair and consistent in the applications of rules and standards."
Drees said in a statement: "I can assure you that we do not change employees', vendors' or volunteers' statuses because they are gay."