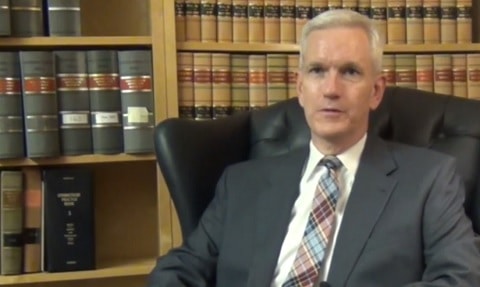 Lawmakers have condemned an anti-Semitic and anti-LGBT website following an attack on openly gay former Senator Andrew McDonald who has been nominated to lead the Connecticut state Supreme Court.
The website has claimed that McDonald is advocating a "non-Christian" and "un-American" LGBT agenda.
It also called McDonald "a deviant mole on a mission to undermine American society with LGBT issues, like misuse of a public restroom, butcher surgery of genitalia of the unfit, gender confusion, pedophilia."
However, while GOP lawmakers are expected to vehemently block McDonald's confirmation, Republican gubernatorial contender Tim Herbst said sexual orientation isn't a factor.
Local and statewide elected officials and community leaders are voicing strong support for Governor Malloy's plans to nominate Justice Andrew J. McDonald to serve as Chief Justice of the #CTSupremeCourt.

Here's what they're saying → https://t.co/bpmWfva4AR

— Governor Dan Malloy (Archived) (@GovMalloyOffice) January 8, 2018
"I do not condone discrimination in any form," said Herbst. "This is not about anything but a person's record and credentials, as it should be."
Judiciary committee Co-Chair William Tong added:
"It's sad that in 2018 we still witness these kinds of bigoted, anti-Semitic, homophobic attacks. This is why I worked so hard to strengthen the state's hate crimes laws last year. These comments are despicable, and so far beneath the dignity of a response from the judiciary committee."
Gay State Senator Beth Bye said:
"I've lived with a lot of homophobia in my life. I who have lived with it am shocked that these factions are picking a fight with Andrew McDonald. We think we've made progress, but there are still these factions that are out there. They're insidious and they're disrespectful of human beings."
According to the Hartford Courant, McDonald is getting an assist in the confirmation process.
Forty-seven lawyers, including the law school deans of Yale, Quinnipiac and the University of Connecticut, signed a Feb. 15 letter to the state legislature urging it to keep politics out of the judicial confirmation process. While the letter did not mention McDonald by name, it coincides with his nomination for chief justice.
McDonald must be confirmed by the legislature and is scheduled to testify before the judiciary committee next Monday.
Watch him discuss how coming out affected his career below.