https://www.youtube.com/watch?v=dtah7pPEo7I
CANINE CRITIC OF THE DAY. Dog reacts to Fergie's National Anthem.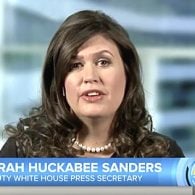 HUCKABEE SANDERS LIE. There's no war on the press: "I think that's a two-way street, that there is a level of respect that could be, certainly brought from the press corps as well," Sanders responded. "I mean the idea that you're going to lay the blame at the feet of the president I find to be a little far-fetched."
INSECURE. Oprah fires back at Trump's attack tweet.
NET NEUTRALITY. FCC orders net neutrality to end in April: "Today it is official, the FCC majority has taken the next step in handing the keys to the internet over to billion-dollar broadband providers," Clyburn said in a statement. "I am both disappointed and hopeful. Disappointed that this is one more anti-consumer notch on this FCC's belt, but hopeful that the arc of history is bent in the favor of net neutrality protection."
LISTENING SESSION. Trump's talking points analyzed.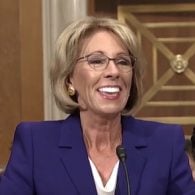 BETSY DEVOS. Education Secretary gives herself a solid B+ to A- grade for past year. "I would say a solid B+ to an A-," she told me in an interview this week, which covered the highlights of the past year and where she wants to the take the department in 2018. "There's room for improvement."
SMITH JERROD. Absolut hunk Jason Lewis reveals if he's Team Kim Cattrall or Team SJP.
DANA LOESCH. NRA spox claims the media loves shootings because "crying white mothers are ratings gold."
https://youtu.be/U4jfRxn-RL0
ART SALE. Rosie O'Donnell is selling anti-Trump art on Etsy, and it's selling out.
anti trump art – by me – now available

a dozen at a time – signed toohttps://t.co/yJ3pvXgY0x

get em while they last …#Resist pic.twitter.com/qeUTeHdUMi

— ROSIE (@Rosie) February 21, 2018
ELON MUSK. SpaceX launches satellite that could change the internet: "Officially known as Microsat-2a and Microsat-2b, the spacecraft will test technologies that would enable the creation of a pervasive broadband network with connection speeds roughly 180 times the global average."
YES THIS IS REAL LIFE. Illinois Governor drinks chocolate milk to demonstrate corporate diversity. "It's really, really good," Rauner said after taking a sip of the sugary drink. "Diversity!"
While celebrating Black History Month at the Thompson Center, Hyatt Hotels executive Tyronne Stoudemire asked for Governor Rauner's help while he used a glass of chocolate milk to demonstrate a lesson on corporate diversity. pic.twitter.com/ETFq7dBvQD

— CBS Chicago (@cbschicago) February 21, 2018
MATCHMAKING NEWS OF THE DAY. Sam Greisman reportedly reached out to Adam Rippon by DM to express his embarrassment over mom Sally Field's matchmaking efforts.
THIRSTY THURSDAY. Queer Eye's Karamo Brown.
https://www.instagram.com/p/Be8-uP1Flwd/?taken-by=karamobrown