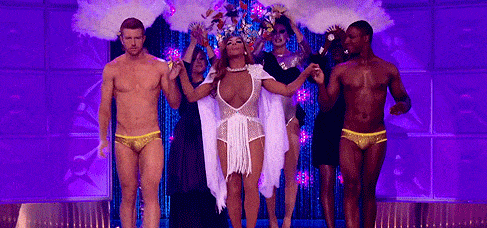 We all know that old drag proverb: Those who don't learn from the past are doomed to repeat it. That couldn't be more true on this week's RuPaul's Drag Race All Stars.
Not only were the queens tasked with recreating the classic VH1's Divas Live special, but they also had to give another go at one of the runway challenges they flopped during their season.
It was the perfect opportunity for RuDemption, but one queen stayed stuck in her old ways, forcing her to sashay away.
Who made the most of the opportunity and who took a diva dive? Find out in our recap below.
As all the chickadees huddle back in the workroom, Ben gives Morgan's goodbye message a teary wipe down. DeLa confesses to the ladies that the power send to home fellow queen feels more like losing than winning. Sure, Jan Ben. Sure.
Aja reveals, had she won, she would've sent Chi Chi home. It's a nice reminder of how this set up really keeps the competition on its toes. Too often, it feels like both winners are likely gunning for the same gal, so a little "There but for the grace of YAS GAWD go I" goes a long way to keep things exciting.
Chi Chi then rightfully puts Milk on blast, claiming (as I did last week) that Milk's variety show act actually required very, very little talent. Milk balks at this idea, asserting that his live, um, song(?) is going to be a bigger hit than "Supermodel." Sure, Jan Milk.
Ru arrives to announce this week's maxi challenge: The girls will pay homage to VH1's Divas Live by each portraying an iconic singer. Roles are assigned, and they tend to reflect each queen's personality and ability pretty closely. Most of the girls are excited for their divas, except for Thorgy.
Even though Stevie Nicks is one of Thorgy's top inspirations of all time, Thorg is worried that she's not the gay icon that Dolly, Patti or Diana Ross is. She's wrong, of course. I mean, even Ryan Murphy — himself a purveyor of camp — focused a large swatch of American Horror Story: Coven around Stevie worship.
Thorgy continues to get in her own head during the rehearsal with, ugh, Todrick Hall. She's being a Stevie purist, unwilling to let her take on Nicks get too silly. Her paranoia does have some upshot though, because it forces her to speak up during rehearsal to appear in other queen's little moments. A lesser queen wouldn't stewed over the lack o stage time, but at least Thorgy was proactive.
Kennedy also struggles with Todrick. For a dancing queen, she can barely keep up with the choreo. Turns out, Kennedy is at her best when freestyling a routine, but when it comes to hitting certain steps, she's got two left feet.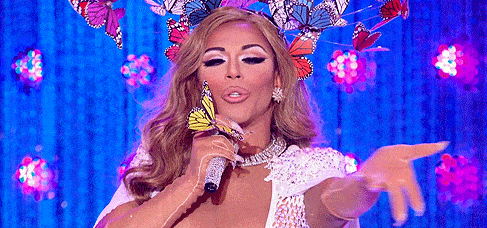 The actual performance is better than most Drag Race group lip syncs. Instead of the cheesy accompaniment we've come to expect from the Kardashian musical, etc., we get RuPaul tracks done in the style of each diva. Whoever recorded these voices really nailed each diva's unique style of singing.
Bebe effortlessly delivers Diana Ross, Shangela slays Mariah and BenDeLaCreme slathers her Julia Andrews in swag sauce for a Mary Poppin-Lockin' hip-hop performance, earning all three top spots. Kennedy whiffs the lip sync and underperforms the choreography, while Thorgy's confidence issues and lack of Stevie character land them both in the bottom two.
(Also worth noting, Milk throws a hissy fit for not making the top three, despite a barely-recognizable Celine Dion impersonation. After boasting about how Celine's former wedding event coordinator told her she does the best Celine, her performance did not live up to the hype, at all. Plus, Milk shed some crocodile tears in the back that truly cemented her as this season's villain.)
Ben and Shangela are chosen for the lip sync, and their convos with the bottom two are pretty interesting. Shangela in particular uses this opportunity to feel out if either Thorgy or Kennedy are open to alliances. Both seem game, but clearly Shangela already has a stronger rapport with Kennedy.
Shangela and Ben both put on a solid lip sync, but nothing that'll bring the rafters down. They're both capable of better. Shangela takes the win and sends Thorgy packing … for now.
Let's discuss each queen's individual performance in our (totally subjective) rankings below:
1. Did BenDeLaCreme purposefully throw this week's Lip Sync to avoid having to make another tough choice? Maybe. Certainly her comically clueless lip sync to the Pointer Sisters was cute, if not a little too low-impact versus Shangela. Ben's Julie Andrews faced the toughest task in terms of lip sync, performance and choreography, and Ben handled it in style. She outshone all the ladies in the challenge.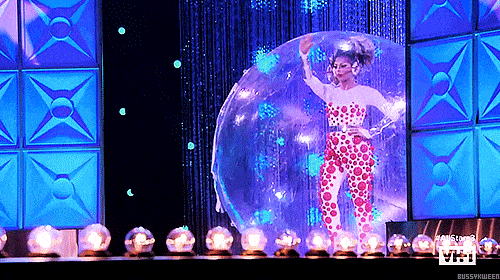 2. Do NOT sleep on Shangela. More than anyone else, she is coming in with all guns blazing. She is raising her game. She is digging into her bag (box?) of tricks and pulling 'em all out. That Mariah was note-perfect, and she rolled over the competition on the runway by strutting down in a large, inflatable bubble. Her win this week was well-earned. Also, attempting to form alliances is a savvy move that could save her later on. Whereas Ben is here to win just by being the best Ben she can be, Shangela is here to play the game. She's being calculating, but still not cruel. Clever, gurl.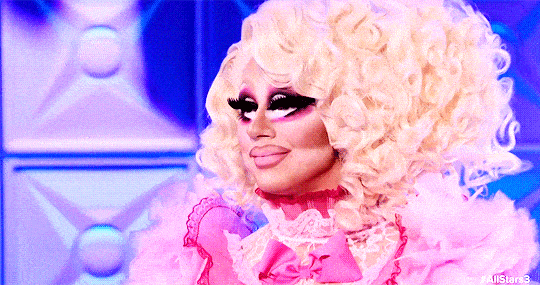 3. Trixie landed in the safe group this week, but she's still a top-tier competitor to me. She found a way to make Dolly Parton MORE of a drag queen. It's tough to judge her purposefully-bad runway look without any context from the judges, but just knowing what Trixie is capable of (and how whip smart she can be), keeps her toward the top for me.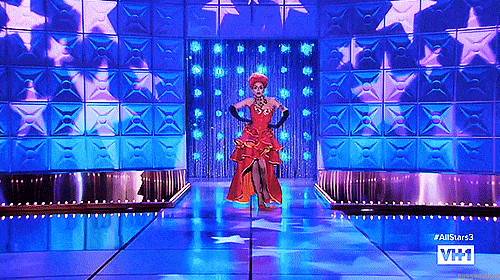 4. In my mind, Aja just missed Top 3 this week. Personally, I would have swapped Bebe for Aja. Winehouse is another performer that doesn't crackle with the same Diva energy as some of the others, but Aja had fun with it and still delivered an entertaining lip sync. Her makeup was on point, and that lip snarl was perfect. Thank goodness she gave us another spin with Princess Disastah, one of the most aesthetically-offensive lewks to stomp down the runway in Drag Race herstory. So far, Aja is getting the most mileage out of her All Stars slot when it comes to readjusting her legacy.
5. Another week, another solid Bebe performance. The fact Bebe's regal demeanor naturally overlaps with Diana Ross' divadom certainly didn't hurt, but Bebe looked flawless and delivered on the lip sync. Bebe is a bulletproof queen, but after we shed some dead weight, can she be as exciting as the others?
6. I would have given anything for Chi Chi's track to demand to know WHERE ARE MY BACKGROUND SANGERS? Oh well. I was still impressed with the mannerisms that really brought Patti's energy to life. Her runway re-do (Ru-do?) definitely was an improvement, even if her thought-process felt a little too on-the-nose. (They asked for pads, so she gave them pads.) While I see growth from Chi Chi, I wonder if she can catch up to some of her other competitors.
7. It is insane for Milk to think she deserved to be in the top this week. Even as someone who owns multiple Celine Dion live DVDs, as well as the incredibly cheesy Lifetime Original Movie about her life, I would not recognize Milk's version without that backing track. On the runway, she served some serious Evan Rachel 10/10 WOULD, but I didn't really see the connection to her botched look. Maybe I'm being too hard on Milk, but that spoiled attitude is really souring me on her.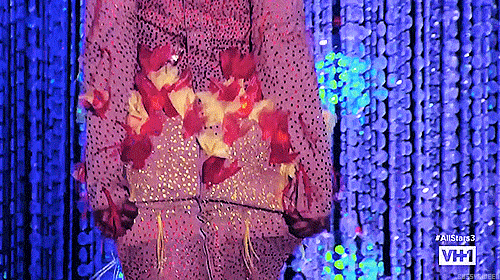 8. I think she's still got a better shot overall, but it's hard to reward Kennedy's performance this week. She sleepwalked through her Janet Jackson moment, and not knowing the words to a RuPaul song on RuPaul's Drag Race is a real sin. This is All Stars, henny, you don't get excused from choreo. We all have to suffer through Todrick Hall together as a people, and that includes you, Kennedy.
9. Thorgy, you're smarter than this. You're better than this. You knew coming in that you had a reputation for being too in your head and too Bob-sessed. How could you even SPEAK HIS NAME ON CAMERA? Her Stevie Nicks ensemble looked more Babadook than Gold Dust Woman. She could have done way more with this character. Last All Stars' winner Alaska did an entire show as Stevie Nicks at the Laurie Beechman Theater in NYC, and it was hilarious. Hell, even Lucy Lawless on SNL gave us a more gag-worthy Nicks. I really believe Thorgy is a great queen, but she just can't succeed in this kind of environment.
How would you rank the remaining queens?