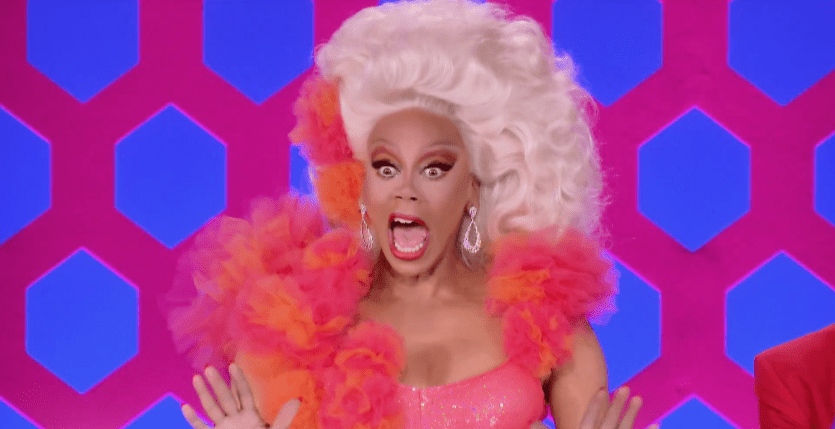 In today's turbulent times, each season of RuPaul's Drag Race feels more and more vital. Having Ru, Michelle and the gals back on my screen feels like a fresh spring day after a long winter. It's like food. It's like mana. It's like electrolytes.
After a rocky first season, All Stars found its footing in season two, and the third installment has been even more hotly anticipated. We've gagged over the queens. We've gasped over the judges. Now it's time to get our whole entire lives to the new season.
So let's not waste a moment more. Bring back out gurls!
The first to arrive is Trixie Mattel, a unique queen whose post-Drag Race career skyrocketed thanks to a rabid fanbase and a hit webseries-turned-TV show with fellow season 7 queen, Katya. She skates in on her bright pink Barbie skates, tosses off some self-deprecating humor and is basically perfect.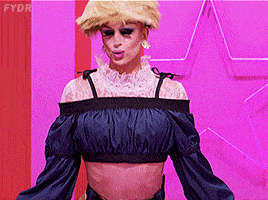 Next up is Milk, strutting in wearing a denim Pinocchio get up. According to Ru's mantra, Milk is ALL SET to love somebody else, because she sure do love herself. Since season six, Milk's been a big hit (mostly out of drag), doing some high-fashion modeling and becoming one of Tumblr's favorite #zaddys. We know she can serve avant-garde fashión, but she shouldn't be so cocky until she can prove she's got a better Snatch in her than Julia Child.
Chi Chi DeVayne is back to tell us she's got her drag together, and yet here she is in a yellow bathing suit covered in trash bags and a Family Dollar plastic New Year's top hat. Someone put her back in, I don't think she's quite done yet.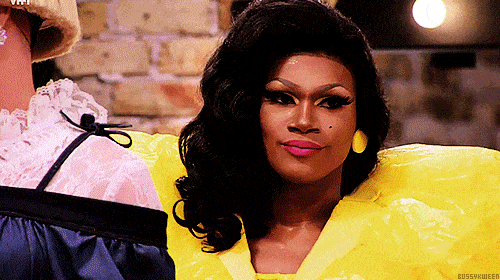 Thorgy's next and seems to be serving more of the same Dr. Jekyll delight alongside her Mr. Hide insecurity and fixations. Morgan McMichaels comes in basically shouting from the rafters that she intends to be this season's villain, while Aja takes the opposite approach, claiming seeing herself on television was humbling.
Then comes BenDeLaCreme, crackling with electricity. Here's a queen that breathes joy and character into everything she does. Yes, it's always very "Ben," but I'd rather see her do DeLa than some of these other queens pantomiming reality TV tropes or executing complex choreo to their own flaccid EDM tracks. More on that in a bit.
Kennedy Davenport teleports in from the planet Glamtron, wearing head-to-toe mirrors and some sort of alien, Tree of Life high-ponytail that defies gravity, logic, reason and moral authority. It's a statement, for sure.
Finally, there's a box. You know who's in the box. It's Shangela. Halleloo.
There isn't a lot of time for the girls to gab, because with drag quorum achieved, Ru appears with one more surprise entrant: Season one winner, Bebe Zahara Benet. Mother has officially arrived. Cameroooooooon!
Now that the gang's all here, officially, Ru explains that All Stars rules are in effect. That means the top two will be lip syncing and the winner gets not only a $10,000 tip, but also the ability to send home one of the bottom two girls. It's such a clever spin on the standard practice of lip syncing for your life, and I'm so glad they brought it back for All Stars 3.
Things keep clicking along quickly with the first mini-challenge: Reading. For a bunch of All Stars, it was a bit of a letdown. Aside from strong performances from Ben, Trixie and Milk, the rest of the lot fell mostly flat. Most weren't even jokes, really. "Where ya been?" Kennedy asks Ben. Aja describes Trixie as a "Lisa Frank Serial Killer," much to Mattel's delight. Bebe just tells Ru that Thorgy looks homeless. Some of the girls would have been better off just rattling off yo momma jokes they Googled on the flight over.
Ben rightfully gets the win after dishing out devastating reads with actual structure and punchlines and unexpected turns.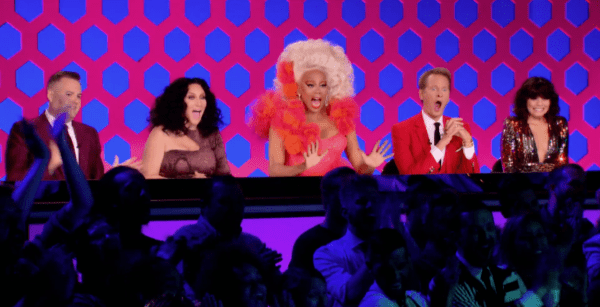 This week's challenge is one of my favorites: A variety show. I love these kinds of open-ended challenges where (ideally) the queens can just do whatever they do best. No terrible Lucian Piane tracks, no Todrick Hall choreo.
The results are largely positive. We'll get into the individual performances in our rankings below, but BenDeLaCreme's twisted burlesque routine wins rave reviews from the judges, as does Aja's stunt-filled dance routine. Less fortunate are Morgan McMichaels — who gives us a watered-down lip sync to her own god-awful track — and Chi Chi. Ms. DeVayne's crimes have more to do with poor shoes and wig choices than her high-stepping baton twirling, but it's all pretty amateur.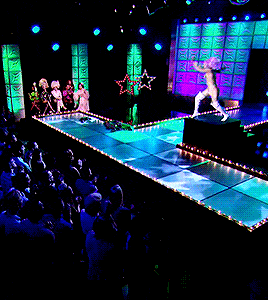 Morgan and Chi Chi plead their cases to Ben and Aja, but the more important conversation revolves around how the girls plan on making these decisions moving forward. You may recall last All Stars started by agreeing to choose whom they eliminate based on the judges' critiques. That all fell apart rather spectacularly.
The group seems to reach even less of a consensus here, but what's notable is Morgan's insistence that she will eliminate her strongest competition even if they're not deserving of the chop. She may as well have ended that statement with "And now I'll show myself out … "
While the ladies chat, Ru has guest judge Vanessa Hudgens lip sync against Pork Chop. No, not her, an actual pork chop. It's a dumb gag that I absolutely love, and I truly hope they do this every week (imagine the guest judges battling a pearl, a peppermint, kim chi, a raven … ).
The lip sync between Ben and Aja is an instant classic to Nicki Minaj's "Anaconda." Aja, sort of predictably, chooses to go the video ho route, while Ben, also sort of predictably, makes it comedy. Both slay in their own way, but Ben wins this round, sending Morgan packing … for now.
So where does that leave our rankings? As a reminder, each week we'll list the queens in order of their likelihood to snatch the crown based on this week's challenge, lewks, history of slaying and, of course, my own personal biases. This isn't science, darling, it's drag! Disagree? Leave your rankings in the comments.
1. Right out the gate, BenDeLaCreme is my pick to win it all. I adored her during her season six run, and I still do now. She's quick-witted, she's got a point of view, she can perform, she looks great. Her weakness is that it's all a little schticky, but based on her first mini, maxi and lip sync wins, something tells me the judges' schtick tolerance may be higher this time around.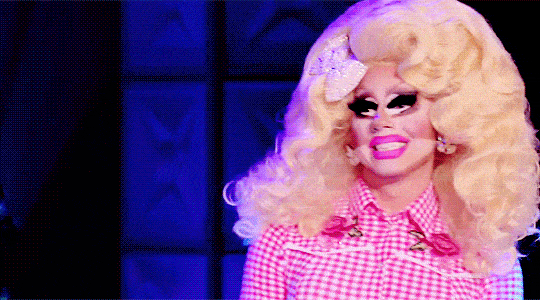 2. It'd be foolish to expect Trixie Mattel to go home any time soon. They've got to keep her around for her confessional interviews alone. Like Ben, she's a clever gurl with a very distinct persona, but it feels a little fresher than DeLa. Whereas Ben is incredibly calculating, Trixie seems less afraid to take wilder swings, like her tender talent showcase tonight. That gives her the potential to lap Ben, but also opens her up for a risk to fall flat.
3. Your threshold for Shangela may vary, but there's no denying the growth she's displayed. I would happily go to my gay little grave never hearing "Halleloo" or an allusion to Shangela's box ever again, but, her dogged branding aside, she sparkles on screen. She's a high-energy performer that's a joy to watch with so much charm and likability. Her performance tonight wasn't groundbreaking (though it almost literally was when she forcibly slammed her body into the actual ground), but it was well-executed.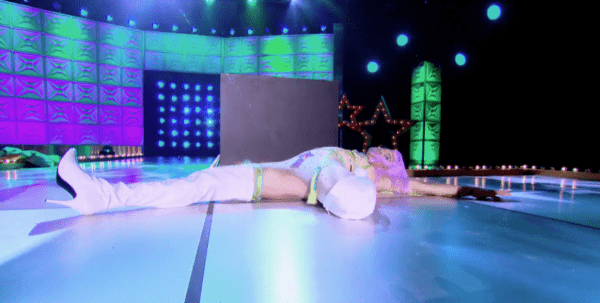 4. Based on tonight alone, Aja might rank higher. She clearly came to slay, and she arrived much savvier than her first spin on Drag Race. I'm rooting for you, Aja (we're all rooting for you!), but I'm not sure I'm ready to put her in the top 3 just yet. We already knew she could dance a house down, but I'm still waiting to see what else she's got.
5. If this was Dancing With the All Stars, Kennedy would be the clear favorite. Nobody kicks, flips and splits like Kennedy. For me, her outfits are hit and miss, ranging from wild and wacky to dated and tacky. I also think her attitude could be an issue, especially if we face upcoming group or paired challenges.
6. It's been a while since we've seen Bebe at work, and it was a very different game back then. It's hard to gauge how she'll stack up now. Based on her season one performance (great!), runway performance (good!) and reads (OK!), I put her somewhere in the middle of the pack. I LOVE how she incorporates her cultural background into her performances, because it keeps them unique. It put her performance in a whole other category from the other girls' dancing to a track.
7. So, speaking of personal biases, Milk's entire presence really rubbed me the wrong way tonight. Her reads were certainly some of the better ones in the mini challenge, and, although I didn't love her runway performance, it was fine. It was kind of dumb and really basic, but she committed to the bit fully and gave us a little something different (even if there was truly very little talent necessary to pull it off). I think Milk is very, very good at one specific thing (fashion!), but there's a lot more at play here. My gut tells me her smug self-satisfaction might blind her to that.
8. On paper, I love everything about Thorgy's performance tonight. The violin was a unique touch, but the whole thing felt disjointed. I wanted the performance to build to more of a crowd-rousing crescendo, but it just didn't get there. It never felt like it got out of first gear. Unlike Aja, it's not as obvious if Thorgy learned anything from her first time on the show, and that concerns me.
9. I wouldn't have guessed Chi Chi would've lasted as long as she did in her season, so maybe she'll surprise me again here. However, her performance tonight was so obviously ill-conceived, I'm not sure she deserved to stay in the first place. No pads, no heels and that Duane Reade wig? No, ma'am. She needs to step up or step out.
10. Oh, Morgan. Clearly she thought if she asserted herself as the villain it would guarantee some Phi Phi O'Hara-sized screentime. Morgan's reads weren't great (that Black and Decker jab owes residuals to Jujubee's brilliant grill read in season two), and that "song" was awful. I mean, most drag queen songs are terrible, just generally, but this one in particular was some sub-Real Housewives mess. Countess Luann wouldn't even touch that track. However, in the end, it was her strategy, not her performance, that really sunk her.
What did you think of the premiere episode?