While the world awaits a Finn-Poe romance or any explicitly gay main character in the Star Wars universe, it appears fans have been thrown a few crumbs in the new films.
We now have gay porgs – a background addition so insignificant that it has taken nearly two months for someone to notice.
only male porgs have orange plumage around their eyes, and both snuggling porgs have those markings. gay porgs, folks. tlj is a gift that keeps on giving pic.twitter.com/yxDO6HJ3iD

— a-yao appreciation station (@guangmeow) February 2, 2018
An eagle-eyed Twitter user spotted two Porgs snuggling with each other in the background of a scene on Ahch-To and noticed that both of the creatures were male. Officially, male Porgs are slightly larger and have orange feathers around their eyes, which both of the Porgs in question have. The image of the two gay Porgs has since taken the internet by storm and people are freaking out that they didn't notice the small detail right away.
Some Star Wars fans have dismissed the findings by claiming that all Porgs have orange plumage around the eyes, but Wookipedia, the Star Wars version of Wikipedia states that only males have the orange coloring around the eyes. Additionally some fans are calling the brief background of the scene to be coincidental, which may be true. However, this is Star Wars that we're talking about here. Every little detail is gone over with a microscope before it hits theaters and this small detail does not seem like something that would have been overlooked, especially since there was so much talk about gay characters appearing in The Last Jedi.
Director Rian Johnson has yet to comment on the gay porgs.
And some other eagle-eyed fans are pointing out a pair of Twi'leks dancing 30 seconds in to the new Solo: A Star Wars Story teaser trailer.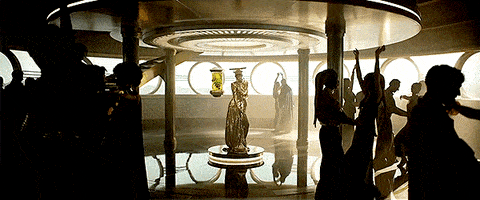 Twi'leks are an alien race in the Star Wars universe and sexualized among fanboys and have appeared as dancers, strippers, and slaves, according to ONTD.
Progress?
https://twitter.com/amilynhoIdos/status/960302612217085952?ref_src=twsrc%5Etfw&ref_url=https%3A%2F%2Fohnotheydidnt.livejournal.com%2F109477336.html
Before The Last Jedi's release, Oscar Isaac was asked about Star Wars fans who see the opportunity for a romance to bud between Poe and John Boyega's character Finn in an upcoming installment, and Collider asks him what that means to him.
Said Isaac: "What it means to me is that people can see themselves in a hero like this, in a movie like this, which I love. Not only LGBT, but Latinos. That there's a representation out there for that."
He added that fans shouldn't expect much any time soon: "As to actually seeing how that manifests itself in Poe in this film, that isn't necessarily going to be a clear story point in this one. But as an actor, I'm very open to those possible storylines and I don't think it needs to be nailed down in any traditional way."
Boyega spoke about the possibility of gay romance last year: "I think that Oscar is always looking at me with love in his eyes, and I guess that the fans saw it. And then they realized that either he needs to chill or come out….We've talked about it, but I think you're not going to see it in The Last Jedi. In the next six or eight months, we will have some meetings about the stories that we will develop next."