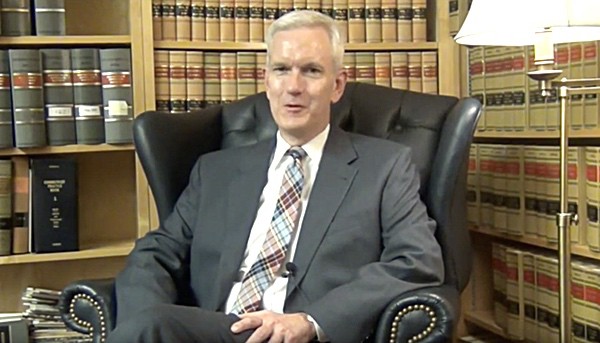 Connecticut Senate Republicans blocked the confirmation of gay Judge Andrew J McDonald as Chief Justice of the state Supreme Court in a 19-16 vote.
All 18 Senate Republicans voted against McDonald and were joined by a moderate Democrat, Sen. Joan Hartley of Waterbury, a strong supporter of the death penalty who was concerned about McDonald's vote to eliminate capital punishment….
…Gov. Dannel P. Malloy, a close friend and political ally of McDonald's for the past 25 years, charged that part of the reason that Republicans are opposed to McDonald is that he is gay. But Republicans have repeatedly and heatedly denied that allegation, saying they have never mentioned McDonald's sexuality during the weeks that his nomination has become highly controversial.
Said Malloy: "Let there be no doubt that Andrew was treated differently than any other person nominated and quite frankly the only difference is that he was openly gay."
Sen. Beth Bye, D-West Hartford, the only openly gay member of the Senate, said McDonald's treatment was a dramatic departure from previous confirmations, beginning with an unprecedented 13-hour confirmation hearing and the legislature's second-guessing of his ethics and approach to several controversial cases.
"So forgive my skepticism that this has nothing to do with Justice McDonald being gay," Bye said.
The NYT reported last week that the confirmation had turned into "a contentious partisan fight"
Bye spoke out then as well:
"The whole thing is just, I'll tell you, it's so out of character for this building," said Senator Beth Bye, a Democrat who supports Justice McDonald. "That's why you have to say, what else could be up? It doesn't sit with past practice."
McDonald delivered a statement following the vote:
"Whenever I faced a challenging situation, or was disappointed about something that happened to me, she would always remind me, 'Andrew, life is not about you. It's about those who need you.' To everyone I tried to help, and to everyone who tried to help me, I am sorry I failed in this endeavor. And to the LGBT community, particularly its youth who I know have been closely watching this process, I want you to understand that every minority group in history has faced setbacks. In the fullness of time, those setbacks usually end up becoming a source of strength, a reminder of why the community must continue to press for equality, and a framework that helps shape and develop the next steps of progress."