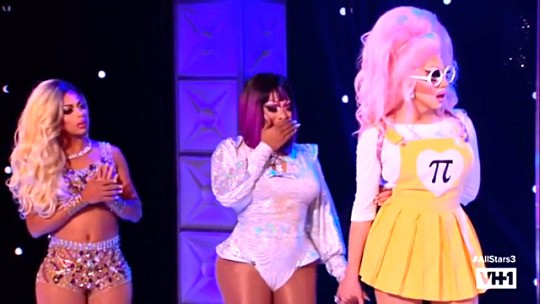 I may have griped about last week's episode of RuPaul's Drag Race All Stars due to its weak challenge and disappointing runway, but I actually may have enjoyed this week's episode less.
It's not that the challenge — the kind of cheesy group performance we've grown accustomed to — was particularly bad. It's all the drama that really soured this kitty's milk.
I don't watch RuPaul's Drag Race to see queer people tear each other down. The reason why this gem of a show has transcended the other reality competition swill is that it is truly steeped in sisterhood and shared queer experience. Sure, some degree of drama is great (B*TCH, I AM FROM CHICAGO!), but tonight just felt like too much.
Of course all the yelling and hurt feelings and DRAMA gets neatly resolved by the end of the episode, but we deserve more. Leave the cliche emotional narratives that gently massage our lizard brains to the reality competitions FOR THE STRAIGHTS. We deserve better.
For the amount of time we spent relitigating not only past offenses, but also BREATHLESSLY DEMANDING APOLOGIES FOR THE MECHANICS OF THE GAME AS DESIGNED, we could have seen longer performances, more time on judges' critiques, an extra runway look, or, I don't know, another round of Andy Warhol Diaries nonsense voiceovers. Literally anything else. Can we get another Glamazonian Airways? Does anyone have eyes on Todrick Hall?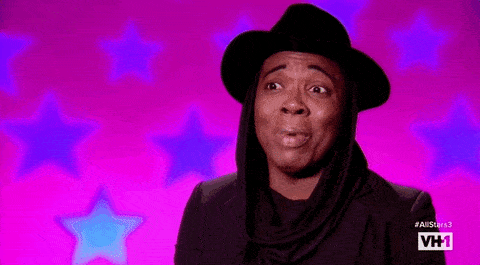 As predicted, this was the turning point of the competition where all the eliminated queens made their attempts to return. After last week gave us a slight swerve by only showing three hooded queens on the stage, the other two eliminated ladies quickly joined them. Morgan, Chi Chi, Aja, Milk and Thorgy are all back.
They'll be competing this week as a team in a Spice Girls-inspired challenge pitting their fab five against the remaining competitors. One of the top five will go home, while one eliminated gal rejoins the competition.
Before anyone even blocks a brow, we got to sit down and lay all the cards on the table. One by one, each eliminated queen (save for Chi Chi) goes after the girl that sent her packing. First, Thorgy goes for Shangela, which is bizarre, since Shangela is the one who should've been mad at Thorgy in the first place for being such a bitter Betty. Still, Thorgy feels she was unfairly sent packing, despite the fact she drastically underperformed in the challenge and lost to Kennedy, a queen with an amazing reputation as a performer.
This leads right into THE NOTE. You could practically see Trixie praying for this to end. First Thorgy is mad at Shangela for sending her home. Then Shangela is mad about what Thorgy said in the note, and now Thorgy is mad at Trixie for outing her as a sore loser — which we already sort of already knew, right? Anyway, Thorgy is coming in hot for Shangey, but, good for her, Shangela does not back down.
Once they've exhausted themselves (and me) with this argument, it's Morgan's turn. She comes for Ben, claiming Ben is a sneaky sneak who sneakily sabotaged her like a sneaker. Ben points out that she wanted to keep the competition fair, and to do that Morgan had to go. Plus, she felt Morgan was the worst that week. Sorry!
Morgan takes this info, but all she can make of it is A HA! So you are a hypocrite! It's like the evil dragon turning to the courageous knight and being like, yes, but if you kill me to keep me from torching all the villagers, aren't you also a killer? (Look, Morgan's explanation isn't any better.) She just keeps coming for Ben until DeLa shuts down completely.
Next up is Aja, the girl with perhaps the most justified beef. She's not upset Bebe sent her home as much as she's annoyed Bebe didn't acknowledge Aja's assistance crafting the garment the judges went gaga for. This could've been resolved with a simple apology, but Bebe can't bring herself to do it. I've long admired Bebe's regal demeanor, but I am not a fan of the royal attitude.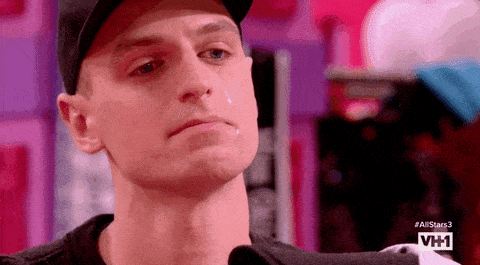 Finally — yes, this is still happening — Milk wants an explanation for Kennedy. Now, this one? This one is pretty satisfying. Kennedy tells Milk that she hurt her when she came for her drag, and also Milk sort of has an attitude. The other girls agree, but Milk is AGHAST at the thought. She can't possibly understand why no one would approach her to tell her how unapproachable she was. OK, gurl. It's this kind of salty, reality-TV drama I am fully here for. I just wish we didn't have to sit through the other three-plus spats first.
As the team's work on their performance, it seems as if the eliminated queens are really set up for success. Aja could fully parlay her Drag Race work into a rap career. Morgan, once again, goes for the lazy, dumb drag jokes. (LOL, did you know they have penises?) Milk spits a verse that's about as good as what she did in her season, but Adam Lambert seems to like it for no other reason I can think of other than maybe Adam thinks Milk is hot?
The other All Stars are struggling. Ben is so shook by her interaction with Morgan, she's abandoning her entire terminally delightful brand to play a Wednesday Addams-esque, moody teen. Trixie has a tense back and forth with Adam Lambert that will later bite her in front of panel. Bebe babbles some nonsense that can only be described as Countess Luann circa December 2017 Palm Beach.
The actual performances are a lot more competitive. During the eliminated queens performances, Aja totally slays. Thorgy, playing up an '80s-influenced aerobic instructor, gives a fully-realized, 360-degree performance that blends character, lyrics and choreo flawlessly. We get another, better verse from Milk, but it's hard to see beyond the strange, over-sized fake teeth she's wearing.
Ben steals the show in the other group. She manages to make dour dynamic, and it's no small feat. Bebe's unhinged nonsense is a crowd-pleaser, taking a completely different approach to the performance that avoids the puns, jokes, tricks and attitude even the best girls levied. It's almost spiritual.
Trixie's sexually-active mathlete is fun, but no gag. Kennedy actually gives a great performance that's underappreciated by the judging panel due to her lackluster lewk. The worst of the bunch is Shangela. Her "Sparkle Kitty" is a duller version of everyday Shange. At least she doesn't cram a bunch of halleloos in her lyrics, so there's that.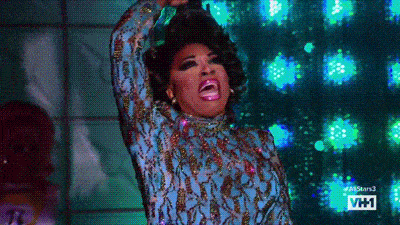 Ben and Bebe are tops this week, lip syncing to Deborah Cox's "Nobody's Supposed To Be Here," a certifiable club classic that just doesn't get the bop-worship it deserves. It's the kind of track that feels tailor-made for Bebe. It's got drama, it's got attitude, it's perfect. And Bebe is slaying … until she takes that damn wig off. You could feel the room deflate.
It's not that Ben's lip sync was bad. It just wasn't as good as the rest of Bebe's. The precedent has been set: You lose your wig, you lose the lip sync* (*unless you've got some kind of trick under there).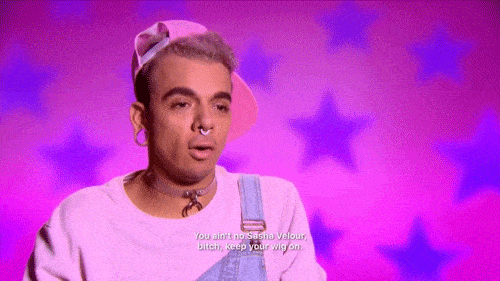 Ben is eager to announce the returning queen first. She chooses Morgan, a nice little bookend following an earlier convo in the workroom where they cleared the air and hugged it out. As for who's going home, that's a bit more dramatic.
DeLa gleefully reaches into her bustier and pulls out a lipstick with her own name on it hastily scrawled in WhiteOut. That's right. Not only is Ben sending herself home, but she did it with her own DIY flair. She's going  home a winner in her own mind (and, I believe, $25,000 richer). With a smile on her face, she skips off to the back to collect her things.
Ru and the other girls are SHOCKED, but Ben's out, Morgan's in. We've still got five girls left.
Where does that leave them? Let's break down our rankings.
1. Although she phoned in this week's performance, Shangela stands to gain the most form Ben's departure. She handled Thorgy's inquisition expertly, and she continues to be a compelling force even when out of drag. Shangela's road to redemption is a long time coming. After stumbling through two seasons, this queen has put in the work and deserves to be recognized.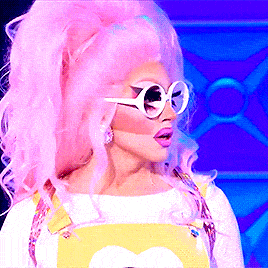 2. I feel less and less confident Trixie will win this as weeks go by, but, so far, she's still strong. Of all the girls, she needs this win the least. She's doing great out there in those streets, whether it's on her talkshow with Katya or in the annals of Tumblr. (Those internet fans buy a lot of merch.) She's just been too uneven to topple Shangela now.
3. If anyone else has a chance to snatch the crown, it's Bebe. I'm still not fully wowed, but she gives enough glimmers of superstardom to justify at least a spot in the top three. Obviously, she's got Ru's approval, and a win here would be a nice way to bring "the forgotten season" into the mainstream Drag Race canon.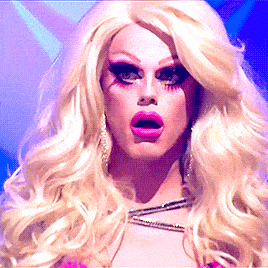 4. I guess Morgan McMichaels is fine. I don't know. I wasn't impressed with the concept nor the execution of her "Bimbo Kitty" character. However, she is hungry, she is thirsty and she is not afraid to cause a show-stealing scene.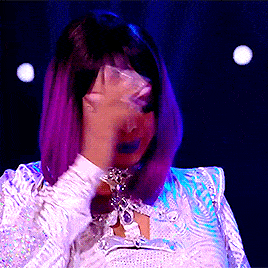 5. Kennedy is on borrowed time. I've been saying from the beginning that she just can't seem to keep it all together for a sustained period of time. It was the same problem in her season. Kennedy is an incredible queen, and if you get the chance to see her, you absolutely should. She just doesn't have all these varied skillsets fully developed to crush this kind of competition.
How would you rank the remaining queens?