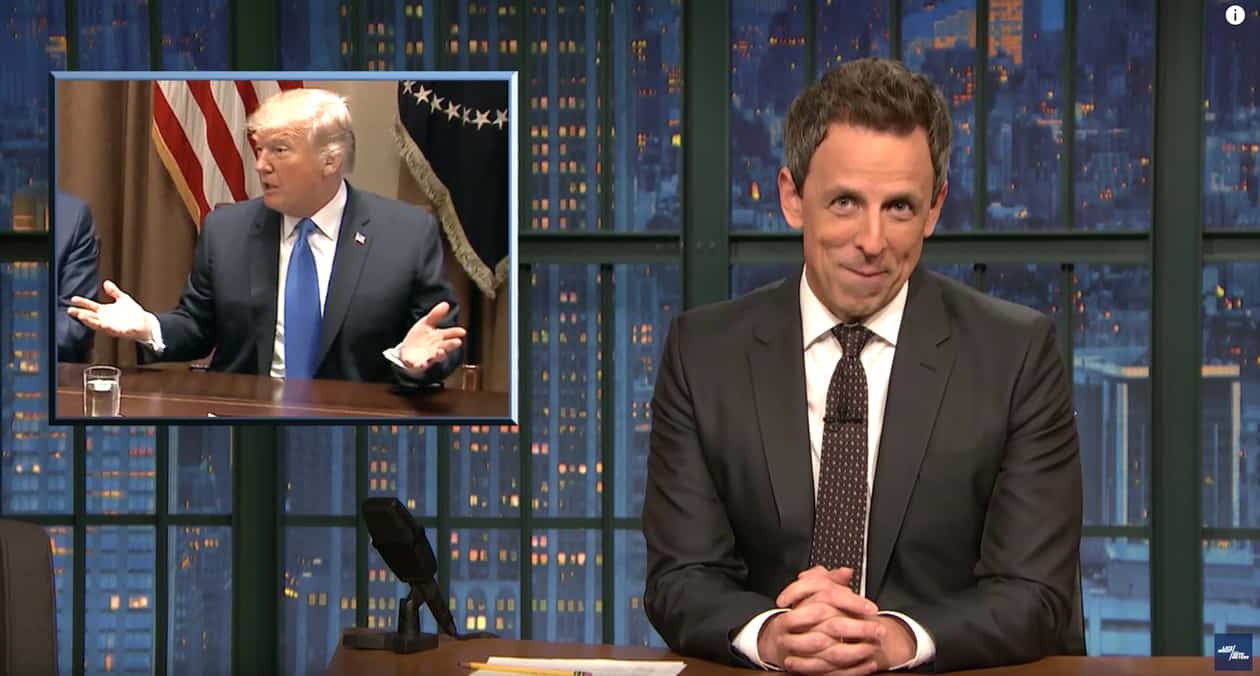 Seth Meyers took a look at yesterday's crazy Wednesday in Trumpland, turning to Ben Carson's furniture expenditure and the troubled tenures of Jared Kushner and Hope Hicks, before turning to his behavior at a meeting with lawmakers over gun control.
Said Meyers: "While more and more of Trump's aides come under legal and ethical scrutiny, he's also struggling to deal with the nation's epidemic of gun violence. Today, Trump made a show of inviting a bipartisan group of lawmakers to the White House for a discussion on school safety and gun reform."
Trump also discussed wanting to "harden" security at schools, explaining that things shouldn't get too hardened, or police will have to drive a tractor through the walls of a school to get to criminals.
Quipped Meyers: "A tractor. Through the wall. Trump talks less like he's in a White House meeting, and more like he's at a rewrite table for a new 'Die Hard' movie."
Meyers also mocked Trump's weird focus on the word "comprehensive."
"Some people don't like the word comprehensive," said Trump during the meeting. "I like the word comprehensive. You know they say, 'oh that's a bad word because it represents things.' For me, I like the word comprehensive?"
Asked Meyers: "Is this the first time he's heard the word 'comprehensive'? He sounds like a kid in a spelling bee who's stalling for time."
He added: "But here's the thing we've been through with Trump before. In January, Trump held a similar bipartisan meeting on immigration where he said he would support a compromise and then he completely changed his mind. And that's because Trump changes his mind based on the last person he's spoken with. "
Watch:
Watch:
https://www.youtube.com/watch?v=RKpjH-O8a6w