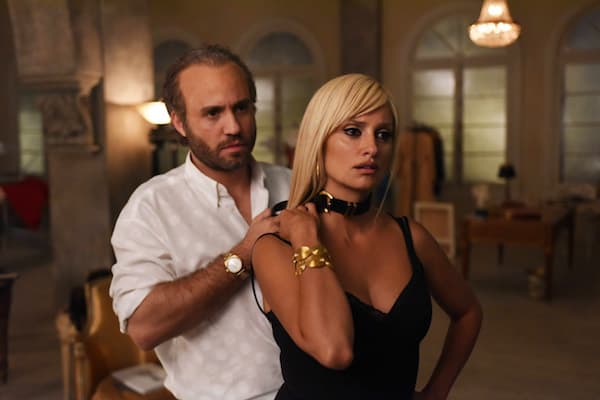 After several mostly Versace-less weeks of The Assassination of Gianni Versace: American Crime Story, we finally revisited the fashion haus in last night's episode, titled "Ascent." However, it wasn't about the titular Gianni. Last night gave us a glimpse at his iconic sister, Donatella.
It's a long-awaited showcase for actress Penelope Cruz, and it's an interesting time to follow her character. We see her struggling to assume more responsibility of the Versace empire back in Milan, 1992. This not the oft-parodied Italian party monster we're used to. Instead, this is Donatella struggling to step into her brother's luxury loafers at the leader of Versace while his health is on the decline.
Donatella lacks the confidence (if not maybe the vision) to lead the company in the shadow of her brother. His staggering genius is something that's hung over everyone around him in this series, including his sister, his lover and, of course, his eventual killer. Donatella sheepishly tries to share designs, but can't quite assert herself.
Gianni's answer is tough love. He's shouting at her to be more than an assistant, to find her place in the company. He knows he is not well, and he seems desperate to comfortably situate her as his successor. He offers to design a dress with her.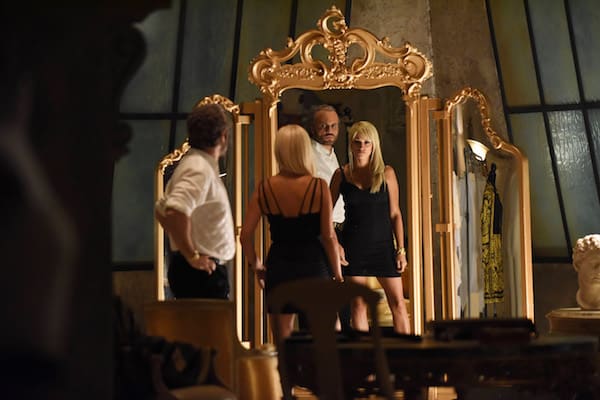 It's her idea to create "a dress as a weapon," something Gianni manifests as a leather-accented black dress, complete with belts and harnesses. It's something Adam Rippon would have loved to wear. He insists she wears it to the Vogue 100th Anniversary Gala, and it is a complete smash. The paparazzi eat it up, encouraging Gianni to step away to Donatella could (literally and figuratively) take center stage.
The dress is a hit, and it lights up Donatella's confidence. The bold design earns heaps of attention (not all of it good, but you know what they say about no such as bad publicity … ).
Unfortunately, all of that attention hasn't translated to sales. Women want to see the dress, but it's not something they could wear in their everyday life. Donatella suggests Gianni make a simpler version — a ready-to-wear, if you will — but he hates the idea. In a fit of frustration, he takes scissors to the dress, hacking off some of the harsher elements.
It's only mostly about the dress. As his fit reaches its crescendo, he realizes he's gone deaf. He's scared, and his health is failing.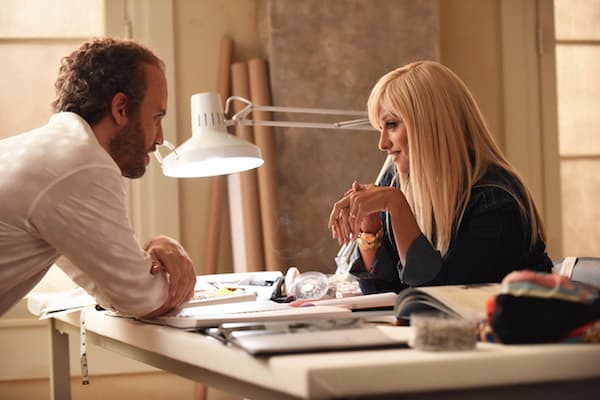 Meanwhile, Andrew Cunanan is preparing for his own ascent. (Truly, these shows don't make you work too hard to unpack metaphor … ) Given the series' backward storytelling technique, a lot of what we witness in Andrew's story feels like a bit of a rehash. Many of these contextual details have been doled out over the course of previous episodes to fuel the reverse chronology engine. The scenes were still compelling, thanks to the dependably excellent performances, but hardly anything felt particularly revelatory.
We see his humble beginnings working at a local pharmacy where he's telling handsome young men that he's working on his PhD. We see him slam a tub of store-brand ice cream on the ground, because his mother bought it instead of Haagen-Dazs. We see him hit the gay bar with Jeffrey Trail, only to find himself alone at the end of the night, because he fears rejection. (Been there, gurl.)
Despite the fantastical tales he spins and all his wealth of knowledge, he can't fake the fact he's broke, as one older gentleman reminds him at closing time. He heads home drunk, reassuring his worried mother that they are moving on up, and he's taking her with him.
His plan is to begin his escort career. He goes to an agency where, despite his intelligence and allegedly large junk, he's told clients don't want Asians. Frustrated, he vows to sell himself.
Andrew stalks the local the press for arts and philanthropy patrons. He meets a target at the La Jolla Playhouse, smoothly deploying all his research on the mark, Norman Blachford (whom we met as the host of Andrew's party). He impresses Norman and his friends, earning an invite to join them for dinner. He regales them with tales we've grown accustomed to hearing Andrew spin.
It's not Norman that wins the prize to stay with Andrew that night; it's his friend Lincoln. Cunanan becomes Lincoln's kept man, living off an expense account and taking trips to San Francisco. That's where we see him meet David and play out their wild, over-the-top stay at the Mandarin Oriental.
Lincoln is not thrilled that Andrew lavished all this attention on David in SF while on Lincoln's dime. He ends it. Lincoln hits the gay bar to pick up some new trade, choosing to take home a jittery "straight guy" he found in a bar. The man ends up murdering Lincoln for getting a little too close (which actually happened). Andrew witnesses the killing (which likely didn't actually happen), but the man runs off, eventually turning himself in and using the "gay panic" defense.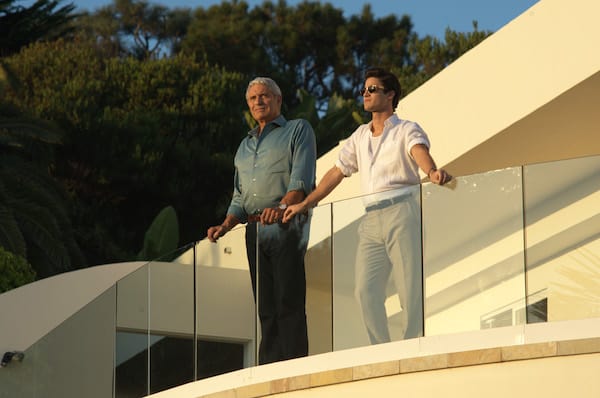 At Lincoln's funeral, Andrew makes the connection with Norman. They share a too-real discussion about how no one cares when they're murdered, how no one cares they're dying in the AIDS epidemic. It's heartbreaking, but it's their truth; maybe the most true thing Andrew has said.
He convinces Norman to relocate full-time from Phoenix to start a life with him. First, he needs to tell his mother he's leaving, giving her the explanation that he's leaving with Versace to work at opera houses around the globe. She's so excited for him, but also so excited for herself. He promised he would take her with him on his ascent, but now bringing her along would risk exposing all of his lies.
Andrew flips out, shoving his mother, leading to a fractured shoulder blade. In the hospital, his mother refuses to turn him in, telling the doctors what a good boy he is.
The episode ends with Andrew and Norman walking through their gorgeous new home. Andrew steps onto the balcony and remarks, "If they could see me now." When Norman asks to whom Andrew is referring, he tells him, "Everybody."