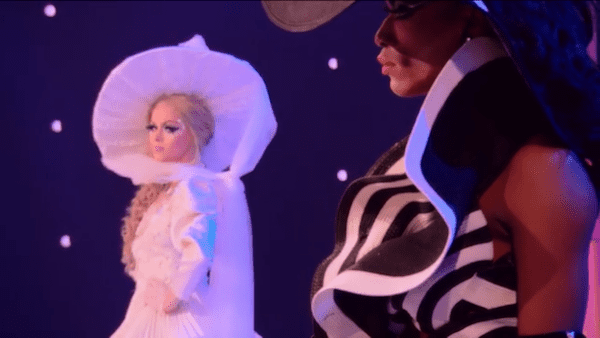 I'm not saying this week's RuPaul's Drag Race was my favorite episode of the series, but, if you examine all its parts, it was an ideal installment.
There was a mini-challenge that was the perfect balance of skilled and silly. There was a maxi-challenge that tested personality/performance, as well as drag. There was a creative runway theme. There was even a big, emotional moment and a surprising elimination.
Although the ep lacked any iconic scenes for the RPDR canon, it was a solid 90 minutes of television that highlighted what the show does best.It helps we're working with a top nine that would make any elimination seem shocking at this point. With such a strong cast, it's tough to predict who will go next.
But predict we must! Check out our recap of the episode below and our rankings of the remaining queens.
Our mini-challenge, "Sitting On A Secret," is one of my favorites. I love when a mini-challenge is ridiculous, but also competitive. The gals just got to be themselves and let loose. Well, not too loose. The game has each blindfolded queen sit on something and try to guess what it is using only their posterior. Items include an eggplant, fax machine, traffic cone and a full cake. The gals pop a squat while Ru relishes in making all sorts of thinly-veiled innuendo. Asia and her third [brown] eye (sorry) correctly guesses the most items and gets the win (though no real advantage for the main challenge).
This week the gals will be dividing themselves into teams for a faux spin on RuPaul's Drag Con. Each team of three will be responsible for presenting a panel, doing a demo and answering audience questions live. It's a bit of an ouroboros moment — the popularity of Drag Race inspired Drag Con, and now being able to perform at Drag Con is a necessary skill to be successful on Drag Race.
Ru could give Marvel a run for their money for creating the best interconnected entertainment universe.
Eureka, a queen no one is ever too excited to work with, picks up partners Monet X Change (who's been struggling the last few weeks) and Kameron, who has a reputation for being too quiet. They choose to focus their panel on body, which especially makes sense for muscle queen Kam and big gurl Eureka.
As they start to plan, it's clear they're on the right path. Eureka stumbles on a brilliant piece of branding: "Proportionizing," the act of manipulating your body's proportions to achieve a feminine frame. Yes, it's obnoxious how they sing the phrase throughout the workroom, but its stickiness is what makes it so beautiful.
Kameron also shares a story about how she started working out with an ex. That same ex pressured her to give up drag. When that toxic relationship ended and Kameron returned to drag, she had to reconcile her new, more muscled body with her character. It's the most genuine we've seen Kameron (and it helps smooth over the stiff exchange with Shania Twain last week). 
Despite the funny face she puts forward, Monet also shares a struggle, revealing how she's still not out to her parents living in St. Lucia. Monet briefly discusses the lack of acceptance for the LGBTQ community in the Caribbean and tells the story of how a photo of her winning a Brooklyn pageant made its way into the newspapers in St. Lucia. When Monet's mother confronted her about it, Monet denied it and hasn't come out since.
On the main stage, Team Body fires on all cylinders. They've got an easy rapport about them and balance giving personality while also serving up some real, actionable advice. As expected, "Proportionizing" becomes a catchy call and response with the audience. They even deftly field an oddly heavy question from the crowd about politics with the exact right amount of positivity.
Team Makeup (Monique, Aquaria and Asia) keep the momentum going early on. Monique serves as moderator, at first entertaining the crowd with some A+ hosting then keeping the conversation moving. She made a point to pick up whatever little hints Ru was putting down when she visited the workroom earlier, so this team is READY.
Maybe a little too ready. When they complete their makeover of an adorable Pit Crew member, they also perform some demos on themselves, ricocheting back and forth between Asia's lashes and Aquaria's lips. It's not a disaster by any stretch, but you can see Michelle's head ping-pong back and forth, so you know it's not good.
Finally, Team Hair (Cracker, Vixen and Blair) take the stage. From the outset, you'd think this would be the team to beat, but they just fall apart. It all starts in the workroom when they tell Ru they're not using a moderator. The result is an unfocused panel that's light on any usable info and heavy on heavy shade. You can feel the discomfort wash over the room as Vixen and Cracker exchange barbs.
After a sickening "Hats Incredible" runway, Team Body easily snags the top three spots. The crowd chose Eureka as their favorite queen, proving once again that her personality might be too big for the workroom but it's juuuuuuust right for the spotlight.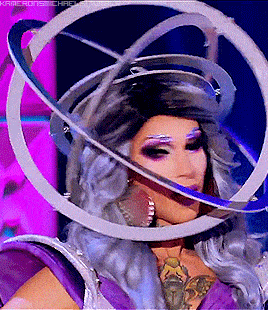 Monet bounces back from a few rough weeks with praise for humor on the panel and an eye-popping, multi-colored churchlady runway look. The judges gag for Kameron's gyroscopic headpiece, but still feel her personality is a bit lacking compared to the other queens.
On the bottom, Team Hair sees fan-favorites Cracker and Blair facing the judges' disappointment alongside with the divisive Vixen.
The judges have the same beef for Cracker and Vixen: They were just too mean. The jokes didn't land because they were too harsh. They love Cracker's elegant, My Fair Lady-inspired ensemble (complete with a large hat covered in hair), so that's likely what spares her from the bottom two. The Vixen's entire outfit is made from wide-brimmed sunhats, but it's once again lacking polish.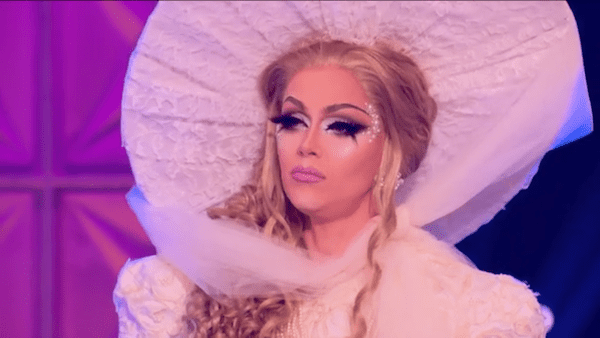 Poor Blair gets critiqued for fading during the panel. The judges call out her relentlessly sunny innocence, and it gets Blair emotional. She confesses that she's been so purposefully cheery to compensate for the pain she feels as a rape survivor. It is heart-breaking to see such a young, talented person in so much pain. I'm devastated Blair had to go through what she did, but I'm grateful she's sharing her story.
Still, the show must go on.
It's Blair and Vixen up for the lip sync, and they take very different tacks. Fresh off her painful revelation (on Untucked, Blair said this was her first time discussing her assault), Blair performs Diana Ross' "I'm Coming Out" with a whole new emotional resonance. It's a raw performance that's all heart. Vixen, meanwhile, is flipping and somersaulting and splitting all over the stage.
Feelings aside, Vixen outperforms Blair, and the judges agree. Blair heads home, and Vixen lives to fight another day.
Next week: It's Snatch Game! But first, check out our rankings and leave your thoughts in the comments!
1. Despite a rocky week, the smart money is still on Miz Cracker. Her runways are always dynamite, and she'll be even more explosive once she's out of these group challenges. You know she's got something up her sleeve for Snatch. I predict a star-making performance (or maybe a Trixie Mattel-style meltdown). Either way, it'll be a big week for Cracker!
2. Eureka continues to dominate with her second challenge win in a row. Here is another queen that's come correct for every runway, and it seems like she's really studied the Drag Race playbook. No, I wouldn't want to go on a long roadtrip with Eureka, but she knows how to shine under the big lights. Her high-end houndstooth lewk was described as "samurai," but I'm getting more safari by way of Zara.
3. Her teammates may have doubted her communication skills, but Aquaria handled herself fine on the panel. I hope Nina Bo'Nina Brown was taking notes on that bunny runway outfit, because THAT is how it's done. If she can just SURVIVE some of the more cerebral challenges, she's going to go far.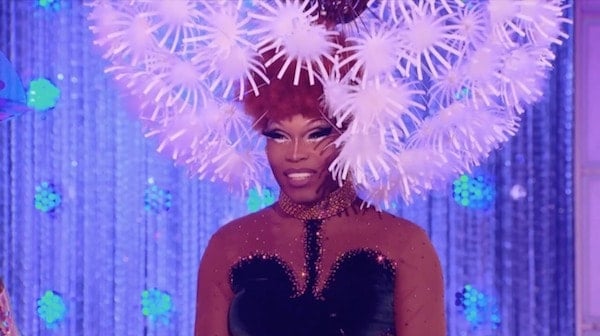 4. She wasn't a big focus of this episode, but hats off to Asia all the same. Her dandelion runway look belongs alongside Courtney Act's wings and Alaska's full-sized Lil Poundcake as one of the all-time greats. She may be this season's dark horse.
5. Even though she was merely safe, this episode felt like it belonged to Monique. What a lovable queen. She's funny, she's crafty, she may be the frontrunner for Miss Congenialty. I do feel like they set the scene for an eventual runway where Monique's "glitter and Jesus" is no longer going to cut it.
6. Of all the remaining queens, the one most likely to blow Snatch Game has got to be Kameron. I think her runway looks have been better than she's gotten credit for, and, despite her reputation as a quiet queen, she shined in PharmaRusical and on Bossy Rossy. I just can't shake the feeling she's going to give us an Ivy Winters-level Snatch, and that will be her undoing.
7. Monet stepped it up this week, but I still don't feel like we've seen her best just yet. The outfit was alright, but next to Asia? Aquaria? Cracker? Eureka? It just didn't cut it. Even in the panel, Monet was more at ease, but she still didn't bring the charm we've seen in the workroom and interviews. Hopefully this week continues to bolster her confidence, and the rest will follow.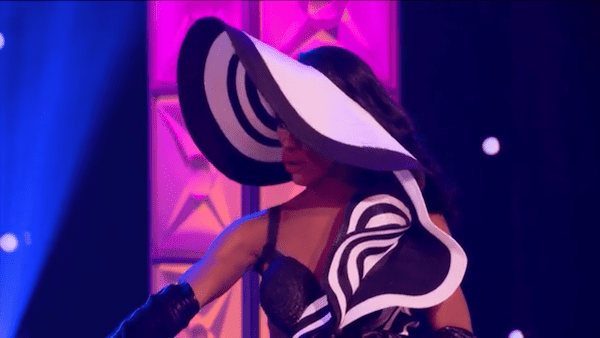 8. This felt like one of those weeks where both queens could've gone home or both queens could've been saved, and I wouldn't have been surprised either way. Vixen's lack of polish is going to catch up with her eventually. One last showdown with Aquaria may still be on the docket before the NYC fashion queen lip-syncs her home, but, regardless, I don't think Vixen is making it to the end.
9. In the end, the judges said what I've been saying for weeks: Blair just didn't seem fully realized yet as a performer. She made quite an impression in a short time, and even her elimination isn't on the heels of an utterly disastrous performance or hideous runway. Unfortunately, this is just such a strong season. She can leave with her head held high, and hopefully her spirit a little lighter.
How would you rank the queens?