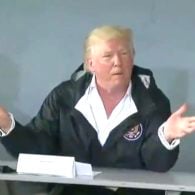 WE KNEW THIS. Hurricane Maria death toll in Puerto Rico 70 times higher than official government estimate: "From the survey data, we estimated a mortality rate of 14.3 deaths (95% confidence interval [CI], 9.8 to 18.9) per 1000 persons from September 20 through December 31, 2017. This rate yielded a total of 4645 excess deaths during this period (95% CI, 793 to 8498), equivalent to a 62% increase in the mortality rate as compared with the same period in 2016. However, this number is likely to be an underestimate because of survivor bias. The mortality rate remained high through the end of December 2017, and one third of the deaths were attributed to delayed or interrupted health care. Hurricane-related migration was substantial. This household-based survey suggests that the number of excess deaths related to Hurricane Maria in Puerto Rico is more than 70 times the official estimate."
TOXIC. You get some extra Britney Spears when you fly on Ryanair.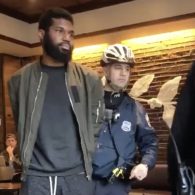 STARBUCKS. Closed nationwide today for racial sensitivity training. 'Up to 180,000 employees at Starbucks stores and at its headquarters will receive training from a "tool kit" that will "focus on understanding prejudice and the history of public accommodations in the United States." Starbucks also said future training will address "all aspects of bias and experience."
IVANKA. U.S. president's daughter awarded 13 new trademarks in China: "On Sunday, China granted the first daughter's company final approval for its 13th trademark in the last three months, trademark office records show. Over the same period, the Chinese government has granted Ivanka Trump's company provisional approval for another eight trademarks, which can be finalized if no objections are raised during a three-month comment period.
SCOTUS. Court rejects challenge to strict Arkansas abortion law.
POLL. Half of Republicans believe Trump's lie that millions of voters illegally cast ballots in 2016: "Forty-eight percent of Republicans in the HuffPost/YouGov poll said they believe as many as 5 million votes were cast illegally, compared to 17 percent who said they do not. More than one-third of Republican respondents, 35 percent, said they are unsure."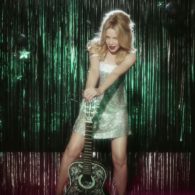 LONDON. Kylie Minogue celebrates 50th birthday.
FIRST LADY SEARCH. Where in the world is Melania?
TOM STEYER. Nancy Pelosi is "normalizing" Trump by not talking impeachment: "Impeaching the president of the United States is upsetting the status quo. Anytime in American history that there has been an attempt to upset the status quo, there have been people within the status quo—within the establishment—saying, 'It may be true, it may be something we should deal with, it may be important, but not now,'" Steyer told me in an interview for POLITICO's Off Message podcast. "If you look at the civil rights movement, the pushback was not, 'You're not telling the truth,' the pushback was, 'We're dealing with it in time. Stand down so we can deal with it in time.'"
KOREA. Seoul holds first drag parade.
🏳️‍🌈 180526 Seoul Drag Parade 📸

I'm in love with Erica💦💦 pic.twitter.com/MbcNsHGDHs

— Dragshoot (@Dragshoot_BANG) May 27, 2018
The Seoul Drag Parade! About 500 people came 🙂 pic.twitter.com/2MySOzA7Jn

— Darren Isaac Gove (@CowboyGove) May 27, 2018
Q. 당신에게 드랙은?
A. 정체성을 확립하는 표현 예술.

지난 26일 이태원에서 첫 <서울드랙퍼레이드>가 열렸다. https://t.co/IgNgzJ4muK pic.twitter.com/b6nw6Rqmlb

— 핀치 Pinch (@thepin_ch) May 29, 2018
EXTREME BANANA GAME OF THE DAY. Joel Dommett and Mark Wright on the UK game show Celebrity Juice.
TOO HOT FOR TUESDAY. Naor Yazdan.
https://www.instagram.com/p/BjPrSnqHKCG/?taken-by=naor_yz