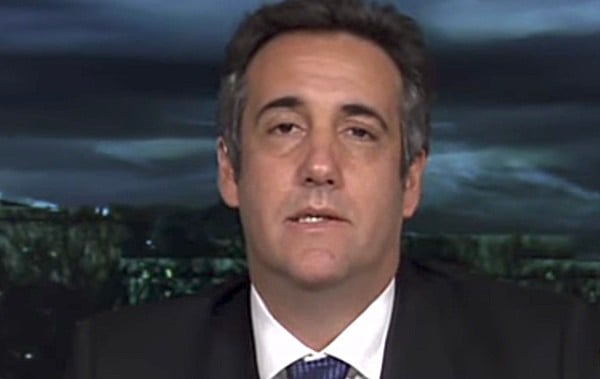 Federal investigators wiretapped Trump lawyer Michael Cohen's phone lines in the weeks leading up to the raids on his home and office and intercepted at least one call between Cohen and Donald Trump, NBC News reports:
"It is not clear how long the wiretap has been authorized, but NBC News has learned it was in place in the weeks leading up to the raids on Cohen's offices, hotel room, and home in early April, according to one person with direct knowledge. At least one phone call between a phone line associated with Cohen and the White House was intercepted, the person said. Spokespeople for the U.S. Attorney's Office and the FBI in New York declined comment."
Former U.S. Attorney Chuck Rosenberg told NBC News that a wiretap would have to be approved by a federal judge.
News of the wiretap comes after Giuliani exposed the president in a lie about hush money paid by Trump lawyer Michael Cohen to porn star Stormy Daniels. Giuliani compounded Trump's problem early this morning by confessing that the payment was made because the story of the affair with Daniels would have hurt Trump's chances in the election.
UPDATE:
CORRECTION: Earlier today, NBC News reported that there was a wiretap on the phones of Michael Cohen, President Trump's longtime personal attorney, citing two separate sources with knowledge of the legal proceedings involving Cohen.
But three senior U.S. officials now dispute that, saying that the monitoring of Cohen's phones was limited to a log of calls, known as a pen register, not a wiretap where investigators can actually listen to calls.
 NBC News has changed the headline and revised parts of the original article.