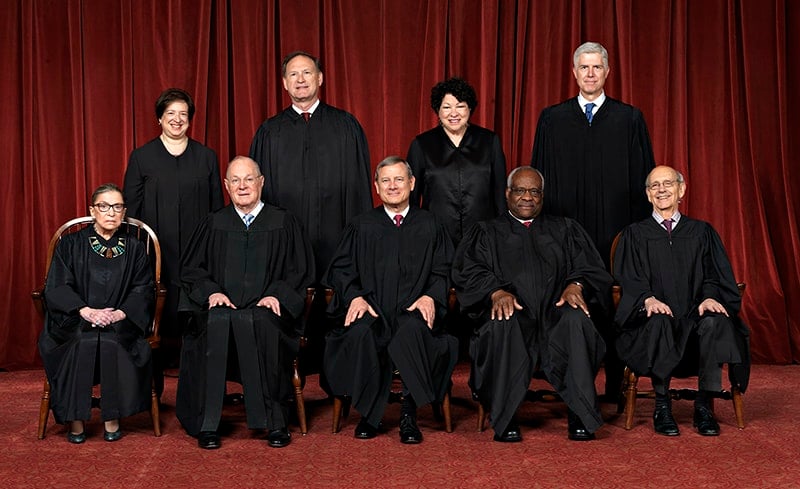 Today, the Supreme Court got it wrong. In a 7-2 decision in Masterpiece Cakeshop v. Colorado Civil Rights Commission, with Justices Breyer and Kagan joining all five conservatives, the Court ruled in favor of a Christian baker in Colorado who, citing his religious beliefs, refused to bake a wedding cake for a gay couple. Media outlets are reporting this decision as "narrow," which it is. But it doesn't make it any less wrong, both from a doctrinal and moral perspective. That is, I don't just disagree with the outcome; I think we all believe that discriminating against queer persons is morally wrong. Rather, I think the Supreme Court got the law wrong. And true to form, Justice Ginsburg, in a dissent joined by Justice Sotomayor, blasts the majority for its error.
In a series of posts over the next week or so, we will discuss the various opinions, the implications of this decision, and where we go from here. Today, let's review and then critique the majority opinion.
Here, first, is the Masterpiece story. Charlie Craig and Dave Mullins are a gay couple. They wanted to have a beautiful wedding cake at their wedding. They stopped in to Masterpiece Cakeshop, a bakery run by Jack Phillips, an expert baker who testified that his "main goal in life is to be obedient to" Jesus Christ and Christ's "teachings in all aspects of his life." Phillips was willing to sell Charlie and Dave a cake, but as soon as he found out the cake was for their wedding, Phillips refused. Phillips opposes gay marriage as part of his interpretation of his religion. He did not want any of his cakes at a gay wedding, he said, because he did not want to be associated with or be perceived as endorsing gay marriage, homosexuality, or anything that he feels is contrary to his interpretation of the Bible. Craig and Dave went to the Colorado Civil Rights Commission, the state agency tasked with enforcing state nondiscrimination law. The Commission investigated.
The investigator found that "on multiple occasions," Phillips "turned away potential customers on the basis of their sexual orientation, stating that he could not create a cake for a same-sex wedding ceremony or reception" because his religious beliefs prohibited it and because the potential customers "were doing something illegal." At the time, Colorado had not yet recognized that gay persons could marry. So, the Commission held a formal hearing on the matter to determine if Phillips had indeed violated Colorado's anti-discrimination public accommodations law.
What happened next is what gave the Court the evidence it needed to hold for the baker in this case. The majority felt that some of the comments made by members of the Commission suggested that they were hostile to Phillips's religion. One said the following:
I would also like to reiterate what we said in the hearing or the last meeting. Freedom of religion and religion has been used to justify all kinds of discrimination throughout history, whether it be slavery, whether it be the holocaust, whether it be—I mean, we—we can list hundreds of situations where freedom of religion has been used to justify discrimination. And to me it is one of the most despicable pieces of rhetoric that people can use to—to use their religion to hurt others.
The Court found this objectionable. To the majority, this, along with several other comments, evidenced bias on the part of the Commissioners. That bias impeded Phillips's access to an impartial hearing at which his First Amendment claims — that Colorado's public accommodations law infringes on his First Amendment rights to free speech and the free exercise of religion — would be addressed, considered, and heard in full. Because Phillips was denied this impartial hearing, the Court struck down the Commission's ruling, sending it back to square one.
But square one isn't where we want to be. Square one is discrimination. Square one is Craig and Dave being told to go elsewhere because they are gay.
How could this have happened? And how could normally stalwart queer rights allies, Justices Breyer and Kagan, side with the majority. The decision is narrow. It ends with this seemingly reasonable paragraph:
The outcome of cases like this in other circumstances must await further elaboration in the courts, all in the context of recognizing that these disputes must be resolved with tolerance, without undue disrespect to sincere religious beliefs, and without subjecting gay persons to indignities when they seek goods and services in an open market.
That is, after all, how a pluralistic society is supposed to work. We don't impose our views on others. We make make normative, value-based decisions as a society and create rules that govern a cacophony of views.
But however reasonable the Court's decision sounds, and even if you think the Commissioners' statements suggested hostility toward religion (I do not), I still think it's wrong for two reasons.
First, the above balancing test threatens to make a false equivalence between religious freedom for Christians and the protection of queer persons' Constitutional rights. No such equivalence exists. Whatever Fox News or Sam Brownback might say, Christians  are not a minority whose rights have been stripped away. Nor are they, as a people, stigmatized and marginalized. When the basic Constitutional rights of queer persons come into conflict with the free exercise rights of Christians who believe that their Christianity forces them to hate gays, I want the Constitution to protect the maligned against the maligner, the weak against the powerful, the minority against the majority. The current majority of the Supreme Court disagrees.
Second, the Supreme Court gets the law wrong. The majority opinion makes much of the Commission's other decisions, many of which came out at the time Phillips's case was pending, in which it permitted bakers to refuse to put hateful and bigoted statements on cakes. A customer wanted a baker to write "God hates sin. Psalm 45:7' on one side and on the opposite side of the cake, write 'Homosexuality is a detestable sin. Leviticus 18:2." Comparisons between those cases and Masterpiece Cakeshop are completely off the mark. Those cases actually involved forced expression. Craig and Dave were not denied service because they wanted their baker to write something on their cake. All they wanted was a cake. They were denied service because they are gay, period. The legal story should have ended there.
That said, the majority's decision is notable for what it does not say. Nowhere does the Court say that a baker has a First Amendment (speech or religious) right to discriminate against gay people. Nowhere does it say that one right allows people who dislike gay marriage to prevent queer access to the institution. Nowhere does it challenge the notion that queer persons are protected under the Constitution. Indeed, the first paragraph is telegraphed to say the opposite.
But even narrow decisions have consequences.
Stay tuned to Towleroad as we dive further into this decision and the legal arguments at play.
Please note. This post has been updated from its original version.