I can think of no better way to kick off Pride month on television than Ryan Murphy's new incredible series, Pose, the TV auteur's ode to the 1980s ballroom culture created by New York City's queer people of color.
After years of shows like Glee, Modern Family and The Real O'Neals showing audiences that (at least for some) it gets better, Pose arrives with a textured portrayal of a time defined by tragedy. Poverty, rejection and HIV/AIDS loom large, but, more importantly, hope, ingenuity and community shine bright in the darkness.
Last night's premiere deftly educated viewers on ballroom culture — a vital piece of LGBTQ history largely only known to mainstream viewers from the documentary Paris Is Burning and references on RuPaul's Drag Race — while introducing us to a few of TV's best new characters. It's not easy to balance the sort of traumatic representations of queer people that have become their own tropes (the violent rejection of LGBTQ children, HIV/AIDS, sex work) with the nuanced, layered characters that permeate Pose.
Part of what makes these characters so watchable are the outstanding performances. Pose boasts the largest cast of transgender actors in series regular roles in television history. More than a footnote, these actors radiate star power from the screen.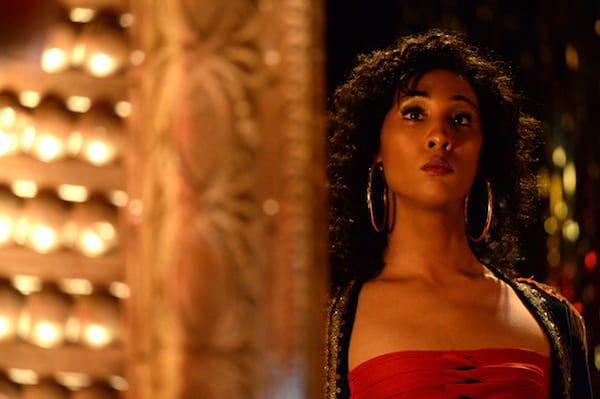 Mj Rodriguez is the heart of the first episode. As Blanca, she drives the action from her HIV diagnosis through starting her own House of Evangelista. It's impossible not to root for her as she goes from frustrated lackey to fierce mama bear. She's a revelation, and it's worth tuning in for her alone.
And yet, Pose is chockablock with characters that could each easily carry their own series. Angel (played with stunning subtlety from Indya Moore) can turn looks and pull heartstrings with equal skill. The scenes she shares with a white businessman (portrayed by Ryan Murphy favorite Evan Peters) carry a palpable tenderness and quiet confidence that showcase Moore's natural magnetism.
Even the characters with minimal screen time make the absolute most of it. Tony Award-winner Billy Porter rules over the ball as the sharp-tongued Pray Tell, and, as Elektra (Blanca and Angel's former House Mother), Dominique Jackson makes every scene she chews look like it's surf and turf.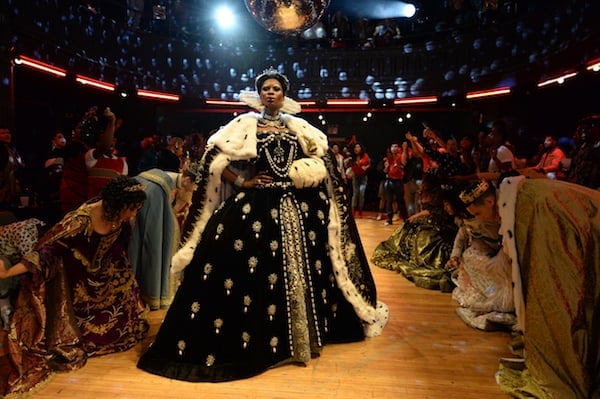 These are big characters, but they're not cartoons. The same can't be said about James Van Der Beek's Matt, a successful employee at the (ugh) Trump Organization. At one point, he finishes a line of cocaine and rejoices "God Bless Ronald Reagan."
His character may be the most crudely drawn so far, but for good reason. Matt epitomizes '80s excess. He's got everything — power, privilege, money — that the rest of these characters don't. He's not necessarily a villain, but what he represents is. There's a reason the series started with the House of Abundance stealing royal garments from a museum. No one is handing them the American Dream; they will crown themselves queens and kings.
What also elevates Pose is the pedigree behind the scenes. Pose was co-created by writer Steven Canals, and his passion for this project vibrates with intensity in every line of dialogue. The writers room boasts luminaries like Janet Mock and Our Lady J that keep these sometimes familiar set-ups from becoming cliche or reductive.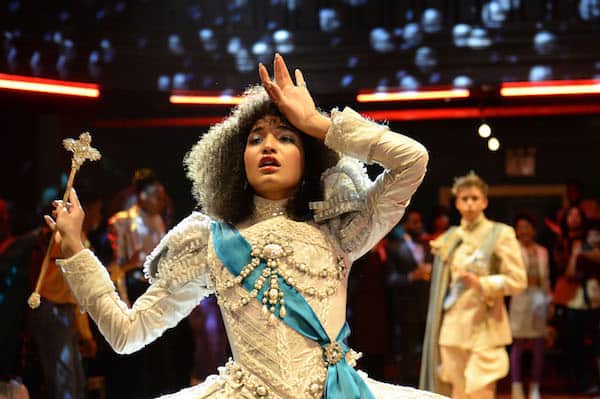 Take the scene between Angel and Evan Peters' character, Stan. The deeply-closeted family man brings her to a hotel room, and, instead of ending in violence or degradation as we've seen so many times before, they share an intimate, charming evening. There are tons of scenes like this (too many to count in even just this first 90 minutes) where trans characters are allowed to triumph when we're so accustomed to seeing them suffer tragedy in media.
It all sounds like a very serious affair, but Pose is also tons of fun. The best of Ryan Murphy is on display with snappy edits, vibrant colors and ballroom scenes that crackle with electric energy. An audition scene later in the episode feels ripped right out of Flashdance, and it's spectacular. There's some of Murphy's penchant toward the overly-earnest and on-the-nose metaphor, but, overall, Pose feels fresh and exciting.
There's plenty to unpack over the rest of this series — Blanca's burgeoning House of Evangelista, how Damon (Ryan Jamaal Swain) adjusts to life in NYC and the New School of Dance, Stan and Angel's relationship, Elektra's slipping grasp on the House of Abundance — and Pose is poised to deliver 10s across the board.
While still today the crusade to discriminate against the LGBTQ community continues, we need to be reminded of heroes like these characters that did so much with so much less.
What did you think of the premiere of Pose?