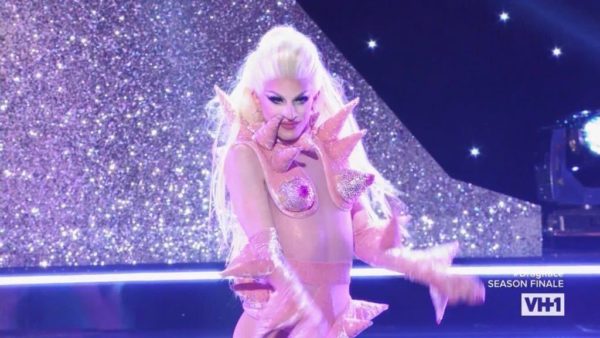 After a season that did little to celebrate the series' season ten milestone, last night's RuPaul's Drag Race finale took time before crowning its latest winner to pay homage to its much humbler roots. The bloated finale took its time getting to the good stuff, building anticipation for a battle that took a few bizarre turns.
Opening with an opportunity for the original season one queens to bask in the grandeur of the season ten budget and fanbase, fan-favorites like Ongina and Nina Flowers stunned on stage. The gals even joined the season ten also-rans for a brief lip sync to Ru's greatest hits. There was also a very sweet video retrospective of the show's herstory narrated by Sally Jessy Raphael.
The sit-down convos with each individual girl added little. These filler segments would be much better relegated to the reunion episode we had last week. I do wish they would go back to doing those individually crafted numbers, like they did for Bob, Kim Chi and Naomi Smalls. That big, beautiful stage is begging for more dance numbers, not casual conversation.
It was nearly an hour before we got to the main event: the Lip Sync Battle Royale. A wheel decided who would be the first queen up, and she got to pick her opponent.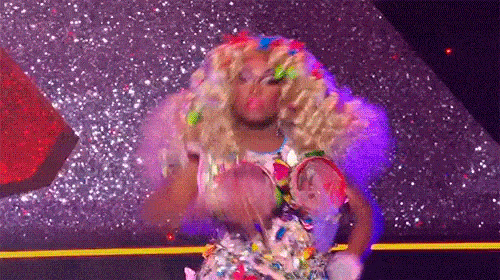 All four queens took the stage, and you could tell each one was packing a reveal of some sort. The wheel chose Kameron, and she in turn picked Asia to go up against first.
They would be performing to Janet Jackson's classic to #NastyWomen everywhere, "Nasty." Asia, decked out in an ensemble covered in butterflies was packing two massive, conical breasts.
It's not hard to imagine where this is going.
As the song kicks off, Asia opens up something on her wrist and out flies a big, beautiful cloud of soaring … nothing. Zip. She opens the other wrist, and that one sends out a majestic swarm of … also nothing. She detaches each breast, and it's nothing, nothing, nothing.
Yikes.
You could tell she was expecting each reveal to be jaw-dropping. I'm not sure if any live animals were harmed in the making of this lip sync, but Asia's pride certainly was. The stunt was all she had, and the stunt flopped. Monique's face said it all: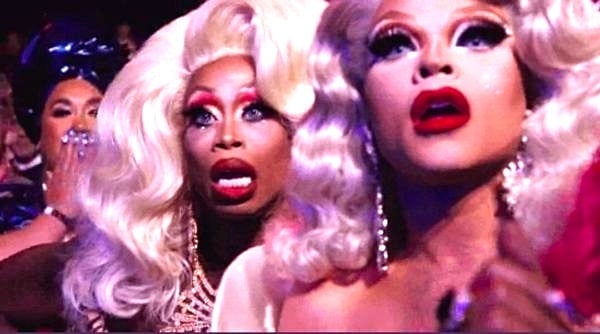 Ru had little choice but to send Asia sashaying away, though Kameron's win here was well earned. She, of course, packed her own reveal, tearing away a sort of silky kimono/boxer's robe to uncover a sexy take on Mama Ru's own season 10 premiere black-and-white lewk.
Reveals were also central to Aquaria and Eureka's performances, with the latter relying more heavily on tricks. Throughout the performance of "If" Eureka goes through three outfits and two wigs, but there's just no there there. She spends the first two-thirds of the number pacing the stage, then she does her standard Eureka cheerleader moves that could've been set to any song.
And that's the point Asia and Eureka seem to miss. When Sasha changed the game at last season's finale, everyone thought the takeaway was just more STUNTS. However, Velour didn't just pop-off without purpose. She planned different tricks depending on the track so that they complemented the performance, they didn't define it.
Aquaria's reveal is much less of a focal point. She goes from a sort of tinfoil tulip into serving spiky Vivacious in millennial pink right at the top, then goes fully into the performance. She even nails the iconic "If" choreo from the breakdown. It's stupendous.
Oddly enough, Ru keeps both queens for a top three, even though Aquaria clearly outperformed the Elephant Queen.
While the top three ready themselves for one final battle, the season ten queens return to crown Miss Congeniality. The first Miss Congeniality Nina Flowers is on hand to present the trophy while last year's winner (and actual high-key villain) Valentina Facetimes clearly using an iPhone X portrait mode.
Monet X Change earns the win, and I'm at peace with that. The case could've been made for Vanjie or Monique or Cracker, but no one else spent as much time with a persistent smile on their face than Monet. Her genuine surprise from being voted by her fellow queens was a nice touch.
The final lip sync is a dizzying affair. Now we know why we don't usually do triple lip syncs; it's a lot to take in. Eureka once again leans on another reveal. This time it's a cute little "The Big Girl" sign on her waist that she tears away to finish the sentence with "Wins." Beside that, there's not too much from her.
Kameron gives her all on stage, whipping her head around as if she's fully held together by rubber bands. No gimmicks, no tricks, just a balls-out performance.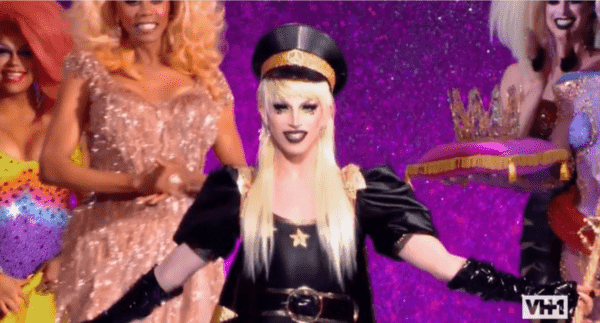 However, it's Aquaria that steals the show. Not only does she employ expertly-timed flares and confetti cannons, but she gives PERFORMANCE. From the very beginning, she's serving Batman rogues gallery realness. It's part Joker, part Zoya the Destroyer, and all amazing. Some will point to the confetti and pyro as being too gimmicky, but for a song called "Bang Bang" it felt appropriate!
In the end, Mama Ru made the right choice crowning Aquaria. She may have received the villain edit early on, but as the season unfolded, it was easier to understand her endearing awkwardness. She played an incredibly smart game, never once landing in the bottom two. She even won Snatch Game. Comparisons to Violet Chachki don't give either queen enough credit.
Aquaria is the real deal and maybe one of the most deserving of the title America's Next Drag Superstar of all time. She's the future of drag, and the future is bright.