DON LEMON. The CNN anchor sat down with Stephen Colbert to talk about covering Trump.
MIDTERMS. What's at stake in November…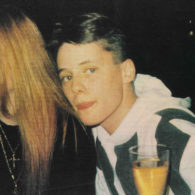 BRANDON TEENA. Author of the 1994 Village Voice story that inspired the film Boys Don't Cry reflects on her original reporting and now calls it transphobic: 'For years, I have wanted to apologize for what I now understand, with some shame, was the article's implicit anti-trans framing. Without spelling it out, the article cast Brandon as a lesbian who hated "her" body because of prior experiences of childhood sexual abuse and rape. (One of Brandon's acquaintances had told me he'd said he was "disgusted by lesbians," and several friends said Brandon had said, "I can't be with a woman as a woman. That's gross.") I saw this youngster's decision to lead a life as a straight man as incredibly bold — but also assumed it was a choice made in fear, motivated by internalized homophobia.'
BREAKFAST. Sam Smith accused of fat-shaming woman in L.A.
CYNTHIA NIXON. ICE is a terrorist organization: "ICE has strayed so far away from its mission. It is supposed to be here to keep Americans safe but what it has turned into, frankly, is a terrorist organization of its own that is terrorizing people who are coming to this country."
NYT. NYC's gay sports bar Boxers is the "gay Hooters."
42 PERCENT. The number of Americans that support impeaching Trump, according to a new CNN poll. 'Where does that 42% stand in historical context? It's a lot higher than support for impeaching Bill Clinton, which hovered around 29% through most of 1998, when he was impeached by the House of Representatives. It's higher than the number who supported impeaching either Barack Obama or George W. Bush (around 29%-30% supported impeaching them, suggesting that 30% is roughly a baseline of pro-impeachment sentiment for a modern president).'
DSW. Adam Rippon is now hawking footwear.
GQ. Rise of the thirsty gay Instacouples who are making bank off their selfies.
KIRSTJEN NIELSEN. Protesters play sounds of children crying outside DHS secretary's home.
Protestors are outside of DHS Secretary Kirstjen Nielsen's Alexandria townhouse, playing audio of the detained children. She appears to be still be home. pic.twitter.com/akIcxOcM3q

— philip lewis (@Phil_Lewis_) June 22, 2018
TOM ARNOLD. On the hunt for unflattering videos of Trump: "President Donald Trump's embattled personal attorney, Michael Cohen, retweeted a photo of himself with comedian Tom Arnold — who happens to be working on a show with Vice that features him hunting for unflattering video of Trump. Arnold told NBC News early Friday that Cohen ― who is under investigation by federal prosecutors ― talked to him for the show, which is expected to air later this year."
I love New York pic.twitter.com/J7AJg1HiHo

— Tom Arnold (@TomArnold) June 22, 2018
NATIONAL ENQUIRER. Tabloid sent stories about Trump to Michael Cohen before publication: "During the presidential campaign, National Enquirer executives sent digital copies of the tabloid's articles and cover images related to Donald Trump and his political opponents to Trump's attorney Michael Cohen in advance of publication, according to three people with knowledge of the matter — an unusual practice that speaks to the close relationship between Trump and David Pecker, chief executive of American Media Inc., the Enquirer's parent company."
THAT ESCALATED QUICKLY OF THE DAY. A tornado hits The Weather Channel.
PREVIEW OF THE DAY. Steve Grand gonna be in Ptown.
NEW TUNE OF THE DAY. "Palo Santo" by Years & Years.
CARPOOL KARAOKE OF THE DAY. Paul McCartney.
ABBA TRACK OF THE DAY. Start your weekend with Cher and Andy Garcia from Mamma Mia: Here We Go Again.
FRIDAY FLASH. Berlin Sun.
Get Towleroad Headlines Daily.
News daily from one of the most trusted, independent, lgbtq owned and operated media outlets. Covering news, entertainment, science, media, art and more for almost 17 years.