STEVE SCHMIDT. Trump's "only affinity for reading anything were the Adolf Hitler speeches he kept on his nightstand."
$2. Suri Cruise sold lemonade from a stand at NYC Pride. "They had rainbow Rice Krispies treats and lemonade with signs all around their table for Pride. She was very sweet and kind, telling everyone to enjoy their day and would smile whenever someone walked past! Very sweet."
COLLUSION. Robert Mueller planning to accelerate probe: "Mueller and his team of prosecutors and investigators have an eye toward producing conclusions — and possible indictments — related to collusion by fall, said the person, who asked not to be identified. He'll be able to turn his full attention to the issue as he resolves other questions, including deciding soon whether to find that Trump sought to obstruct justice."
JIMMY FALLON. Clapping back at Trump's tweet:
GOOD FRIENDS. Bryan Adams was asked if he had a romantic involvement with Princess Diana.
NO DUE PROCESS. Trump doesn't want judges. "I want ICE and border patrol agents."
DEPLORABLE. Trump supporter berates Mexican man in racist rant: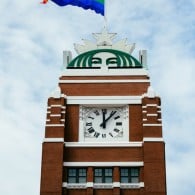 STARBUCKS. Expanding benefits for transgender people: "Starbucks health insurance plans include not only gender reassignment surgery (which had been covered since 2012), but now also a host of procedures for transgender partners that were previously considered cosmetic, and therefore not covered, such as breast reduction or augmentation surgery, facial feminization, hair transplants and more."
MONUMENT. Tribute to the LGBTQ community debuts in NYC. 'Nearly a year after it was first announced, New York City's first official memorial dedicated to the LGBTQ community is set to debut in Hudson River Park. Governor Andrew Cuomo, along with City Council speaker Corey Johnson, Senator Brad Hoylman, and other elected officials, unveiled the monument, two years in the making, which is intended to honor "the LGBT community, those lost in the Orlando Pulse nightclub shooting in June 2016, and all victims of hate, intolerance and violence."'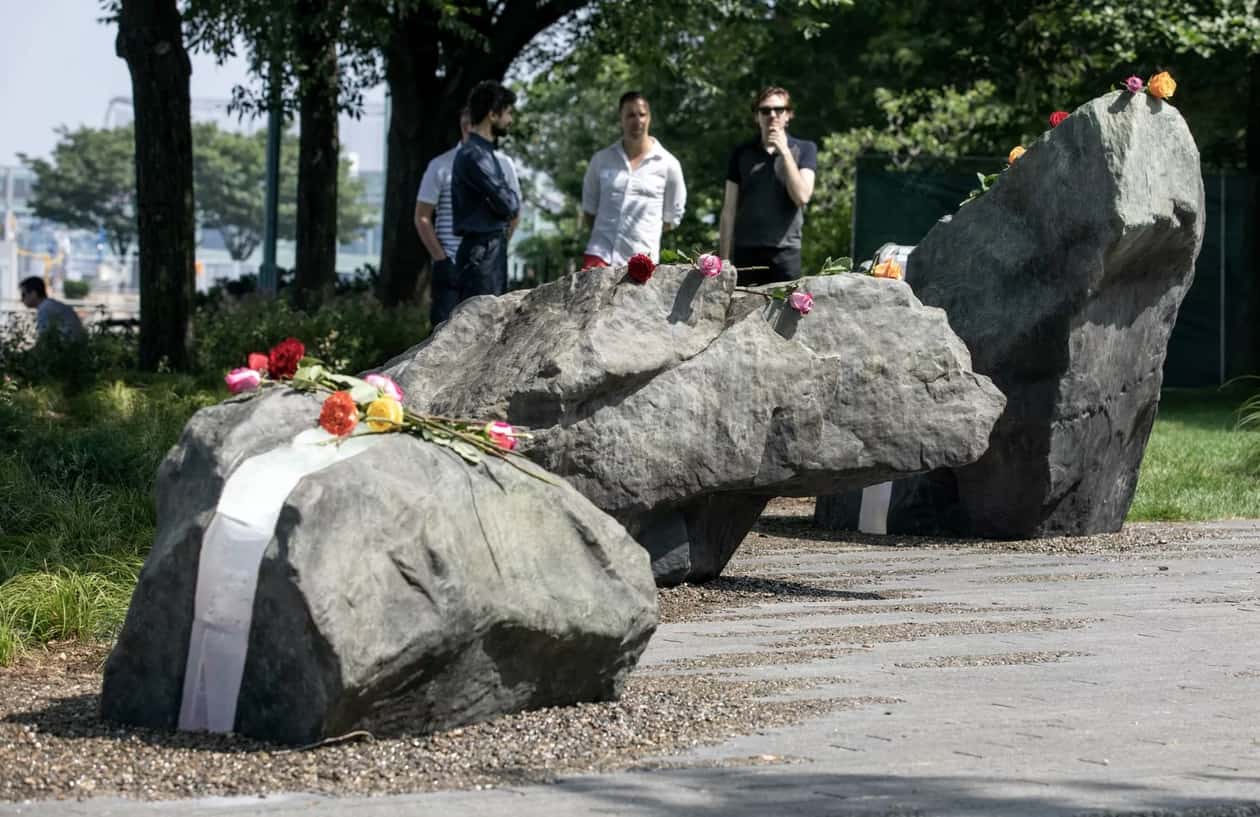 CONCERT NEWS. Madonna rumored to headline Glastonbury Festival. "Despite a career spanning more than 30 years, she has never appeared at Somerset's Worthy Farm and is the top pick for the event as she gears up for the release of her 14th studio album."
UNBELIEVABLE COMBO OF THE DAY. The Mormon Tabernacle Choir and the San Francisco Gay Men's Chorus. "It wasn't hard to spot the men from the chorus; they were the ones wearing purple T-shirts with the name of the organization emblazoned across their chests. But otherwise, they blended in with their fellow performers as choir conductors Mack Wilberg and Ryan Murphy led them through segments of songs to be performed at Monday night's concert, the fourth stop of the choir's 2018 Classic Coast Tour."
JAMAL JORDAN. Photographer seeks to bring people of color into the imagery of queer life. "As a visual journalist, I believe pictures can connect with people in a way that other forms of media can't. To this end, I decided to give a gift to my younger self: the imagery of queer love I've never seen. Queer love in color."
MATTERNET. Drone delivery service raises $16 million. "Matternet's technology and proven track record make the development of a safe, global autonomous air mobility system a near-term reality," Boeing HorizonX Ventures Managing Director Brian Schettler said in a statement. "Between the company's success in Switzerland and being selected by the FAA to test unmanned aerial networks in the U.S., we are excited to work together to reimagine how the world connects and shape the next generation of transportation solutions."
PRESIDENT NEWS. George H.W. Bush visits with Bill Clinton.
Special visit today with a great friend — and now, a best-selling author. Luckily I had a freshly laundered pair of @BillClinton socks to mark the occasion. pic.twitter.com/v9jb4sRexh

— George Bush (@GeorgeHWBush) June 25, 2018
RECIPE OF THE DAY. Gourmet Lucky Charms.
PEE TAPE VIDEO OF THE DAY. Trump-linked singer Emin. "The singer, who goes by just his first name, fills the video with scandalous Trump nods. There's even a reference to the 2013 Miss Universe pageant complete with a hotel room party."
TOO SUDSY FOR TUESDAY. Knin Michael.