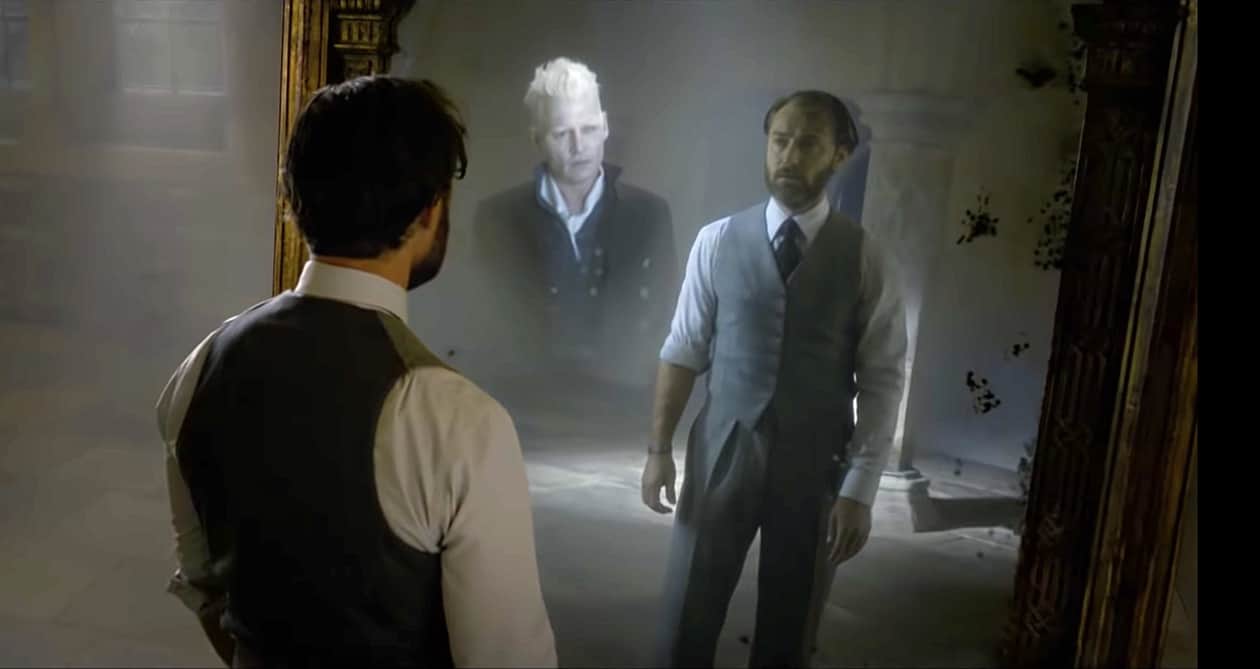 The new trailer (below) for Fantastic Beasts: The Crimes of Grindelwald revealed at San Diego Comic Con contains a moment in which the young Dumbledore stares into The Mirror of Erised, a magical artifact that reflects the heart's true desire and greatest yearning (in The Philosopher's Stone, it showed Harry Potter an image of his parents).
Dumbledore had said it showed him "myself holding a pair of thick, woollen socks" but in Fantastic Beasts it appears we see that it actually shows the young Dumbledore the image of Grindelwald, with whom he had a relationship with as a young man.
"He had a very intense relationship with Grindelwald when they were young men. They fell in love with each other's ideas, and ideology and each other," said director David Yates in an interview with EW that enraged fans because Yates also said that Dumbledore would not be "explicitly gay" in this year's sequel.
Jude Law broke his silence about the sexual orientation of his character in a recent interview with EW.
Said Law: "…as with humans, your sexuality doesn't necessarily define you; he's multifaceted. I suppose the question is: How is Dumbledore's sexuality depicted in this film? What you got to remember this is only the second Fantastic Beasts film in a series and what's brilliant about Jo's writing is how she reveals her characters, peels them to the heart over time. You're just getting to know Albus in this film, and there's obviously a lot more to come. We learn a little about his past in the beginning of this film, and characters and their relationships will unfold naturally which I'm excited to reveal. But we're not going to reveal everything all at once."
We finally learn what Dumbledore sees when he looks into the Mirror of Erised, and it's not a new pair of socks. He most desires the love of his life who turned to the dark side, Grindewald. This is the closest we've ever come to being shown that Dumbledore is gay. pic.twitter.com/6CzqBDJ1qt

— Joshuaolf By Night (@JoshuaYehl) July 21, 2018
Last year, author J.K. Rowling hinted that Dumbledore's sexual orientation would be addressed: "I can't tell you everything I would like to say because this is obviously a five-part story so there's lots to unpack in that relationship. … We'll see him at that formative period of his life. As far as his sexuality is concerned … watch this space."
Following Yates' interview, fans took to Twitter to express their disappointment to Rowling, and she was having none of it, clapping back at fans on Twitter and telling them to be patient.
Watch the new trailer, in which Dumbledore gazes at the mirror while a voiceover hears him say, "I can't move against Grindelwald."