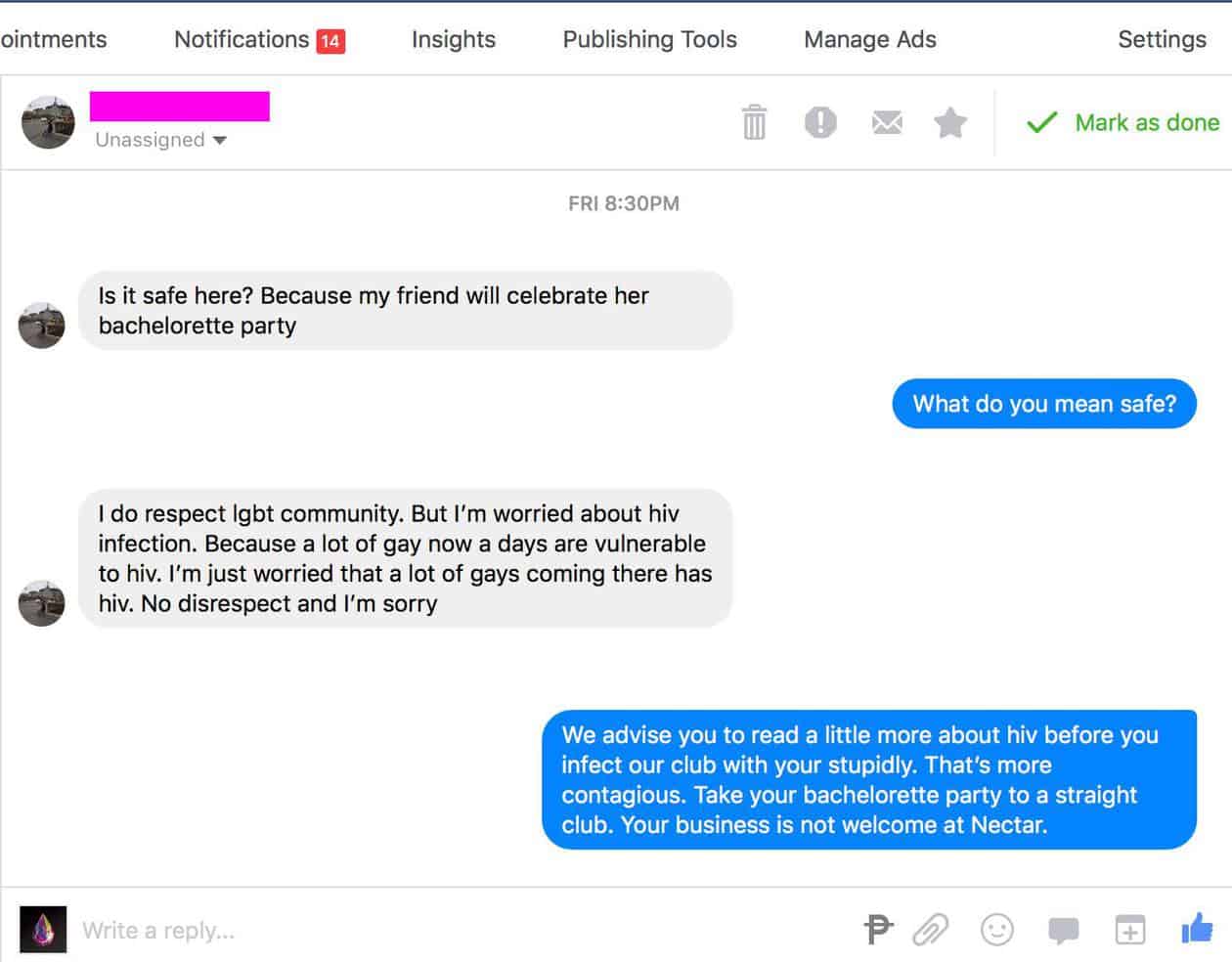 Nectar Nightclub blasted a bachelorette party organizer for expressing concern that she would catch HIV from the club's gay clientele.
Wrote the nightclub, which is located in the Philippines:
Dear Straight Bigots-
Last week, via Nectar Nightclub's Facebook page, we received a very disturbing message. (See attached screenshot below).
As you can imagine, we were horrified that someone had the nerve to offend us while asking about a celebration with their "straight" friends within our LGBTQ+ establishment. Their ignorance about HIV was appalling and the audacious and casual tempo of thier shrieking insult to celebrate a party of marriage in one of our clubs when we ourselves don't have the right to marry the person we love (here in The Philippines) was down right straight-privilege nonsense.
Nectar will be celebrating our two-year anniversary in November and in looking back on our history, we have only had one serious fight inside of the club. A Nectar gogo boy was attacked by the boyfriend of a straight female bachelorette party attendee who was voluntarily getting a lap-dance. Our employee was punched in the head a total of fifteen times, rushed to the hospital and suffered a severe (grade 3) concussion.
We were gay-bashed inside our own home!
And you are asking about your safety?
This letter speaks to the layers of straight privilege that exist within many of you.
Unlike you, when you turn away our trans-sisters from your straight clubs, we will not discriminate and show you all the same hate you have shown us.
Instead we will welcome you in our homes, but just so you all know, behave yourselves.
You are guests after all.
Sincerely,
Nectar Nightclub
The club later issued a clarification after complaints that it missed an opportunity to "educate" the bachelorettes about HIV.