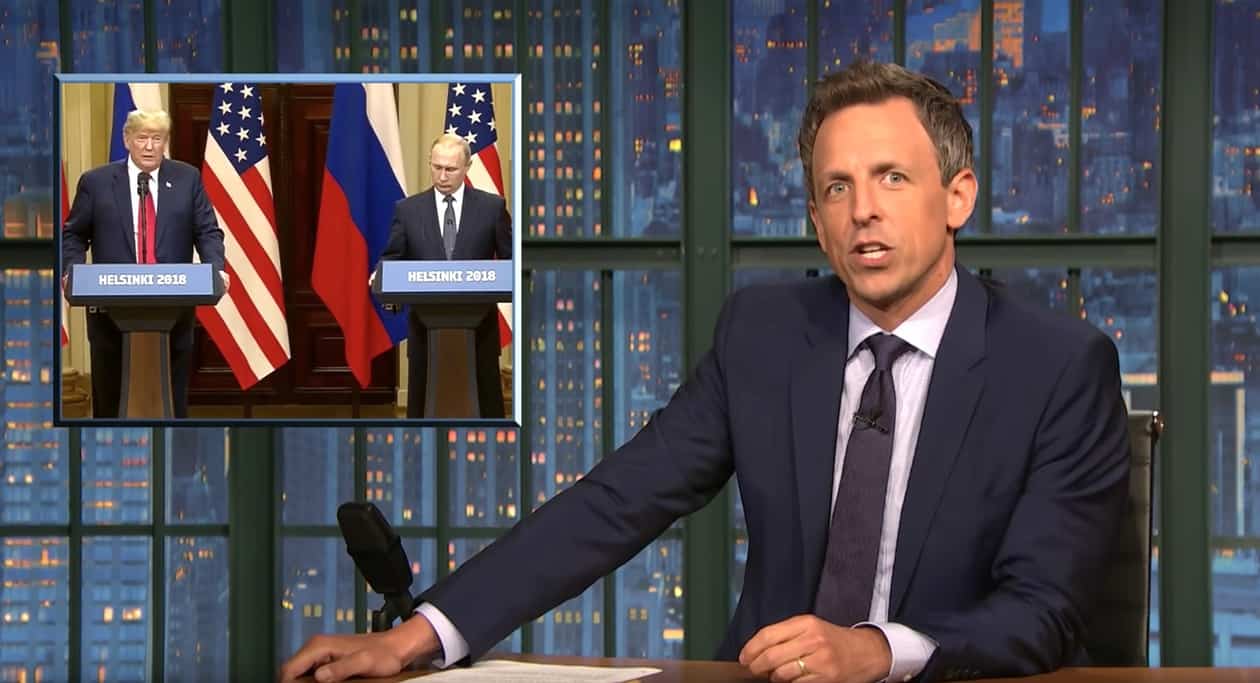 Seth Meyers returned to Late Night Monday and took a look at yesterday's tragic and horrific treason summit press conference. But first, he checked in with the first part of Trump's trip, to the United Kingdom.
First Trump blocked out the Queen on their first (and perhaps only) meeting: "The Queen just disappeared behind Trump. It was like a royal eclipse. The only thing that was missing was Trump staring directly at it. But seriously, you're telling me this guy weighs only 230 pounds? He's so wide he completely covered a monarch. He David Copperfielded the Queen."
And then Trump revealed he has no idea what 'Brexit' means, and believes that Ireland is part of the UK.
Said Meyers: "If Trump wasn't so irredeemably awful, his stupidity would almost be…(letting Trump finish the sentence for him)…'heartbreaking'…go into any bar in Ireland and tell them that they are part of the UK. Then you can use their free health care to get the pint glass removed from your rectum."
Meyers continued: "If you thought all of that was bad, it was nothing compared to Trump's performance today with Putin."
When Trump finally got to Helsinki he began kissing Putin's rear by continuously complimenting him on Russia's hosting of the World Cup, delivering "one of the most surreal performances by a president in modern American history."
Quipped Meyers: "Can someone get Trump a glass of water because he thirsty? It's only a matter of weeks before he Single White Females Putin."
Meyers recapped the presser: "Trump blamed the U.S. for Russian aggression, attacked the FBI and special counsel's investigation, took Putin's side on election meddling, attacked Democrats and Hillary Clinton with Putin standing next to him, and said Putin was strong and powerful. Can you imagine what their private meeting was like? I'm worried he let Putin annex one of the 50 states. Seriously, Trump gushes over Putin like a flustered 12-year-old who just met Mickey at Disneyland."
"And it got worse from there," Meyers added, "because Trump went on to peddle an insane conspiracy theory by implying something fishy was going on with the DNC server that was hacked by the Russians."
Meyers played a clip of Trump repeating his nonsensical questions about the server, the server, the server.
Said Meyers: "Oh my god, he sounds like your uncle trying to get the waiter's attention at a restaurant."
Finally, Meyers closed with the other news of the day, the arrest of Mariia Butina: "On top of everything else, today a Russian woman who tried to broker a pair of secret meeting between Trump and Putin was charged and accused of working with Americans to carry out a secret Russian effort to influence American politics. So while that was happening, Trump was doing everything he could to ingratiate himself with Putin. He's selling out our democracy."
Watch: