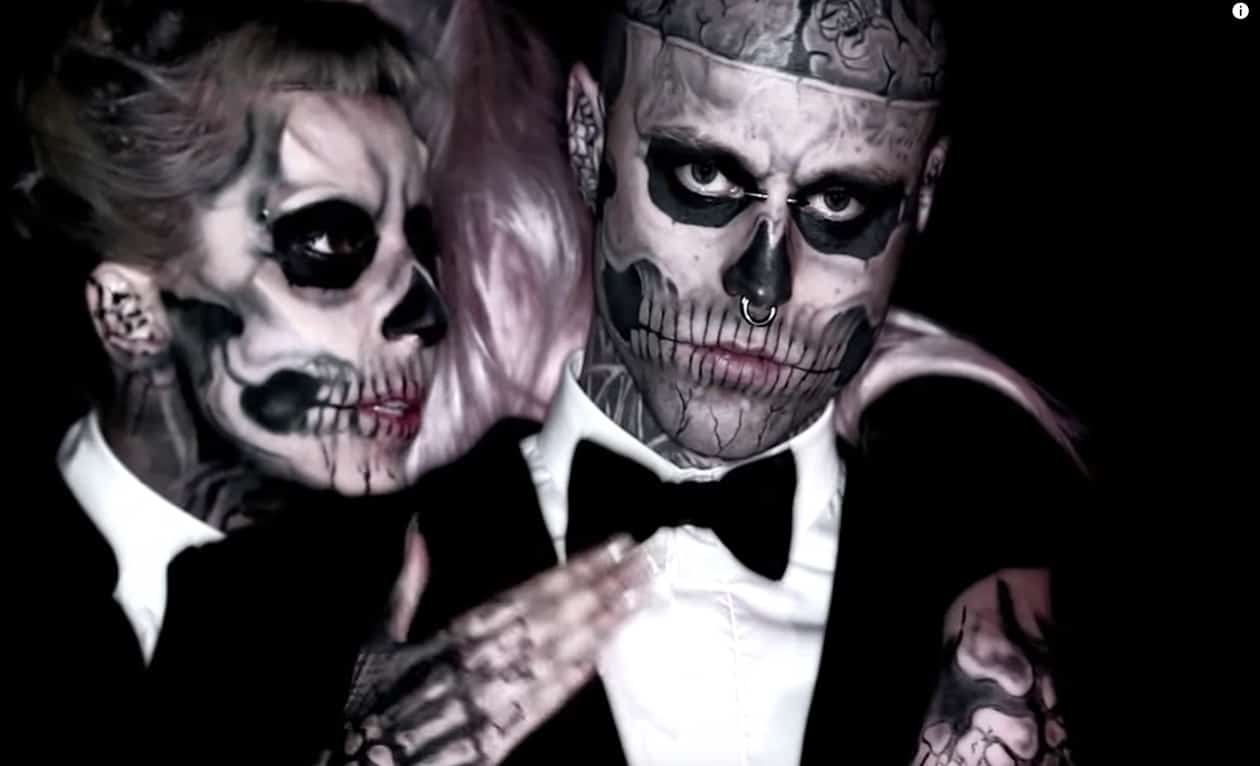 Rick Genest, the striking skeletal-tattoo-covered model who rose to fame after appearing in Lady Gaga's "Born This Way" video, was found dead on Wednesday in his Montreal apartment. He was 32.
Wrote iHeartRadio Canada: 'Genest, who would have been 33 next Tuesday, had been working on an album of his own songs with former Rob Zombie guitarist Mike Riggs. Born and raised in Montreal, Genest got his first tattoo when he was 16. Within three years, almost his entire body was covered with ink. The "corpse" body art led to his moniker Zombie Boy, or Rico Zombie. After years spent living on the streets of Montreal, he started appearing in side shows and "freak shows.'
Genest then appeared in Gaga's video and everything changed.
iHeartRadio adds: 'Genest also landed small roles in films, including 2013's 47 Ronin starring Canadian-born Keanu Reeves. He was recognized by Guinness World Records and was immortablized in wax at his hometown's Musée Grévin. A museum in London, England is scheduled to unveil a bronze statue of Zombie Boy next year. Friends said when Genest was young, he underwent surgery to treat a brain tumour and struggled with mental health issues throughout his life.'
Genest's final Instagram post:
https://www.instagram.com/p/Bl-1ZAUFizw/?taken-by=zombieboyofficial
Lady Gaga reacted the news, tweeting: "The suicide of friend Rick Genest, Zombie Boy is beyond devastating. We have to work harder to change the culture, bring Mental Health to the forefront and erase the stigma that we can't talk about it. If you are suffering, call a friend or family today. We must save each other…Science tells us that it takes 21 days to form a habit, if you are suffering from Mental Health issue I beckon for today to be your first day or a continuation of the work you've been doing. Reach out if you're in pain, and if you know someone who is, reach out to them too."
https://twitter.com/ladygaga/status/1025171911138004992
https://twitter.com/ladygaga/status/1025173295539335169
Gaga's stylist Nicola Formichetti, who featured Genest in a campaign for Mugler under his auspices, also reacted: "Absolutely heartbroken. Rest in Power, Zombie Boy. Sending all my condolences and love to Rico's family and friends. If you ever need help, reach out. 1-800-273-8255 is the number for the National Suicide Prevention Lifeline. You're not alone"
Absolutely heartbroken. Rest in Power, Zombie Boy. Sending all my condolences and love to Rico's family and friends. If you ever need help, reach out. 1-800-273-8255 is the number for the National Suicide Prevention Lifeline. You're not alone pic.twitter.com/AuapCxj2FU

— NICOBOY.ETH (@formichetti) August 3, 2018
As did his management company, Dulcedo: "The whole Dulcedo family is shocked and pained by this tragedy. Zombie boy, Rico, was loved by all those who had the chance to meet him and know him. Icon of the artistic scene and the fashion world, this innovator, against popular culture, has been able to charm all hearts. We received the unfortunate news at the beginning of the afternoon and members of the team have come to support his family and relatives in this dark and difficult moment. We want to present our deepest condolences and the legend will survive human. Thank you zb for these beautiful moments in your company and for your radiant smile. The famille dulcedo"
Update:
Out of respect for Rick's family, Rick & his legacy I apologize if I spoke too soon as there was no witnesses or evidence to support any conclusion for the cause of his death. I in no way meant to draw an unjust conclusion My deepest condolences to his entire family and friends. pic.twitter.com/CJ9AdOJ22j

— Lady Gaga (@ladygaga) August 4, 2018