FEAR. Bob Woodward book is a terrifying look inside the Trump White House: 'The 448-page book was obtained by The Washington Post. Woodward, an associate editor at The Post, sought an interview with Trump through several intermediaries to no avail. The president called Woodward in early August, after the manuscript had been completed, to say he wanted to participate. The president complained that it would be a "bad book," according to an audio recording of the conversation. Woodward replied that his work would be "tough," but factual and based on his reporting. A central theme of the book is the stealthy machinations used by those in Trump's inner sanctum to try to control his impulses and prevent disasters, both for the president personally and for the nation he was elected to lead.' Trump on Jeff Sessions: "This guy is mentally retarded. He's this dumb Southerner. He couldn't even be a one-person country lawyer down in Alabama." Woodward on Trump: "Mattis was particularly exasperated and alarmed, telling close associates that the president acted like — and had the understanding of — 'a fifth- or sixth-grader.'" John Kelly on Trump: "He's an idiot. It's pointless to try to convince him of anything. He's gone off the rails. We're in Crazytown. I don't even know why any of us are here. This is the worst job I've ever had."
White House Press Secretary Sarah Huckabee Sanders released a statement on the Woodward book: "This book is nothing more than fabricated stories, many by former disgruntled employees, told to make the President look bad. While it is not always pretty, and rare that the press actually covers it, President Trump has broken through the bureaucratic process to deliver unprecedented successes for the American people. Sometimes it is unconventional, but he always gets results. Democrats and their allies in the media understand the President's policies are working and with success like this, no one can beat him in 2020 – not even close."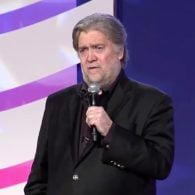 NEW YORKER FESTIVAL. Steve Bannon uninvited after headliners jump ship.
JON KYL. Former U.S. senator will be John McCain's replacement in the senate: 'Gov. Doug Ducey is scheduled to unveil the 76-year-old as McCain's successor at a 10 a.m. news conference at the Arizona Capitol, after notifying McCain's wife, Cindy, and other key political figures of his decision. Kyl, who served alongside McCain during his 18 years in the U.S. Senate, will fly to Washington, D.C., following Ducey's announcement. He retired in 2013 after rising to become the second-highest-ranking Republican senator.
120 SECONDS. Mike Jeknavorian quizzes civil rights icon David Mixner.
RELATABLE. Ellen DeGeneres announces title and premiere date of Netflix stand-up special.
OMAROSA. The former Trump staffer and Apprentice contestant secretly recorded nearly every conversation.
CHICAGO. Rahm Emanuel will not seek third term as mayor: "I've decided not to seek re-election," Emanuel said. "This has been the job of a lifetime, but it is not a job for a lifetime."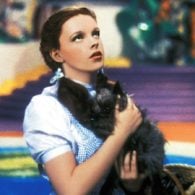 NO PLACE LIKE HOME. Pair of ruby slippers stolen from Wizard of Oz recovered after 13 years. "The FBI recovered the slippers that had been stolen in 2005 from the Judy Garland Museum in Grand Rapids, Minnesota, authorities said Tuesday. Officials have not released details of how the famous shoes were recovered. A press conference is scheduled Tuesday afternoon with officials from the Minneapolis FBI, the North Dakota U.S. Attorney's Office and the Grand Rapids Police Department."
THE CHER SHOW. Cher talks to the NYT about her career and the new musical about her life: "You have to know something more about me after the musical. That's important to me. Listen, I didn't have a play about myself before, and I was living very happily. So, I want it to be true and fun and like life is: Sometimes you're great, and sometimes you're pathetic. Sometimes you're tired, and sometimes you break down. It should be like that. And nothing should be glossed over."
THE PAPER DOLL. Landmark status recommended for site of San Francisco gay restaurant.
POLAND. Gay mayor launches pro-Democracy movement: 'The move by Robert Biedron, the popular mayor of the northern town of Slupsk, comes as Poland gears up for four elections — both domestic and European — over the next 21 months. "Our number one goal is for pro-democratic forces to win in Poland with our group, our political force in the forefront," Biedron, 42, told reporters on in central Warsaw.
RONAN FARROW. NBC was blocking me from further reporting on Harvey Weinstein. "NBC News Chairman Andy Lack sent a memo to his staff pushing back against accusations that they tried to "kill" Farrow's report, laying out their own timeline of events as well as listing all the attempts Weinstein and his legal team made to squash the story.
https://twitter.com/RonanFarrow/status/1036825901676154880?ref_src=twsrc%5Etfw%7Ctwcamp%5Etweetembed%7Ctwterm%5E1036825901676154880&ref_url=https%3A%2F%2Fwww.mediaite.com%2Fonline%2Fronan-farrow-fires-back-at-nbc-over-weinstein-report-memo-i-was-being-blocked-from-further-reporting%2F
NEW TUNE OF THE DAY. Carrie Underwood "Love Wins".
TOO HOT FOR TUESDAY. Edir.