Netflix's new drama Elite, its second Spanish original series, has some homophobes hot under the collar but the network isn't taking any of their gay-bashing crap.
Vulture called the new teen drama "fast moving and fun and not especially deep" and described it like this: "Elite will remind you of lots of other shows. Riverdale, for its color palette and its tempo and its extremely attractive teens who get up to no good, often while in bed with each other in ever-shifting configurations. (And Gossip Girl, for similar reasons.) It will also remind you of Big Little Lies, largely for its timeline-skipping structure, which includes flash-forward scenes where a police officer interrogates all the major characters about a murder."
It also has a gay storyline, which Netflix highlighted in an Instagram post over the weekend.
https://www.instagram.com/p/Bo4Wfz3jmFk/?utm_source=ig_embed
PopBuzz noted that the gay storyline is already a fan favorite: "Ander and Omar are literally the cutest. In the first episode of the series, we find out that Ander is gay and in the closet. He is then introduced to Omar (who is also Nadia's brother) because he wants drugs and Omar deals them. Not long after, the two of them both unknowingly chat via an anonymous gay hook-up app, meet up and then start to fall in love and establish a relationship. The romance is particularly important. First things first, it represents gay love in a way that feels honest (it does not shy away from including gay sex scenes like many series and films do). Then there's the fact that it acts as a reminder that all LGBTQ+ experiences vary. Ander is white and is from a family who has no issues with his sexuality; Omar is Muslim and his parents do not condone it."
Outrage from homophobes upset at seeing a gay image in their Instagram feeds began immediately, and Netflix finally had it with one of them, JudasPriest12321, who exclaimed, "Get the f**k off my Instagram. Not ever [sic.] person on the planet is gay. You are trying way too hard."
Replied Netflix, along with a torrent of rainbow emojis: "sorry I couldn't read your comment while surrounded by all these rainbows."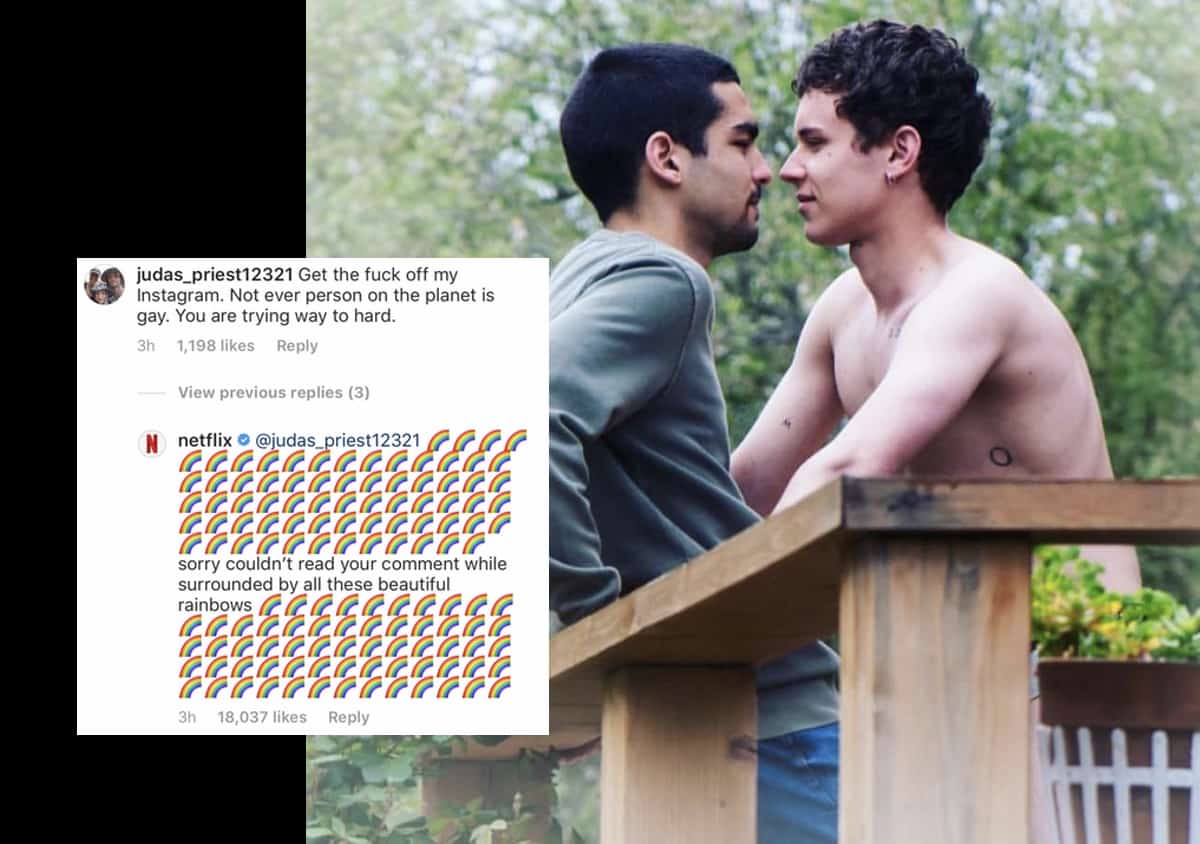 https://twitter.com/TheAJayII/status/1051213453573132288
Check out the official trailer for Elite: