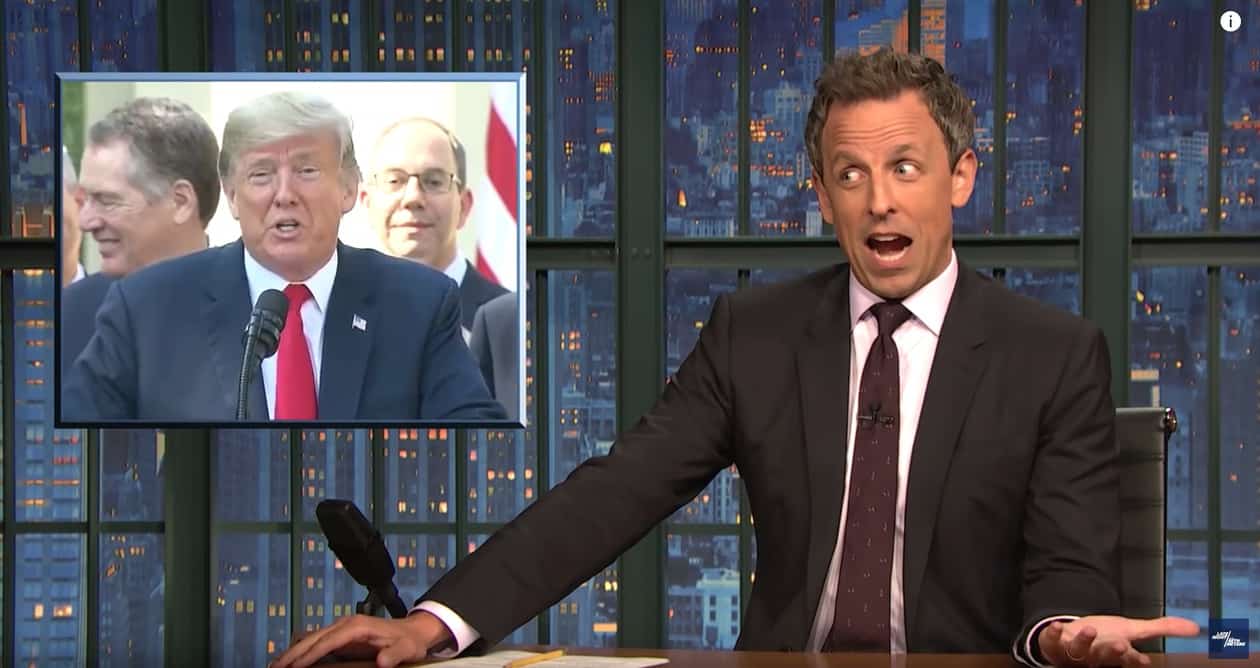 Seth Meyers examined Donald Trump's defense of Brett Kavanaugh in the nutty press conference he held on Monday, in which he "shot down [female reporters] in super demeaning and sexist ways."
Towleroad reported on this moment yesterday in which Trump belittled CNN's Kaitlan Collins and ABC News' Cecilia Vega.
Said Meyers: "I mean, how much of a sexist d*ck could you possibly be? It's almost like he saw someone else getting attention for acting like a maniac on TV and thought 'I can top that.'"
Meyers was also amused at the moment Trump asked reporters to imagine what a "mess" he'd be if he was a drinker.
Quipped Meyers: "What's amazing about that joke is that inherent in the premise is Trump admitting that he already sucks. That joke doesn't work if everyone thinks Trump is a great president. He's basically saying, 'If you think I'm an ***hole now, imagine if I had a few beers. I'd be a f**king nightmare.'"
Meyers also looked at Trump's use of the word "loco".
"I know Trump has never had a beer in his life but he talks like a guy begging the bartender to give him back his keys," said Meyers.
Trump also said something astonishingly intimate about Kim Jong Un at a rally over the weekend: "We fell in love. He wrote me beautiful letters. We fell in love."
Said Meyers: "Man, if you had told me I would live to witness a Republican president telling a crowd in West Virginia that he was in love with a North Korean dictator, I'd have said, 'I'm sorry, buddy. I don't have a dollar and this is my stop.'"
Meyers went on to look at Senator Jeff Flake's deal for a one-week delay on the Kavanaugh vote, and the way the scope of that investigation has developed.
Watch: