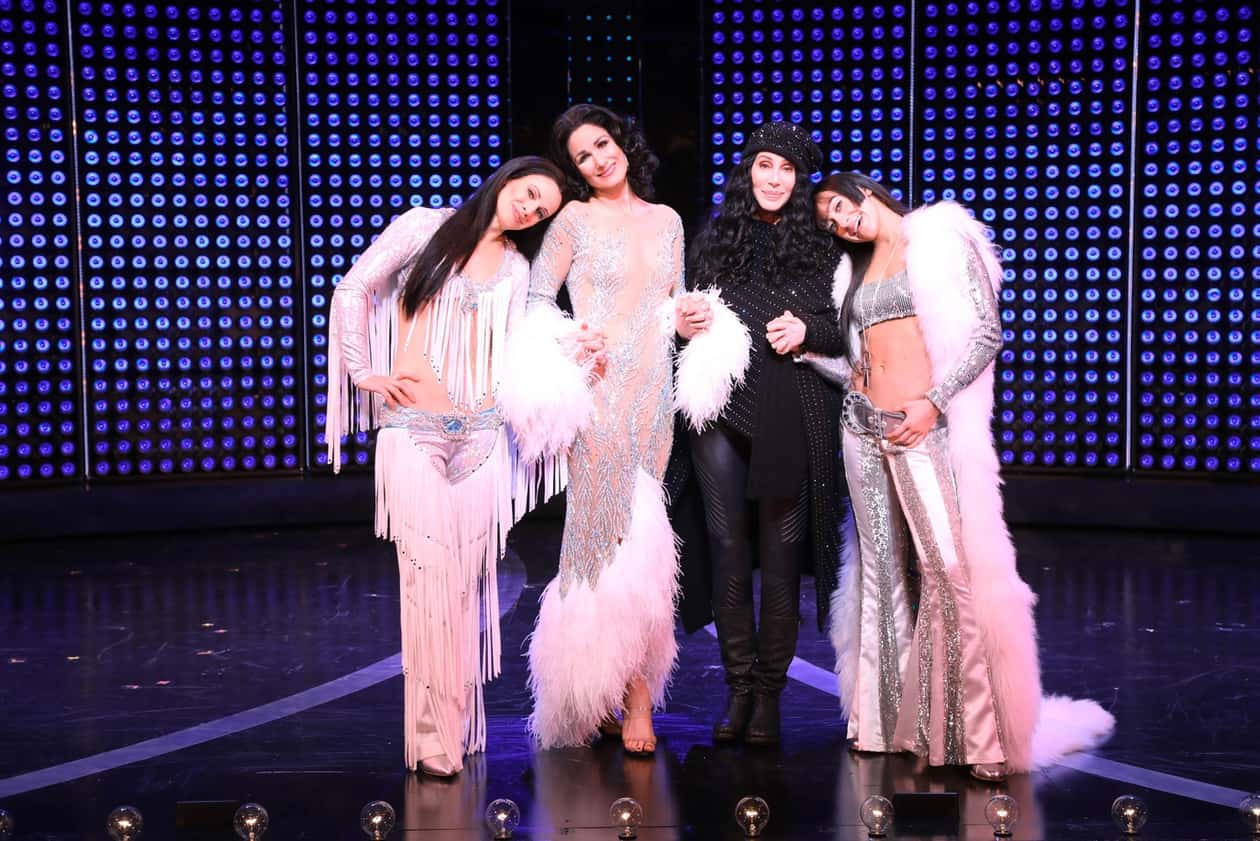 Tonight is the opening night of The Cher Show, the new Broadway musical about the life of the living legend in which three actresses take the audience through six decades and 35 songs of the icon's storied life and career.
In recent days, we've had a few juicy glimpses from the show, directed by Avenue Q and Pitch Perfect director Jason Moore. The first is a just-released publicity cut that  features "If I Could Turn Back Time", "I Got You Babe", "Believe" and more.
Asked in a recent interview by SiriusXM what it was like seeing her present self talking to her younger self, Cher replied, "I only wish it would have really happened. I could have saved a whole lot of painful sh*t okay? I wish they would have been there."
Here's a segment from last week on the TODAY show featuring Stephanie J. Block, Teal Wicks and Micaela Diamond, the three actresses who play Cher at various moments in her life.
Also in the cast are Jarrod Spector as Sonny Bono, Michael Berresse as Bob Mackie, Michael Campayno as Rob Camilletti, Matthew Hydzik as Gregg Allman, and Emily Skinner as Georgia Holt.
Block reveals that she found her "Cher voice" thanks to Crest White Strips.
Said Cher to SiriusXM about seeing Sonny for the first time on stage: "I think that's one of my favorite parts and you can tell that it's – he doesn't have to say anything and the audience gets it. He just has to walk out and he kind of looks to the side and then and people just know who he is and everybody is excited and I get excited too. I mean it was you know it's, it's a great part of my life. It was just a really exciting part and she plays it well."
Cher recently talked to Elle about how she's been involved in the show: "I'm fussy 'cause it's my story. I want it to be honest and right and funny and sad, like my life."
Cher herself has paid several visits to the show during the production. Here's video of her most recent visit to a preview, at which she was appropriately greeted by a thrilled audience.
Here's Will & Grace's Eric McCormack talking with Kelly Ripa about seeing the show with Cher in the audience.
"Actual Cher was there watching three actual Chers!"