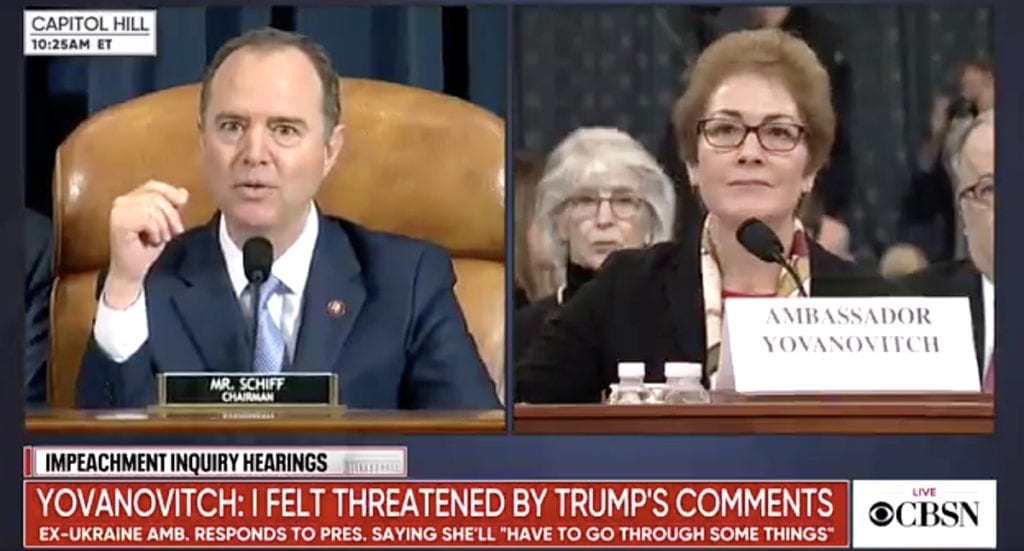 Although the White House said early Friday morning that Donald Trump would only be watching Devin Nunes' opening statement on day two of the impeachment hearings, Trump couldn't help tweeting an attack on former U.S. ambassador to Ukraine Marie Yovanovitch as she testified.
Adam Schiff interrupted the proceedings to ask Yovanovitch to respond to the attack by Trump, who raged, "Everywhere Marie Yovanovitch went turned bad. She started off in Somalia, how did that go? Then fast forward to Ukraine…."
The FOX News reactions note how powerful Yovanovitch's testimony, and Adam Schiff's strategy has been:
Earlier, remarks Trump had made that she was "going to go through some things" before she was ousted from her position. She was also asked about hearing that Trump had referenced her in the phone call with Ukrainian leader Zelensky.
Here's part of Schiff's opening statement:
More notable clips: