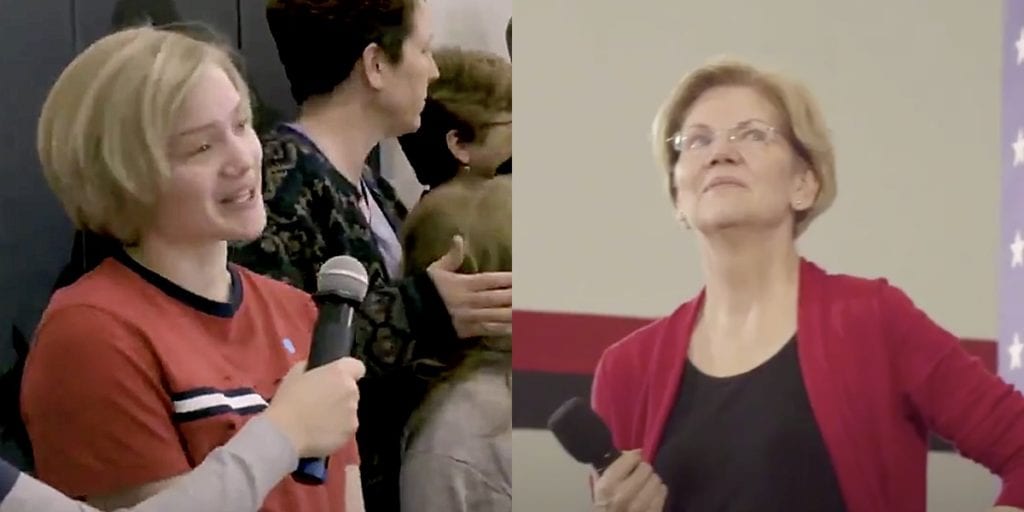 Elizabeth Warren shared an emotional exchange she had with a young voter in Marion, Iowa in a short video posted to social media on Monday.
Asked the young woman: "I was wondering if there was ever a time in your life where somebody you really looked up to maybe didn't accept you as much? And how you dealt with that?"
Replied Warren, before embracing the woman: "Yeah. My mother and I had very different views of how to build a future. She wanted me to marry well, and I really tried, and it just didn't work out. And there came a day when I had to call her and say, this is over. I can't make it work. And I heard the disappointment in her voice. I knew how she felt about it. But I also knew it was the right thing to do. And sometimes you just gotta do what's right inside, and hope that maybe the rest of the world will come around to it. And maybe they will and maybe they won't. But the truth is, you've gotta take care of yourself first and do this."
UPDATE: As you might have guessed, the young woman, Raelyn, is a member of the LGBTQ community.
ABC News reports: "Raelyn, who attended the rally on her own, said she first saw Warren speak in September. "What got me involved with her was her care for the LGBTQ community. And it's been a struggle with that, with people close to me. And I just — she's just, she gives me hope, which is not something that I've really had with other politicians, and I've followed politics for a while," she said. Raelyn cited a part of Warren's stump speech she repeats often on the campaign trail: that people should have the opportunity to "love who you love and build the family you want to build." Raelyn said she's also followed the campaigns of South Bend, Indiana, Mayor Pete Buttigieg, the first openly gay Democratic presidential candidate, and Sen. Bernie Sanders, the progressive candidate from Vermont."