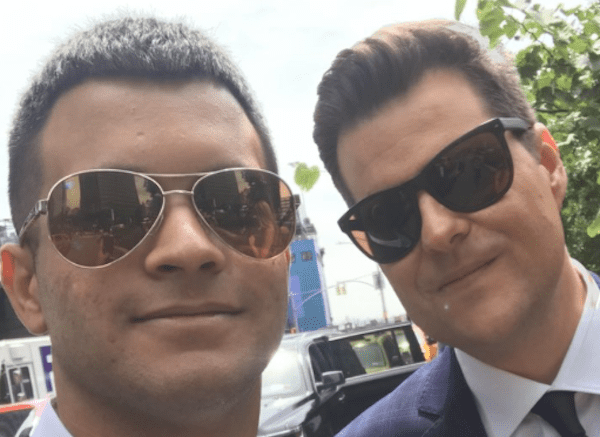 Florida Republican Congressman Matt Gaetz took to Twitter on Friday to respond to one of many social-media users who've suggested the 19-year-old "son" he shockingly revealed Thursday — Nestor Galban — is in fact a gay love interest.
"Thanks for coming out on Twitter @mattgaetz well done," Twitter user "We stand with Joe Biden" wrote above a "Happy Pride" GIF, in response to Gaetz's stunning revelation about Galban on Thursday.
"Ive [SIC] honestly never understood this gay shaming smear," Gaetz responded. "Are you saying being gay is something to be ashamed of? I'm not gay, but I don't think it would be if I were. How do gay people feel when a straight person is accused of being gay as some sort of dig? The New Woke is mean."
Here's how "New Woke" Twitter users replied to Gaetz:
It's not gay smearing. It's hypocrisy smearing.

— @SMThomas727 (@SMThomas727) June 19, 2020
We only give shit to republican politicians who aren't true to themselves.

They are the most dangerous.

— Chris Bence (@CSBence) June 19, 2020
It's a brand new day, matty. You're not in this news cycle. Yesterday's 15 minutes are up. Better get started finding the next excuse you can use to get on state media.

— 1076 (@1076) June 19, 2020
Gay pride virtue signalling is kinda weak woke too though.

— LA Prairie (@SKLA_PRAIRIE) June 19, 2020
Nothing unsettling about a 31-year old single man having a secret 12-year old "son" he doesn't speak about until he's over the age of 18 (then proceeds to use as a political prop). Nothing disconcerting about that at all.

— The D-Pad #BlackLivesMatter (@downrightdpad) June 19, 2020
Being gay is fine. An adult public official having a secret, immigrant, teenage "son" is suspect.

— Teri Sue (@Terisl) June 19, 2020
You have a 0% voting record from the HRC, and have voted against gay rights every chance you get. Spare us the theatrics.

— Noel Sebastián (@ns_arroyo) June 19, 2020
I will go ahead and shame your voting record. https://t.co/nKsACzLwy3

— ILCitizen (@ILCitizen) June 19, 2020
Cue the faux self victimization

— Chunky Cat (@Chunky_Cat_) June 19, 2020
Congrats on coming out of the closet! Happy Pride! pic.twitter.com/RMqpUnmzAC

— John Roby (@jonny_roby) June 19, 2020
June 19, 2020
It gets better. 🏳️‍🌈

— Jonathan B. Morgan (@realjoebuddy) June 19, 2020
Get Towleroad Headlines Daily.
News daily from one of the most trusted, independent, lgbtq owned and operated media outlets. Covering news, entertainment, science, media, art and more for almost 17 years.