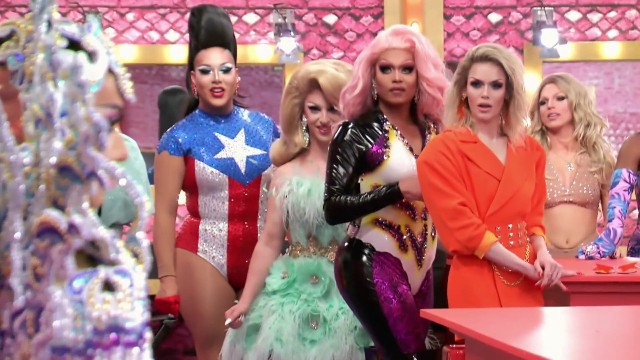 It feels like just last week we were tuning in together to see the virtual coronation of America's next drag superstar. Now, it's ten All Stars back from the beyond (Vegas shows, never-ending roast tours, Taylor Swift music video cameos, etc.) vying for a spot in the Drag Race Hall of Fame.
All Stars really found its groove since its widely-panned first season. The format refresh added drama and strategy as the power was put partially in the hands of the queens, seemingly eliminating the unseen producers' hands. (Though, believe me, they are still there.) All Stars season five comes with a few more surprises, and they're already adding excitement.
Not that this crop of queens was lacking in energy. The cast is a colorful mix of personalities that includes recent fan favorites like Shea Couleé and Miz Cracker alongside legends like Ongina and Jujubee.
Since so much of this episode focuses on the gals' individual performances, I'll save most of the blow-by-blow for the rankings below, but there are a few things you need to know: there will be only one winner each week, all the queens will have a say in who goes home and Derrick Barry and India Ferrah do NOT like each other one bit.
That last one is a delicious little bit of gay drama I didn't even realize I so desperately needed. All this social distancing and isolation, I've forgotten how good petty, gay bullshit feels sometimes. Luckily, India and Derrick have brought plenty to share.
Honestly, who cares what the story is? Something about online rants and pigs in wigs and Piranha in Vegas. The details don't matter. Neither looks good, and neither is particularly adept at executing the kind of Real Housewives-level, chilly, faux high-road they're aiming for. It's just messy, and I say, bless this mess.
The two bicker throughout the episode, even spilling into the first mini-challenge: Reading. India bests Derrick at the war of words (a humble achievement at best), but her poison tongue is no match for Jujubee's and Blair St. Clair's sharp ones. Those two queens split the library mini-challenge win, with strong showings also coming from Shea Couleé and Miz Cracker.
The main challenge is the familiar showcase of talent, this time loosely tied to the Werq the World tour. Each queen gets a few minutes to do whatever they do best. I'm a big fan of this kind of challenge, because it lets viewers see what a show would be like from these queens without the production meddling, and it's an opportunity for lesser-known queens to reintroduce themselves.
This season's sampling left judges' jaws on the floor, including special guest Ricky Martin. El Rey of Latin pop, Martin stuck out as such an earnest, sincere presence that he almost read as camp against the winking backdrop of Drag Race.
The judges single out top performances from Miz Cracker, Alexis Mateo and India. They love Cracker's renewed polish and confidence. Alexis gets praise for an energetic performance that reinforced her position as a top showgirl with Puerto Rican pride. Surprisingly, it's India who snags the win for a high-octane lip sync that impressed with its intensity.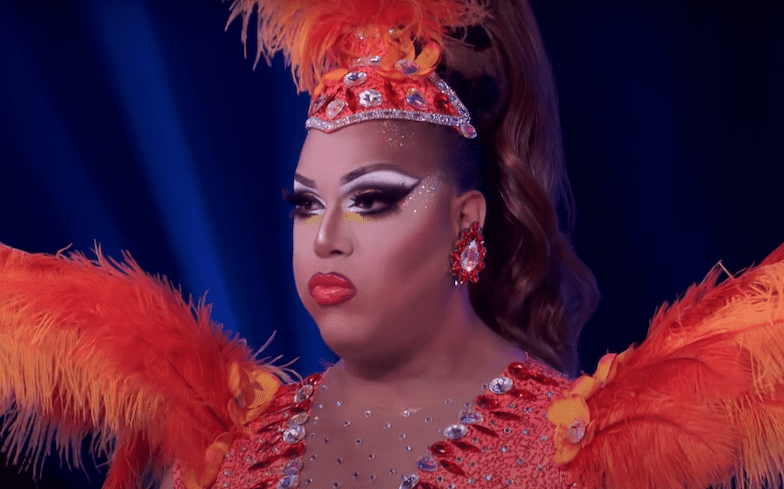 Less fortunate is India's rival, Derrick, whose series of celebrity impressions may be one of the worst talent show showing we've ever seen. The beloved Ongina gets chastised for not doing enough and letting the competition get to her head. Finally, Mayhem Miller's bizarre performance is dinged for its unintelligible lyrics. Ru places Derrick and Mayhem in the bottom two.
Now what?
Well, as winner, India gets to pick the lipstick of the queen she believes should go home. Then, all the other queens — including the two up for elimination — vote Survivor-style on who they think should go home. The results of that vote go onto a lipstick carried by a LIP SYNC ASSASSIN who will face that week's winner. Whoever slays the sync reveals who is going home on their lipstick.
Wow. A lot to unpack there. First off, involving all the queens in choosing who goes home opens the door for a lot more drama. The lip sync assassins are great ways to bring in more beloved girls as these All Star seasons work their way through fan favorites.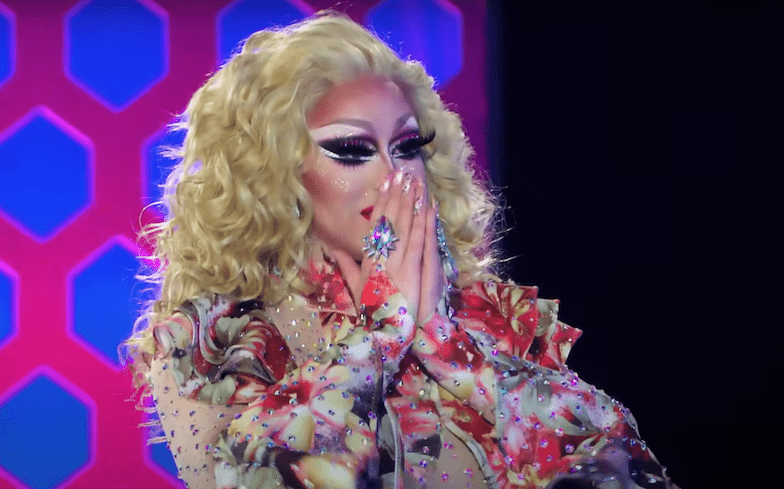 The first assassin is season 11's winner, Yvie Oddly. Yvie and India break it down to Martin's "Livin' La Vida Loca." Oddly sticks to her crowd-pleasing parlor tricks, while India keeps the pedal to the metal for another full-throttle performance. In on notable moment, India perfectly timed a slide to land just up against Yvie's outstretched leg. They're like sexy LEGOs, and I'm here for it.
It wasn't enough for India to win though, meaning this week's $10,000 tip gets rolled over until next week. Yvie removed her lipstick to reveal Derrick's name, sending the Britney impersonator back to Vegas.
(Also of note, they show you whom everyone voted for on Untucked. Everyone except Derrick and Jujubee voted for Derrick.)
Let's dive deeper into the queens in our (extra subjective) rankings below. I'm still considering past performance in my overall impressions, but I'm open to having my mind changed as the weeks drag on.
What did you think of the changes to the format? How would you rank the queens?
I was rooting for Shea Couleé back in season nine, and I'm ready to hop on that bandwagon again. Judging by her pole-dancing talent, you could've cast Ms. Couleé in Hustlers. She still looks amazing, and, clearly, she's been expanding her arsenal. I have high hopes for her run this season.
It's never smart to root against Jujubee. The season two icon was one of the few bright spots in the first All Stars season few dare to speak of. She's a total pro, incredibly intelligent and has a way of endearing herself to just about anyone. I found it more difficult than the other queens to connect with her ballad performance, though. The lyrics were such a mishmash of non-specific metaphor, it was nearly impossible to follow. ("The sun is shining bright, and it's warming my insides; I can hear the silent lightning strike." Huh?) Still, if she doesn't take herself too seriously, I'd love to see Jujubee go all the way to the Hall of Fame.
I wasn't a big fan of Alexis Mateo back when she was slugging it out on season three, but she won me over on the mainstage. After too many seasons of contestants trying to recapture the formula of unique queens like Alaska, Jinkx, Bianca and Bob, it's refreshing to see such a good example of classic drag performance. It was big and showy and felt free of meme-obsessed, referential complications that have come to define much of the recent crops of queens.
Miz Cracker is another returning contestant many folks will be happy to see again. Her mainstage performance was nothing if not consistent. She blended campy comedy and high-spirited glamour that felt like a perfect way to get acquainted with Cracker. I'm not as convinced she's completely conquered her perfectionism just yet, but, if she can stay out of her own head, she could go far.
Mariah Paris Balenciaga, on the other hand, needs to spend more time INSIDE her head, because she's got a lot of good ideas in there! Her politically-charged performance drew extra praise from Ricky Martin, and it certainly left an impression on audiences. There was passion, there was originality and there was just enough shock there to stick with you. It was an incredibly effective use of time, making a much bigger impact than any other queen. If this is what Mariah has more of, I can't wait to see what she brings next week.
Blair St. Clair sings pretty good. That's really all I've got to say. I'm glad to see the (still) young queen step up her wardrobe beyond the sort of cutesy, Pleasantville vibe that comes to mind when you think of her. She can sing well, but just lacked a certain star presence. She seemed, at best, like a runner-up on a singing competition. If she thinks this is going to be what sets her apart, I hope she brought a plan B.
Fans have been clamoring for Ongina to return for All Stars for as long as there's been an All Stars. Unfortunately, I'm not sure expectations are matching reality. Right out the gate, Ongina dropped the ball on both the mini and maxi challenge, flopping on all her reads and delivering a so-so performance barely befitting the mainstage. Ongina's strength is her heart, so hopefully future challenges will let that shine, because she's not going to out dance and sing these other girls.
Well, maybe she can out-sing some of them. Mayhem, for example. It's like, not every queen needs to sing their own track. It's OK! Her loose-lipped performance left a lot to be desired and should be a reminder to every girl: think twice before dropping that single.
I know India was this week's winner, but she doesn't do it for me. I'm sorry! She's trying to serve glamour and sex, but there's nothing glamorous or elegant or sensual about her. She is all intensity and athleticism. Even her outfits don't quite add up. (Those black gloves and boots felt at odds with the neon-accented bodysuit, for example.) Even her makeup is super severe. There is just a disconnect between what she's serving and what she's selling. As a song, "Drag Is Not a Contact Sport" wasn't just low-hanging fruit, but dusted off the floor at the orchard. She can DANCE, no doubt, but can she give you a show? I'm not so convinced.
Oh, Derrick. I can't say I'm sad to see Derrick go, but to get so thoroughly trounced by a rival in the first episode almost feels like a waste of such a polarizing queen. It feels impossible to have kept Derrick after that ghastly massacre of the most hacky celebrity impersonations delivered in under five minutes or whatever. Derrick just has that energy of the guy that corners you at the party to tell you how all his friends say he should do standup. (And I would know; I'm often that guy myself.) What Derrick really needs is better friends, because someone should have told her this didn't work.