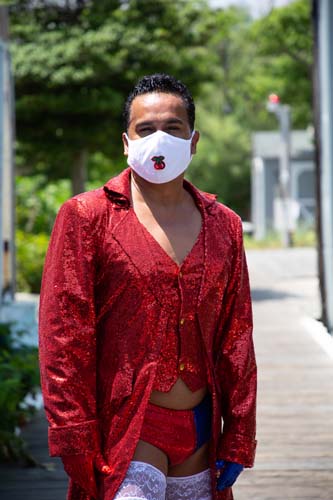 Kathleen O'Donnell
'Showman,' July 4, 2020
Cherry Grove Archives Collection, Gift of the photographer
Discrimination existed across race, class, gender, and religion in 1950s Cherry Grove just as it did in society at large. Over the many decades since then, Cherry Grove has become more welcoming to gay people of all racial and ethnic backgrounds.
On view outdoors in New-York Historical's rear courtyard, this exhibition explores the gay and lesbian community that flourished during the 1950s in Cherry Grove through some 70 enlarged photographs and additional ephemera from the unique holdings of the Cherry Grove Archives Collection. (Curated by Brian Clark, Susan Kravitz, and Parker Sargent for the Cherry Grove Archives Collection and coordinated at New-York Historical by Rebecca Klassen, associate curator of material culture)"
New York Historical Society Museum and Library
Safe/Haven: Gay Life in 1950s Cherry Grove
May 14 – October 11, 2021
Safe/Haven is a free, outdoor exhibition that takes place in our rear courtyard. (The entrance is on 76th St.) To maintain social distancing, book your timed-entry tickets on our special Safe/Haven ticketing site.
Cherry Grove, Previously on Towleroad