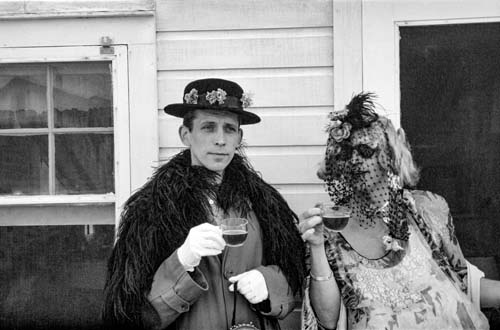 'Outside of Bea Greer's Home, Bea's Brunch', 1951 Cherry Grove Archives Collection, Gift of Harold Seeley
Cocktails, sunbathing, sex, and parties were the norm during summer weekends. Gay men and women found opportunities to socialize out in the open, whether on the beach or on the decks of Grove houses.
Click number 3 below for next image
"During weekends and summers in the pre-Stonewall era, gay men and women, including many New Yorkers, traveled to the secluded beach town of Cherry Grove on Fire Island where they found opportunities for sexual exploration and self-expression—behavior that was both stigmatized and criminalized in the straight world. Together with creative figures like Truman Capote, W.H. Auden, Carson McCullers, and Patricia Highsmith, these visitors to the Grove took pleasure in the costumed parties, theatrical events, and liberated atmosphere that this gay sanctuary provided.