Hundreds of people (though less than the thousand hoped for) descended upon Tallahassee, Florida yesterday to lobby legislators for repeal of the state's gay adoption ban and passage of anti-discrimination laws inclusive of sexual orientation.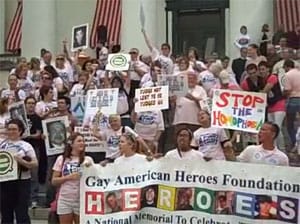 Tallahassee.com reports: "Despite the 62 percent public vote for a constitutional amendment banning gay marriage, several legislators told the demonstrators they should be optimistic about their long-term political prospects. Sens. Nan Rich, D-Weston; Elenaore Sobel, D-Hallendale Beach; and Dan Gelber, D-Miami Beach, told the mostly young crowd of about 250 marchers that trends of history are on their side. Stuart Milk, the nephew of slain San Francisco city supervisor Harvey Milk, urged the demonstrators to go into the Capitol and lobby legislators for bills to combat 'hate crimes,' repeal the ban on gay adoption and forbid discrimination in housing or employment on the basis of sexual orientation. Frank 'Martin' Gill, the plaintiff in a pending lawsuit aimed at repealing the adoption ban, said he and his partner have been foster parents for 10 children but when a South Florida circuit judge granted their request to adopt two boys, the state immediately appealed under the law forbidding adoption by gays."
Watch a video of the demonstration, AFTER THE JUMP...