Stuart Milk will speak at a rally at Florida's Capitol on Monday in support of an anti-discrimination bill: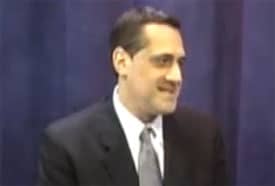 "Three decades after gay activists and Anita Bryant squared off over Dade County's anti-discrimination ordinance, the nephew of slain gay civil rights figure Harvey Milk is coming to the Capitol Monday to rally 1,000 gays and lesbians in support of an anti-discrimination law in Florida...being billed as 'the largest event of its kind' in Tallahassee. The noon rally at the Old Capitol is being organized by Equality Florida, the Gay, Lesbian, Bisexual, and Transgender Democratic Caucus and other gay-rights groups. Bryant's crusade against the Dade amendment inspired Harvey Milk to declare the Christian conservative movement's success in repealing the ordinance would spark a 'national gay force.'"
Watch a recent 20-minute SF Live interview with Stuart Milk in which he talks about Harvey and the current LGBT rights movement, AFTER THE JUMP...