At last night's Empire State Pride Agenda dinner, Governor David Paterson said he expects to sign a marriage equality bill very soon.
The NYT: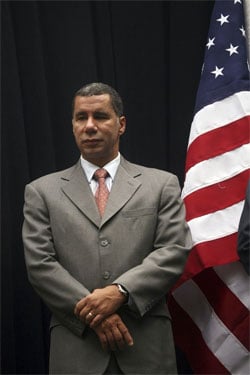 "Paterson said he expects the state Senate to give the measure final legislative approval in weeks ahead and then he will sign it, making New York the seventh state to legalize same-sex marriage. Paterson can't force the Senate to take up the bill and admitted to reporters he can't guarantee its approval, but he says he's now confident it will pass, as advocates and sponsors of the bill in Albany have been quietly working to build support. The bill was blocked by a summer coup in the Senate in the final days of the regular session in June. The Democrat-led Assembly has already passed the measure. Paterson's statements Thursday came at the fall dinner in Manhattan of the influential gay rights group Empire State Pride Agenda. He said New York will have marriage equality 'as a result of a law we will pass in the New York Senate, already passed in the Assembly, and will be signed by the governor, just in the next few weeks.'"
Elizabeth Benjamin at the New York Daily News reports that Pride Agenda executive Director Alan van Capelle addressed specific state senators at the same dinner, saying:
"Tonight I say the time for making cases is past...The time for petty partisan finger pointing is past. The time for lame excuses, for botched maneuvers and simple, plain old foot dragging is past...The time to get this bill to the floor of the New York state Senate is now. The time for the state Senate to acknowledge our existence is now the time for us to hear our lives - our lives! - debated on the floor of the New York state Senate is now...Sen. John Sampson, you're the leader of the state Senate. Sen. Tom Duane, you have told us on multiple occasions that you have the votes to pass this bill. Give us the dignity the rights and the respect we deserve bring this bill to a floor for a debate and a vote. If we win let us celebrate and if we go down we know what we need to do in 2010. Period."
Paterson's remarks (via Good As You), AFTER THE JUMP...
Two parts: