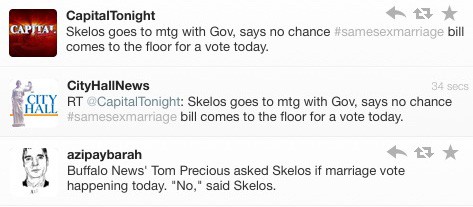 Senate Majority Leader Dean Skelos told reporters moments ago that the marriage equality bill will not be brought to a floor vote today. Skelos, emerging from a meeting with Governor Cuomo, also said that Cuomo was receptive to working on language providing religious exemptions.
The session will resume on Monday, according to a tweet from Gannett's Albany bureau.
Clarification from Capital Tonight:
"This has been a very complicated year in terms of the issues that we've addressed and I've found the governor from the very beginning starting with the budget process has always had an open ear and is flexible in terms of the suggestions I give or the speaker gives," Skelos said.
Skelos also said there would be no Sunday session. Lawmakers are due back in Albany Monday for the final regualrly-scheduled day of session. Cuomo has indicated he would call special sessions of the Legislature in order to extend rent control for New York City on a long-term basis.
Video of Skelos from earlier today, AFTER THE JUMP...