Jon Stewart covered the wide range of reactions to Gaddafi's death, in particular the unwillingness of the GOP to give any credit to the Obama administration for its handling of Libya: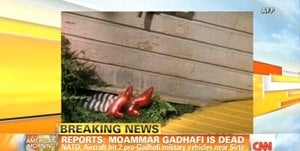 "Is there no Republican that can be gracious and statesmanlike in this situation? We removed a dictator in six months losing no American soldiers, spending, like, a billlion dollars rather than a trillion dollars, and engendering what appears to be good will to people who now have a story of their own indpendence to tell. Anybody want to give credit? What the f**k is wrong with you people?"
Watch, AFTER THE JUMP...