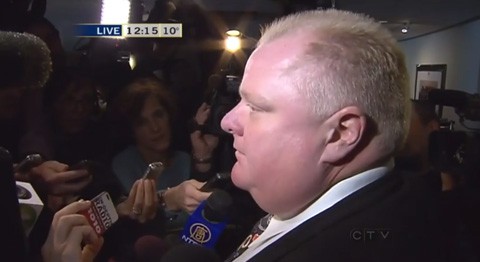 Toronto mayor and major homophobe Rob Ford admitted smoking crack cocaine today in a surprise press conference. "Probably in one of my drunken stupors," he said. "I don't even remember. Probably in one of my drunken stupors."
Ford has been embattled over the crack charges since reports surfaced of a video in which he is seen smoking it.
The Toronto Star reports:
The news conference came a week after two Star reporters disclosed that they had seen a clear video of Mayor Ford smoking what appeared to be crack from a glass pipe, calling Justin Trudeau, now Liberal leader, a "fag" and his high school football players "f------ minorities." At that news conference, Ford said he would not comment on a video "that I have never seen or does not exist."
Watch the press conference, AFTER THE JUMP...