Senate Minority Leader Mitch McConnell and Senator Rand Paul have attached a right-to-work amendment to the Employment Non-Discrimination Act, the HuffPost reports: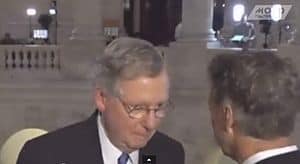 The measure — which, as Roll Call reported Monday, was tacked onto the Employee Non-Discrimination Act (ENDA) — would forbid contracts between companies and labor unions that require workers to pay the union for bargaining on their behalf. Prized by Republicans and business groups and loathed by unions, such laws have made it onto the books in 24 states, most recently in Michigan…
…Right-to-work laws diminish union membership and weaken the clout of organized labor. Unions like to refer to such legislation as "right-to-work-for-less" laws, pointing to studies finding the laws depress wages. Right-to-work's boosters, including McConnell, portray the laws as a matter of workplace choice and a necessary counterweight to "Big Labor," even though unionized workers now make up only 6.6 percent of the private sector.